The 10 best things we ate and drank at LA Food and Wine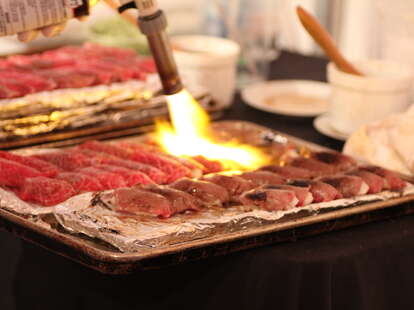 This past weekend was the third annual LA Food & Wine Festival, wherein dozens of chefs descend on the city to prove their superiority in the Octagon make tastebuds extremely happy. And, in an effort to entice yours, here're the best things we ate/drank. If they look rad to you, you'll probably want to check out The Taste, which is a similar great-chefs-making-tons-of-crazy-food-event this upcoming weekend on the Paramount lot.
10. This dish from Pedalers Fork in Calabasas was a crazy-fresh combo of heirloom tomato, compressed yellow watermelon, burrata cheese, and speck.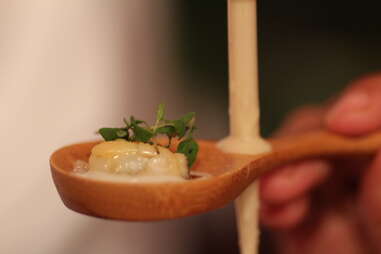 9. Miami standby Joe's Stone Crab busted out a ton of crazy-goodness (including an after-party-only lobster bratwurst), but this "Clam Chowder Our Way" was not only delicious but also interactive: you took a bite from the spoon, then squeezed the broth into your mouth, then did a little happy dance when the flavors combined.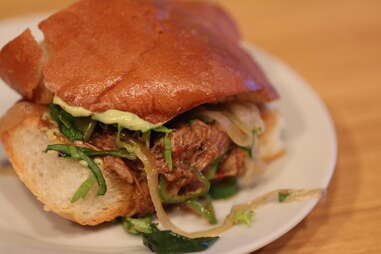 8. The dude from Fig put aside any semblance of his light farm-freshness for this goat torta, which was loaded with flavor and got extra points for a serving size nearly big enough to be a normal-person meal.
6. The crazy Koreans behind the Seoul Sausage Co. dropped spicy mayo on their creamy-on-the-inside, hard-on-the-outside sausage balls. Surprisingly, jokes ensued.
5. The chef from Monterey's Restaurant 1833 breakfasted it up with this hen egg/prosciutto/truffle/brioche monster, which featured a perfectly yolky egg.
4. In case you have any doubt that this pile of meat (from the guy on the Discovery Channel show United States Of Bacon) was insanely great, here's the description: "BBQ Corned Beef. Cured. Smoked. Chopped & Mopped. Duck Fat Tortillas. Pickled Apricots. Shaved Relish & Salsa Verde."
3. All the wines we drank sorta blended together (get it? DO YOU??), but standing out, drinks-wise, was this Hoegaarden beer float w/ cilantro, lemongrass & vanilla ice cream.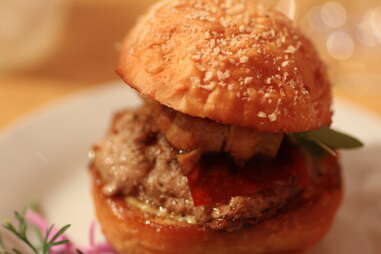 2. This beauty from Plan Check is a multi-layered bastard with a ground pork patty, a pork belly topping, and "Sriracha leather", which is a condiment-gone-solid and not something you'll find in an Asian-themed bar in West Hollywood.
1. This may be the most perfect bite of food, ever: Chaya busted out a sliver-slice of Wagyu, seared, with just a hint of wasabi atop vinegary sushi rice. More. Please.