This hidden, secret Downtown bar has the craziest burgers in LA
Hidden in a signless, ramshackle building next to an actually cheap parking lot (!) Downtown (free after 5!!!!), The Escondite serves up extra-affordable booze, has nightly live music, and, perhaps most importantly, the EXTRA-CRAZIEST BURGERS ANYWHERE IN LA, with a daily special that'll push the limit of what your guidance counselor told you was possible. Here it is, broken down day-by-day:
Monday: Snap into your week with their signature patty (80/20 chuck)... which they then stuff with pieces of Slim Jim, drench in nacho cheese, top with Doritos, and call the... wait for it... Nacho Man Randy Sanchez. THIS PLACE IS THE BEST PLACE EVER.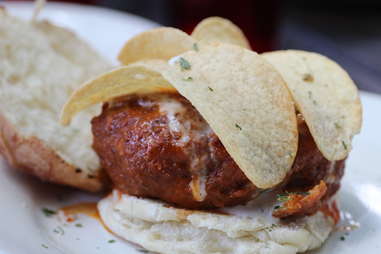 Tuesday: The John Belu-Cheese is first stuffed with bleu cheese (so it's gooey and runny) -- and then battered, deep-fried, and doused in Buffalo sauce. Finally, as advocated by heart doctors everywhere, it's topped with Pringles "for crunch".
Wednesday: This French bread-bunned monster's health'd-up with macaroni shells, cheddar cheese, bacon bits & Cholula, and called the Mr. Furley -- Knotts bad at all!
Thursday: The Fat Albert is a donut-bunned, bacon-laden, cheese-topped patty, which replaced a burger that was topped with a mango salsa, as that was clearly WAY too healthy.
Friday: "This is essentially a sandwich on top of a burger," said the owner, Brian, and he wasn't kidding: the Re-Run's got Provolone, cheddar, roast beef, turkey, pepperoni, ranch dressing, and giardiniera on top of that meat disc.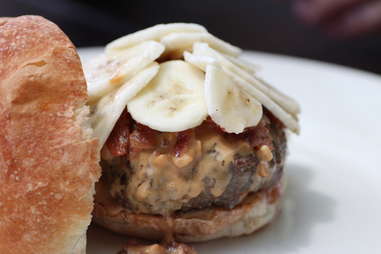 Saturday: If you somehow manage to make it to the end of the week, you'll get the Elvis, which's obviously topped with all The King's favorite things: bananas, peanut butter, and bacon.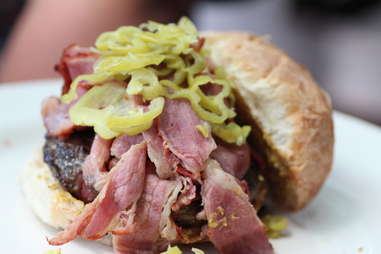 Sunday: The Louie D Palma is basically what'd happen if an NY deli sandwich made sweet, sweet love to your burger, totally romancing it with pastrami, pepperoncini, and deli mustard.
Everyday: There's even more insanity on their daily menu, but the cream of the crop is the Captain Kangaroo, a breakfast bastard that includes an egg, gravy, Canadian bacon, Cholula, and a hash brown that looks and tastes like it's fresh from McD's.