Power-ranking every single thing on Water Grill's raw bar menu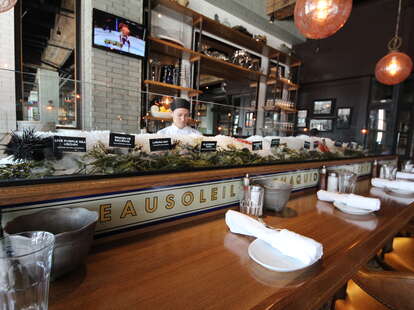 Downtown's iconic fresh seafoodery's now got a second, actually-throwing-distance-from-the-salt-water location in Santa Monica, so, in honor of that opening, we decided to dominate their raw bar to figure out, once and for all, how sexy oysters make us feel which of the crustaceans they're slinging deserves the crown.
12. Periwinkles: These sea-snails take the cake for oddest item and also most-fun-to-eat (you gotta take a teensy plastic toothpick, stab the suckers, and pull the little slimers out), which nearly makes up for the fact that they taste like... absolutely nothing.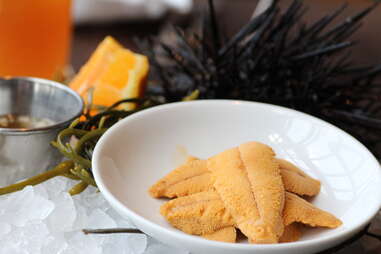 11. Uni: You'd think the Channel Island-caught sea urchin would be higher up, but ours was slightly chalky, and the sauce a bit too vinegary. We still love you, uni -- just, you know, not as much as ten other things.
10. Mussels: Ahh, here we go -- these Whale Cove guys were perfectly moist and viscous, with just enough juice and just enough chew.
9. Shrimp: These peel-and-eat buggers' heads snapped off satisfyingly, though peeling off the exoskeleton became a why-bother chore.
8. Crab: Never as easy to disassociate from its shell as it looks; always, however, satisfying.
7. The sauces: OK, including these is kind of cheating, but all of them -- from a mustard-like mayo sauce to a thin, vinegary number -- added some pep to each of the seafoods. Pro tip: Combine the shredded horseradish and the fresh-made cocktail sauce for flavor nirvana.
6. Crudo: Also sort of a cheat, as it's not included in any of the seafood towers, and it occupies a different part of the menu -- but it's still raw, and it's still seafood, and it's still amazing, especially this Kona Kampachi w/ chili oil, orange, and cucumber.
5. Lobster: This hard-shelled Maine guy was served with a claw, tail, and knuckle that withstood even the harshest hammering, so apologies to our dentist, 'cause we had to get to every single bite.
4. Oysters: Unsurprisingly, this Kumamoto was -- like every character played by Kevin Spacey -- delightfully slippery. They also have a ton of odd options, including one called the Naked Cowboy.
3. Prawns: They were jumbo; they were Mexican; they were delicious.
2. Scallops: These Peruvian Bay shellfish were abetted with a crazy-good citrus pesto and... whatever that leaf is. Either way, huzzah Peruvian Bay shellfish/citrus pesto/leaves!
1. Clam: This surprise winner's a Long Island-obtained Cherrystone clam, which went down in one fell swoop of briney, salty, slippery awesomeness.