Yes, we have told you about many burgers before: the best burgers in LA, for one, the best burgers in Orange County, for two, and LA's best under-the-radar burgers, for three. But none of those lists take into account the most important part of getting a burger in Los Angeles: geography. This list fixes all of that, identifying the best burg in a ton of LA neighborhoods, with picks vetted by the founder of Hood Burger -- an LA blog whose sole purpose is to do exactly this.
Culver City
Father's Office (address and info)
This one's kind of a "duh", but Father's Office has earned its "duh". The heavily sweet caramelized onion, Gruyere, Maytag blue, and arugula sit perfectly on a beef patty between two sides of a freshly baked roll. It's a good enough combination that they won't let you substitute any part of it. Ever. And they're kind of right.

Downtown
Little Bear (address and info)
Created by the same awesome family that built The Oinkster (see below), Little Bear would be rad even if it just had all that Belgian beer and those insanely addictive fries, but it does The Little Bear Burger anyway. Fresh ground beef is loaded with truffle aioli, Stilton cheese, mushrooms, arugula, crispy onions (aka thinly sliced onion rings), and cherry gastrique, all sandwiched between a brioche bun. How many fancy ingredients can you fit on a bun without going overboard? Exactly this many.

Eagle Rock
The Oinkster (address and info)
If you wanted to play it safe and get the classic burger, no one would hold it against you. Not even us. It's got fresh Nebraska Angus beef with house-made Thousand Island dressing, dill pickles, onions, tomato, and lettuce. Boom. Done. All that said, if you wanna roll the dice and get whatever the burger of the month is, we're gonna give you a pass on that, too. The monthly burg is ALWAYS amazing, never the same twice, and no ingredient is off limits. Shrimp? Yes. Pork? Totally. Spam? You're god damn right.
Franklin Village
The Oaks Gourmet Market (address and info)
The Oaks Gourmet is best known as a mini-mart that's stocked full of all your gourmet picnic needs: fancy wine, stinky cheese, exotic beers, sodas, etc., etc., etc. But the real reason for the pilgrimage over to that weirdo neighborhood is its dry-aged burger -- it's slid between a grilled brioche bun and topped with Black Forest bacon, tomatoes, Taleggio cheese, arugula, red onions, and a burger-elevating jalapeno-pineapple compote -- a zinger of a sauce that brings enough sweetness and spice without making the burger taste like pineapple.

Hancock Park
The Larchmont (address and info)
We've said it before, and we'll say it again: the burger at The Larchmont -- the very, very good, and very often underrated date restaurant at Larchmont and Melrose that's set up in a converted house -- is magical. It could be the cave-aged Kaltbach cheese. It could be the seared beef. It could be the buttered onions. Or it could be all of those things, together at last.

Little Osaka
Plan Check (address and info)
There's definitely nothing secret or underground about this Little Osaka standby, but Plan Check's original location and its Fairfax sibling have just been named the spot for the best burger in LA by LA Weekly, and for good reason: its thick, absurdly juicy patties hit all the right spots, and the "ketchup leather" -- a sort of solid replacement for tomato paste -- is shockingly something you want to go back for again. And again. (And again.)

Los Feliz
Umami Burger (address and info)
There's a reason this is the burger that launched a movement: it's that good. The roasted slice of tomato? Yes. The salty crisp of Parmesan? Yesssss. The comfort of the shiitake mushroom? Yessssssss. That killer meat patty? Very, very yes.
Mid-City
The Golden State (address and info)
Ranked the best burger in all of Los Angeles plenty of times, Golden State's bun-stuffer is a testament to getting all the details exactly right. It sounds simple: a seasoned patty with apple-wood smoked bacon, white cheddar cheese, arugula, aioli, and ketchup on a fresh bun. But like so many simple things, you've got to get it exactly right -- have the cheese melted just so and the bacon crisped to perfection and the arugula fresh and sharp. One soggy piece of bacon and the whole thing can go out the window, but this guy? It won't let you down.

Pasadena
Pie 'n Burger (address and info)
This Pasadena institution has been there since 1963 and has weathered every burger trend you can imagine, with a no-frills approach (seriously, your burg options are hamburger, cheeseburger, turkey burger, and that's it) that hits home in the classic, Thousand Island-topped sense every time.
Playa Del Rey
The Tripel (address and info)
If you drive down Culver Blvd until it reaches the sea, there's a tiny, little, not-big, seriously-it's-super-small spot with gourmet food and a sign above the bar that reads "Lubrication". They have three burgers there, but the one to go for is the Pretzel Burger, draped in aged cheddar, poppy seed coleslaw, and caramelized onions. The sweetness of the coleslaw and onions contrast with the sharpness of the cheddar, but both still manage to not overwhelm the burger or the pretzel bun.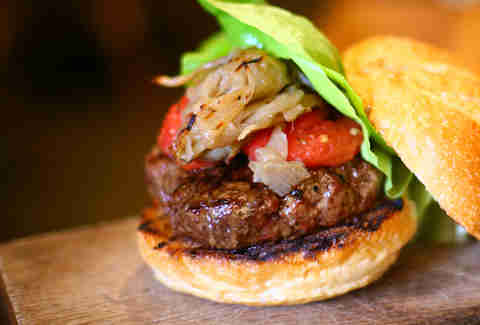 Santa Monica
Hole in the Wall Burger Joint (address and info)
For $8.95 you can customize your own burger here, with a giant list of toppings, homemade sauces, and cheese, but attention is paid to the patty as well -- they use grass-fed Angus beef without antibiotics or hormones. The burger is thick and juicy and grease will run down your chin. Don't want to make a decision? That's cool, they've always got a special burger of the day. Bonus to end all bonuses: all of it can be ordered online before you even get there and it'll be ready in 10 minutes.

Silverlake
Cafe Stella (address and info)
Shhhhhh, it's a secret: this longtime neighborhood favorite has an off-menu burger that you can only order at the bar (or on the brunch menu on Sundays). You can't order it on the dinner menu and we have no idea why, because you'll want it all the time: its guy is wedged between a brioche bun, covered in confit tomatoes, fennel onion jam, and absurdly large leaves of butter lettuce, but what makes it especially great is the blue cheese INSIDE the burger. And... drool.

South Bay
The Standing Room (address and info)
This secret-but-kinda-the-secret-is-out stand in the back of a liquor store in Redondo Beach is a burger lover's paradise: it's got the Cash (w/ bacon-hoisin BBQ sauce), the Bull (w/ kimchi and... bulgogi!!!), and the insane Elvis, which's topped w/ tomato jam, peanut butter-bacon BBQ, Kurobuta sausage, jalapeño, onion, lettuce, and smoked Gouda. And... drool again.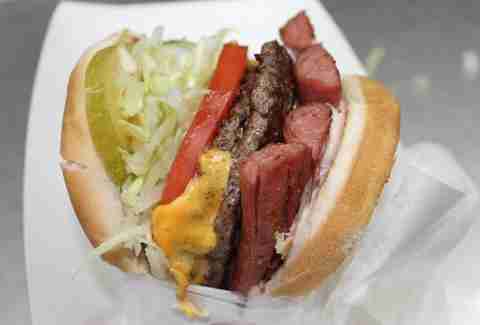 Studio City
Carney's (address and info)
Is it nostalgia that makes Carney's chili cheeseburger so awesome -- that classic taste of tabletop-seared meat, that runny chili, that orange cheese melted on top? Probably -- and it doesn't hurt that you're eating it in a fricking converted train car. Runner up status to Stout, Tuning Fork, and Laurel Tavern, all of which are awesome additions to the Valley, but please: Carney's is OG. (And yes, that burger pictured above has a hot dog on it too. Amazing.)

Van Nuys
Outlaws Cafe (address and info)
Wanna feel like a true outlaw? Cut their burger and they'll get PISSED -- it's written right there on the kitschy menu, along with this description: "1lb of spiced beef grilled to perfection and stuffed with bleu cheese, grilled mushrooms, grilled garlic, grilled onions, and pieces of jalapeño bacon". You can also get it as a half-pounder, in case you're not a true outlaw/don't want to die younger than you're already totally going to.

Verdugo Hills
Tee's On The Green (address and info)
Tee's On The Green is the funky little shack on the side of the kind-of-beat-up Verdugo Hills golf course, so you're forgiven if you're thinking, "but that place probably just sears a frozen burg, what could possibly make it so special?" Well, you're wrong: they improbably pay close, close attention to their burgers, which're made on-site every day and topped with a litany of unusual ingredients. As for what could make them so special: The Hangover Burger, which's MARINATED IN BLOODY MARY BEER SAUCE before being topped w/ horseradish cheddar, lettuce, tomato, and red onion. Oh, and then you gotta get a beer.
Westchester
Humble Potato (address and info)
This shop is a love letter to the Japanese hambaga, with the Battle Royale sitting in its proper position at the top of the menu. That burger is topped with all kinds of awesome: the cool creaminess of the avocado matches the salty sharpness of the bacon, which counters the crisp crunch of the lettuce, and the golden drippy goodness of the egg. Then there are the shards of sweet tomato that counter the meaty comfort of the burger, which is kept interesting by the spicy tomato sauce, and kept in line by the soft freshness of the bun. The thing is an unholy mess.

West Hollywood
Eveleigh (address and info)
Yes, it's another fancy-ish spot with a fancy-ish burger with fancy-ish cheese (Fontina) and other fancy-ish ingredients. (Tomato-currant relish! Mustard aioli! Dry-aged meat!) So what. It's amazing. Mouth happy. The end.

West LA
FOOD (address and info)
We know. We know. Worst name for a restaurant ever, plus people will be calling you a heretic for not going to The Apple Pan down the street. They're wrong. Barely. Lying on a brioche bun, FOOD's hand-crafted 4oz beef patty has Gruyere cheese melted on top, sautéed onions, a thick slice of tomato, and arugula, with herbs and spices lovingly folded directly into the burger. There's no need for sauce or any kind of condiment. Take that, hickory.
Sign up here for our daily LA email and be the first to get all the food/drink/fun Los Angeles has to offer.
Molly Bergen is one of the editors of Hood Burger -- a blog dedicated to finding the best burger in each neighborhood in LA, and is a freelance writer for LA Weekly and more. She's on Twitter at @mollybergen.
Jeff Miller is the Editor of Thrillist LA and is really hungry. Like, REALLY hungry. He's at @ThrillistLa on Twitter and @jeffmillerla on Instagram.