Since there are only so many ways you can do Buffalo wings (one! There's only one way!), we decided to turn our pre-NFL kickoff wing-ttention towards a more diverse group of flappers. Here's a look at the nine absolute best non-Buffalo wings in LA.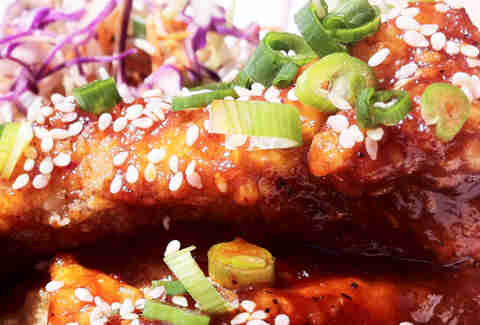 Soy Caramel Wings
Belly Bombz Kitchen (address and info)
Artesia
This food truck's first brick-and-mortar location does its wings boneless or bone-in, with birds in a variety of unique styles: the tangy Sriracha lime, the spicy garlic Parmesan, the smoky "bomb dust", and the aforementioned sweet soy caramel.
Peanut Butter & Jelly Wings
Buff Wings (address and info)
Glendale
The rumors are true: there's a dude in Glendale cranking out peanut butter & jelly chicken wings, and -- no surprise -- they're actually quite tasty. Ian Angeles (points for his name alone) recently moved out of his parents' restaurant in Eagle Rock to a new strip mall location, where he fries and grills super-meaty wings in a smorgasbord of creative, LA-inspired flavors. They -- in addition to those PB&J guys -- include Korean galbi, Filipino adobo, Mexican elote (think street festival corn), and American pizza. Pro tip: wash 'em down with an Inca Kola.
Party Wings
Night + Market Song (address and info)
Silverlake
The colorful new Silverlake sequel to the WeHo Thai favorite delivers poultry goodness with its sweet and spicy hey-ha "party wings" (hey-ha being onomatopoetic Thai to describe the sound of partying). The perfectly fried and glazed wings are seasoned with fish sauce, sugar, chiles, scallions, and a squirt of lime juice, and will be even more hey-ha once the beer and wine license kicks in. Soon. 
Chocolate Wings
Choco Chicken (address and info)
Downtown
Unless Willy Wonka has some nutso chicken wing factory that we don't know about (wait, does he???), chances are you haven't tried these chocolate fried chicken wings yet. Crafted by the emperor of Umami, these bad boys are brined for 36hrs, dusted with a secret, bittersweet chocolate-laden spice blend, then fried to a crunch and served with miso ranch and sweet/spicy "bee sting" sauce.
 
Soy-Garlic Wings
Kyochon Chicken (address and info)
Koreatown
If our panel of fried chicken experts wasn't able to convince you to check out this K-town temple of flaky/crispy/crunchy/scrumptious-y wings (#2!), then we totally will. Their signature double-fried, soy-garlic (& feverishly spicy) wings are a must, but you'll also want to order up the extra-brittle sweet honey wings, too, for the full wing experience.
What A Jerk Wings
Sunny Spot (address and info)
Venice
While Roy Choi's latest eateries -- POT and Commissary -- may be getting all the attention these days, don't slack on the Spot. The Caribbean-inspired Venice hideaway still holds court with some solid chicken wings. Double-coated with a lip-igniting blend of allspice, ginger, garlic, and habanero, then double-fried, the "What A Jerk" wings bring the heat, Jamaica and Steve Martin-style.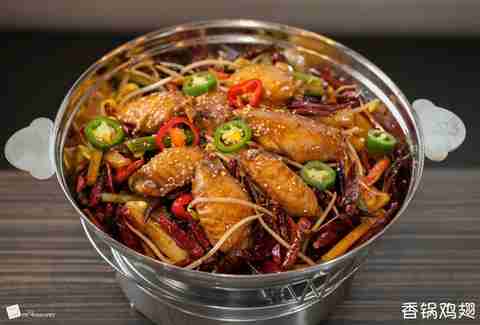 Hot Pot Wings
Tasty Dining (address and info)
San Gabriel
Buffalo, NY is a long way from Wuhan, China, and the tongue-numbing spicy chicken wings at this SGV outpost reflect that distance in their very un-Buffalo style. Cooked at your table in a dry hot pot "griddle", these addictive, mind-altering wings are braised with spicy oil, fiery chiles, cauliflower, celery, potatoes, and herbs.
Sesame Wings
FuRaiBo (address and info)
West LA
While most of the pub grub at this izakaya standby is respectable, their Japanese-style chicken wings have developed a cult-following for good reason. These skinny, skewered wings are lightly glazed with a tart, spicy-ish marinade, then deep-fried to a brittle crisp, and dusted with a heavy layer of sesame seeds.
 
Crack Salt Wings
OK Chinese (address and info)
Eagle Rock
It's so tempting to rip on the name of this Eagle Rock mini-mall mecca, but their wings -- speckled with black pepper, five-spice, and "crack salt" (pocket some of this if you can) -- prove that it would be disingenuous. 
This list -- and all the rest -- look even sexier in our iPhone app. Get it now! 
 
Danny Jensen is a Thrillist LA contributor who thinks "best wing roundup" research is the best kind of research. Deliver American pizza wings to him on Twitter.