Because the only thing better than one limited-time-only burger is SEVEN limited-time-only burgers, you're gonna want to check out The Oinkster's Burger Week: a week-long burgfest where they'll do an off-menu, never-before-eaten burger each day of the week, starting Monday. In other words, you've got (long) lunch plans for every day next week. Here's the lineup:

Monday, June 2nd: The Cheesesteak Burger of Philadelphia
This recreation of a Brotherly Love favorite will sweetly caress your insides with sliced chuck griddled with sautéed red peppers and onions, a mess of Provolone cheese, and an angus patty on a fresh-baked bun.
Recommended Video
You've Been Making Burgers All Wrong. Here's How To Fix Them.
Tuesday, June 3rd: HotBurg on a Stick
Well, they've really done it; they've put hamburger meat on a stick, stuffed it with cheese, battered it in cornmeal, and fried that puppy. Happy now?
Wednesday, June 4th: Turducken Burger
Have your Thanksgiving dreams actually realized, with a potato bun stuffed with a seasoned turkey patty, a deep-fried chicken breast, cherry gastrique, rosemary/garlic relish, and the thing that's said most often at food fights in delis (duck pastrami).
Thursday, June 5th: The Pantera Burger
This Grill 'Em All collab is a mess of pulled pork, bacon, FRIED MAC 'N CHEESE, and garlic aioli. Oh yeah, and a burger is hiding somewhere in there, too.
Friday, June 6th: The Big Max
The only repeat offender from the previous year's Burger Week, this fan-voted favorite takes on the Golden Arches with two patties, pickles, shredded lettuce, cheese, and onions on a double-bun (with sesame seeds, 'natch).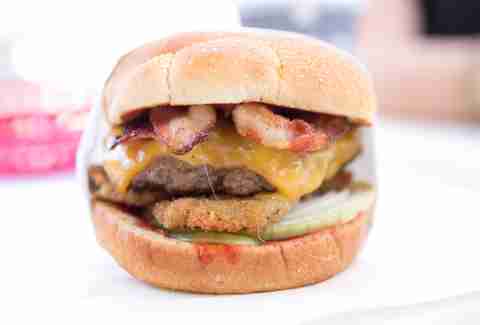 Saturday, June 7th: The Smoinkster
Because it's Saturday, and you ain't got no job, and you ain't got (stuff) to do, you're gonna eat this smokey motha': a smoke-infused burg with applewood-smoked bacon, smoked cheddar, smoked white onion, smoked ketchup, and -- probably 'cause you can't smoke 'em -- fried pickles on a kaiser bun. Exhale.
Sunday, June 8th: The Lucy Goosey
This final burger may not look like much, but wait 'til you take a bite. It's stuffed with a shload of cheeses for pure flavor explosion, and then laced w/ griddled onions and "Lucy Spread" on a seedless bun.
Jeff Miller is the LA Editor of Thrillist and that Big Max looks amazing to him right now. He's at @ThrillistLA on Twitter and @jeffmillerla on Instagram.
Previous Venue
Next Venue
Venue Description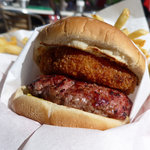 1. The Oinkster
2005 Colorado Blvd, Eagle Rock, CA 90041
This fast-casual burger joint with locations in Eagle Rock and Hollywood reimagines American classics using high-quality ingredients and pricing everything below $10. The one-third pound hamburger, made with Nebraska Angus beef, is a signature, as are sandwiches like the house-cured pastrami and BBQ pulled pork. The space feels like a retro diner with red vinyl booths and an A-frame roof. If you needed further proof that The Oinkster is above and beyond your standard fast-food restaurant, then consider this: it makes its own ketchup and serves a rotating selection of craft beer.