OK, so LA is no Texas. Or Kansas City. Or North Carolina. But, there are still plenty of people (some from Texas... or Kansas City... or North Carolina) who've set up smokers and grills, sourced pork/beef/chicken, and devoted themselves to making delicious, non-Korean BBQ in LA. Here are the 13 best.

Recommended Video
The Most Overlooked Mediterranean Paradise in Europe
Culver City
Recently, Maple Block was crowned the king not just of LA BBQ, but BBQ in all of California by a guy who should know: Daniel Vaughn writes about BBQ, and only about BBQ, for Texas Monthly. And he's right: the brisket here could not be more perfectly moist, the chicken bursts with flavor, and the creamy mac and cheese, while not exactly traditional, is crave-worthy.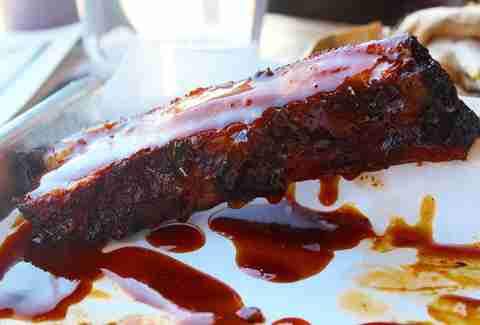 Eagle Rock
This relative newbie's gained a cult following by crushing Southern-style BBQ for the Eastside, wood-smoking ribs and pork into juicy meat-monsters while sourcing local ingredients for collard greens and coleslaw. Also, they catered one of the best weddings I've ever been to, and goddamn if it didn't help make it one of the best weddings I've ever been to.
Venice and West Hollywood
Alright, we'll admit it's divisive: BBQ purists sometimes hate on this beloved-by-everyone-else mini-chain, but we're going on taste alone. They offer a wider range of sauces and sides that're all great, and the meat is also delicious. Haters gonna hate, but uh, the rest of us gonna eat (and drink -- the WeHo location has a full bar!).
Compton
Sure, Bludso's Bar & Que -- the fancier La Brea offshoot of this Compton original -- was one of the first new-wave BBQ joints to hit the city, paving the way for a ton of the hipster spots on this list. But pitmaster Kevin Bludso, at the original spot? He was there way, way, way before brisket got trendy. Respect.
Leimert Park
You're gonna want the rib tips. You're gonna want the sausages. Then, you're gonna want more of the rib tips. Promise.
Long Beach
Back in the day, if you were at any of a myriad of LA's farmers markets, you couldn't miss Neil "Bigmista" Strawder, whose pig candy was the stuff of legend. It's no surprise his strip-mall outpost in Long Beach was a hit out of the gate: the dude knows his 'cue, which means even on days when he's not serving those sweet bacon strips, you can't go wrong here -- especially if he's serving BBQ buns (think bao + pulled pork. Yeah.)
Culver City
This shack-space -- right where La Cienega and Fairfax meet -- is one of those spots you've probably driven by 1,000 times and never looked at twice. Next time, stop: the family-run business busts out great Memphis-style pulled pork, great ribs, and sweet, succulent baked beans.
Studio City
This East Valley joint's always jammed, and it's no secret why: Chef Timothy Hollingsworth is one of the most buzzed about toques in the city, and the brisket is proof that his accolades are well-warranted. Also: you gotta get the hoecake, which is on our list of 50 things to eat in LA before you die, and may very well kill you. But it's worth it, we promise.
Tarzana
Hidden in a Tarzana mini-mall is this long-underappreciated Valley gem with great steaks, better chicken, and bonkers dinosaur-sized beef ribs that're crazily juicy and insanely delicious.
Santa Monica
Holy Cow is sort of smothering the Westside, with locations in Santa Monica and Culver City; their menu is more far-reaching than most, with not just the standard brisket, rib, and chicken line-up, but also beef ribs on weekends, fried chicken sandwiches, and an extensive sides menu that includes an insanely great smoky corn chowder as well as kale & quinoa salads, if someone at your table wants to be super-sad.
Downtown
Though this DTLA standby has long been a fave for the hickory-smoked BBQ they offer, they're known for offbeat dishes, too: they're probably the only place in town you can get a chicken breast stuffed with onions, jalapeños, and cheese, then wrapped in bacon, then pit-smoked. Read that again. Then go. Again.
Van Nuys
Since the '60s, this Valley staple has been marinating brisket and spareribs in its distinctive special sauce, served in monstrous -- MONSTROUS -- portions... which is great, because, uh, leftovers.
Sign up here for our daily Thrillist email, and get your fix of the best in food/drink/fun.
Jeff Miller is the editor of Thrillist LA and will have some more pulled pork, please. Mmmmm. Oh, @jeffmillerla on Instagram and @thrillistla at Twitter.