The 9 best strip mall sushi spots in LA
Because you prefer to eat your raw fish at establishments that're sandwiched between a liquor store and an E-Z Check Advance, you're probably gonna want to read this: our handy guide to the nine best sushi spots in LA strip malls. (And yes, we're aware that Sugarfish isn't on this list, but it's a chain, and there's only so much love we can send its way.)
Kushiyu (click here for address and info)
Tarzana
Nestled in between a Yogen Fruz and a Relax The Back is this West Valley favorite, which's as well-liked for its skewers as it is for its sushi. Get the tuna-topped lemon roll and a skewer of sea bass, and you're all set. Except for the skewer of lotus root and chicken. And the Asian roll. And some yellowtail sushi. Okay, you're not really all set.
Hamasaku (click here for address and info)
West LA
This studio-exec staple recently changed chefs, but that doesn't mean they're totally abandoning the crazy rolls that made them famous (like the soy paper/truffle aioli/Parmesan cheese/baked crab "Sam Roll"), but rather, the sushi game's been upped, with delicately cut blue fin and ultra-fresh uni.
Sushi Park (click here for address and info)
Hollywood
Above Joe's Pizza on Sunset is this longtime favorite, where in Nozawa-esque fashion, you're warned about what they won't serve you ("No! California roll"; "No! Trendy sushi"), before they deliver what they will: imported-from-Japan fish that's melt-in-your-mouth wonderful.
Sushi Ike (click here for address and info)
Hollywood
A perennial Thrillist favorite, some say Ike -- which shares a Gower mini-mall with a 7-Eleven, a chicken place, and a weed dispensary that kind of comes and goes -- has gone downhill since its namesake chef moved to Pasadena to open a non-strip mall sushi place. We say the seared salmon, the sweet shrimp, and the perfectly cooked, not-chewy octopus beg to differ.
Sasabune (click here for address and info)
Beverly Hills
Does it count as strip mall sushi if the original location is under an indiscriminate office building, and this one's a blink-and-you'll-miss-it corner mart WITH A SECOND SUSHI PLACE RIGHT NEXT DOOR? If the fish is this good, and the prices are this fair (you can do lunch here for under $30, which is expensive for lunch, but super reasonable for amazing fish), then yes. Yes it does.
Echigo (click here for address and info)
West LA
Another in the canon of "Um, are you sure this place is legit?" based on the surroundings (pizza chain! Tobacco! Drapery!), this fishery has a Sasabune-trained chef, which means excellently vinegary rice, ultra-fresh fish, and a non-wallet-crushing check.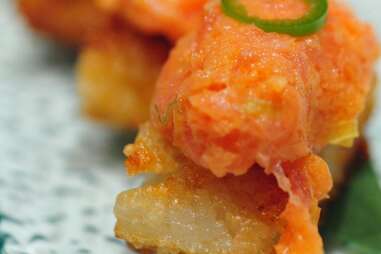 Katsu-ya (click here for address and info)
Studio City
We seriously might've gotten killed by the Valley Food Police if we didn't include the original Katsu-ya on this list. With way more attention to detail (and rice!) than the fancier, more famous sister locations, the first location's baked crab hand rolls and spicy tuna crispy rice still stand out from the competition.
Hirozen (click here for address and info)
Mid-Wilshire
Stuffed in the back corner of a Beverly Blvd strip mall -- like, the super-back corner, like it's something to be embarrassed about -- Hirozen breaks out crazy-good nigiri and an amazing eggplant/chicken dish that'll make you consider trying cooked food occasionally, as well.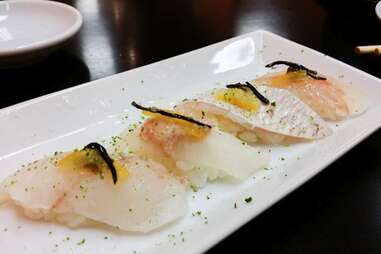 Go's Mart (click here for address and info)
Canoga Park
"Canoga Park??" you say? Yes, we say. And Pulitzer Prize-winning food writer Jonathan Gold -- who helped put this temple of albacore (and tuna belly, and tamago, and eel, and raw beef) on the map -- concurs.
Jeff Miller is the Senior City Editor of Thrillist LA, and would happily eat sushi every meal for the rest of his life, including breakfast. He's at @thrillistla on Twitter and @jeffmillerla on Instagram, where he often posts photos of sushi. Like, probably too often.