All people rejoice: the Umami hot dog is here
Gloriously, Burbank's Umami Burger has sorta-forgotten the second part of its name and gone and intro'd seven exclusive-to-that-locale Umami dogs (based off the fact that it's in a location that once housed a renowned meat-torpedo stand), all slathered in every topping you can imagine, and also all pictured below. To wit:
This Show Dog is ironically not something you'll want to display for others, since you're going to want to take down the 'furter topped with Hank's BBQ Sauce, onion straws, minced bacon, and beer cheese all by yourself.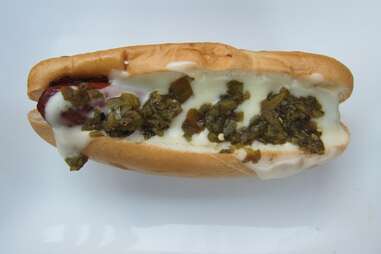 You'll totally get LOST in this Hatch Dog w/ roasted green chilies, housemade American cheese, and roasted garlic aioli.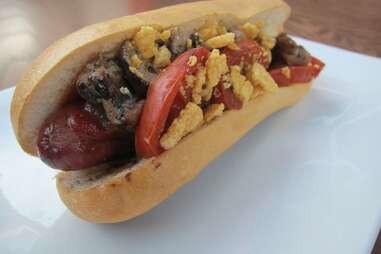 The Original Dog's got three Umami classics on top of it: roasted tomato, crispy Parmesan, and caramelized onions.
This glorified corn dog's served with a slew of your choices of sauces and is called the Burb Dog, which means there's a good chance it might eventually find a dead body in Tom Hanks' neighbor's backyard.
This Manly Dog has every right to brag about itself, thanks to beer-cheddar cheese, bacon, fried onions, house ketchup, and mustard.
The Chili Dog will hit bigger than 1986 Chili Davis, thanks to that same beer-y cheese, housemade chili, minced onions, and mustard spread.
The Cali Dog's got a serious amount of cheese, avocado, caramelized onions, roasted tomato, and what Hugh Laurie would hear if he were picked up by police during a stop-and-frisk (house spread).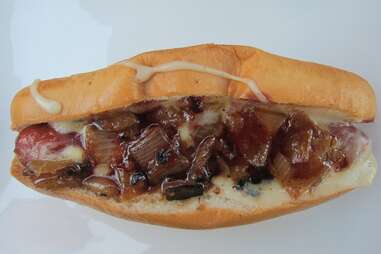 Complete your dog-asbord with this Truffle Dog, featuring truffle-infused onions AND house truffle cheese, as well as garlic aioli.