LA's Best Election Day Food & Drink Specials to Get You Through Tonight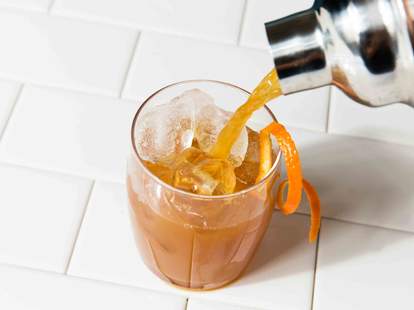 After an election cycle like we've been through, we could all use a drink (and probably something deep-fried, too). To help you make it through the home stretch of election night, we've rounded up the best food and drink specials and viewing parties for you to celebrate/commiserate with your fellow citizens. Just don't forget to bring that "I Voted" sticker along for many of the deals.
Sawtelle
The deal: Themed JELL-O shots and an open bar, plus food and activities to distract you from the results
Modern-day matchmakers Three Day Rule and nonpartisan voter guide BallotReady are teaming up to host a massive election night party at luxury co-working spot Village Workspaces. The live viewing party will feature an open bar, red and blue JELL-O shots, small bites, a photo booth, and a magician, and it's all FREE when you show your "I Voted" sticker (or make a $20 donation to the LA-based educational charity Fulfillment Fund, though nobody will stop you from doing both). TDR will also have its expert matchmakers on hand in case the election inspires you to find a kindred voter, and they'll also have virtual reality experience rooms (which may be the reality you want to escape to from all of the election insanity). RSVP recommended.
Courtesy of Hyperion Public
Silver Lake and Studio City
The deal: $6 Old Fashioneds are the highlight, but there are plenty of other drink and food specials
Both locations of Hyperion Public will be hosting an American "F-Yeah" Election Day Party with happy hour specials ALL NIGHT LONG. Drink specials include $3 PBRs and Tecate, $5 draft beers, and $6 house wine and cocktails, including Old Fashioneds and flaming greyhounds. You'll also find eats under $6 including grilled cheese and crispy shrimp tacos, but you'll definitely want to save room for the Blue State Wings (spicy blueberry) or Red State Wings (medium or hot buffalo), both of which can totally be enjoyed regardless of party affiliation.
Culver City
The deal: Wine and cocktail prices are cut in half
Sport your "I Voted" sticker at Akasha Richmond's new Italian-inspired spot and score happy hour prices all night, including half-price glasses of wine and cocktails. They'll also be offering two specialty cocktails: the Nasty Woman and the Bad Hombre, of course. They'll also have live election coverage on the TV in the bar area all night.
Downtown and Hollywood
The deal: Drink specials, massage therapists, and more to help with relaxation
Watch the results roll in at The Standard Downtown while massage therapists, a "Freudian drink therapist," and a special chakra healer help you to get in the right mindset for the results. They'll also be pouring red and blue shots throughout the night, and you can win prizes with the election night raffle. At the Hollywood location, you'll find the Walter Davis Band and performances from the Golden Girls of Burlesque, who have apparently been hitting the poles to prepare. They'll also have drink specials throughout the night.
Courtesy of The Lincoln
Venice
The deal: Discounts on themed drinks (you want The Nasty Woman)
Pull into Venice's car-themed cocktail outfit for a special "Born In The USA" vinyl night. In addition to patriotic jams, you can have your choice of candidate-themed cocktails like The Nasty Woman with rye, applejack, lemon, mint, and blueberry (for that blue-ish look), The Hollywood Boulevardier of Broken Dreams with bourbon, Campari, Carpano, and orange bitters and peel (for that combo of red and orange), and The Green Party Killer with gin, mint, egg, lime, and atomized Fernet (for that extra hint of optimistic green). Sorry Gary Johnson fans, you'll have to write in. Oh, and they'll have hot dogs and apple pie, obviously.
Hollywood
The deal: Two hours of incredibly cheap beers and shots
This cozy cocktail joint is celebrating its "First LADIES Night (Not First Lady's Night)" featuring happy hour specials from 5-7pm with $3 PBRs and $5 tequila shots, an all-female playlist (hint hint), a live broadcast of the results, and a complimentary pink prosecco toast when "the orange pumpkin concedes." And because November 8th also happens to be National Harvey Wallbanger day (but you knew that already), they'll also be serving up $5 Harvey Wallbangers until they run out.
Los Feliz
The deal: State- and candidate-themed drinks will run you cheap all night
As one of the more elaborate Election Day specials, guest bartender Tobin Shea of Redbird has created 50 cocktails inspired by each state in the Union, along with a corresponding 50-song mixtape, which will be served and played as each state is called on the big screen for a particular candidate (with red and blue coasters depending on the call). Leading up to election day, two other drinks will be offered: the Madame President (rum, Campari, vermouth, Steigl Radler) and the Mr. President (rum, Campari, and Carpano Antica), and depending on the election results, the winning drink will be featured all month long.
West Hollywood
The deal: The happy hour drink menu is running all day and night
A happy hour menu will run all day, including $6 house cocktails, house wine, and pomegranate basil sangria. You'll also find patriotic-inspired cocktails from head bartender Mark Fantasia to be unveiled that night, and when you show your "I Voted" sticker, you'll receive a complimentary treat with purchase. Election result coverage will also be shown on a big screen with sound in the atrium, and on the two bar TVs starting at 11:30am.
Hollywood
The deal: Half off your entire meal. Seriously.
Head to the new Yucca St location of this Los Feliz favorite for 50% off your entire order when you flash your "I Voted" sticker... because in these trying times, we really need a gyro (#sorrynotsorry). Also the loaded Zeus fries topped with meat, feta, and tzatziki should definitely be added to your order.
Courtesy of The Independence
Santa Monica
The deal: All draft beer pints are $5
Not surprisingly, The Independence is getting patriotic this election day with an #ImWithBeer celebration, which includes $5 craft beers on tap all day, an "Uncle Sam Drawing" with gift cards drawn at random for diners at 9pm, and speciality cocktails like the tequila-fueled Bad Hombre, the Russian vodka-spiked Nasty Woman, and for the reluctant voters, Straight Outta Options (a variation on a Long Island Iced Tea).
Culver City
The deal: Discounted fried chicken, plus specials on beers and cocktails
For election night, The Wallace will be pouring $4 select craft beers and $8 specialty cocktails like the bourbon-fueled Gold Rush. You can also grab a bucket of excellent fried chicken for $8. They'll even provide the hot sauce so you don't have to carry your own.
West Hollywood
The deal: Half-priced food and drink
To celebrate your right to vote (and its new menu offerings), this cocktail-centric WeHo outfit will be offering half off food and drinks, including tacos and flatbreads, and cocktails for $7 like the rye-spiked Honey Badger. It'll also be showing the election results throughout the night.
Courtesy of Red O
Santa Monica
The deal: Insanely cheap food, plus happy hour drink specials for the whole night
The Westside outpost of Red O will be throwing down happy hour specials all night long. On the ballot will be $3 bottled beers, $7 select wines, and cocktail specials like the bright red La Rosita with vodka and hibiscus or the blue American Spirit with reposado tequila, blue curaçao, and fresh lime juice. You can also cast your vote for $3 carnitas and short rib tacos, $5 quesadillas and tamales, $6 queso fundido, and more.
Multiple locations
The deal: Discounts on beers, mixed drinks, and food for the entire day
In addition to happy hour (aka "Recess") specials all day long, which includes $4 craft beers, $5 well drinks, and eats starting at $5, all Public School locations will feature beer pong with Hillary Clinton and Donald Trump on the beer pong balls to help you get in the true spirit of America.
Downtown
The deal: Specialty cocktails will only run you $10.
Starting at 5pm, The Association will host a big election night party with drink specials and results coverage shown all night in FULL SURROUND SOUND, so you won't miss a thing. You'll find discounted specialty cocktails at $10, including The George HW Dragon with mezcal, pineapple, lime, and Tapatio;  "A Plane to Canada" with Crown Royal, Amaro Nonino, and Campari; and "The Problem Solver" with bourbon, Cherry Heering, Benedictine, and a Fernet wash.
Downtown
The deal: Free mini-donut
Grab a pint-sized donut with an American flag on it when you show your "I Voted" sticker. Also, you should probably stick around for the fried chicken, too.
Sign up here for our daily LA email and be the first to get all the food/drink/fun Los Angeles has to offer.
Danny Jensen is Thrillist LA's Interim Editor and will happily flash his "I Voted" sticker if you ask him nicely. Vote for him on Twitter and Instagram.