Where to Party Dinner in LA
Two important facts you probably weren't aware of: 1) A crocodile can't stick its tongue out, and 2) December 21st is the longest night of the year (we're talking 15hrs of straight darkness), which also makes it the perfect chance to celebrate what should be the "Best Night of Your Life", assuming you spend it hitting the city's best Thrillist-approved happy hour spots, cocktail bars, and dives, 'til the sun pops back up. Check out our picks for LA's best party dinner spots below, and make sure to fully map out a perfect evening with our itinerary builder.
A-Frame
West LA
Roy Choi's Culver City spot's got amazing, approachable food (beer can-chicken FTW!), great drinks, and a picnic-feel that makes it perfect for groups to get down in. Downside: they don't take rezzies, but drinking that booze soothes the pain of a long weekend wait.
Eveleigh
West Hollywood
RIGHTFRIKKINGTHERE on the Sunset Strip's this sorta-hidden gem, which is basically one enormous foliage-laden patio with killer cocktails and great food in the heart of party central.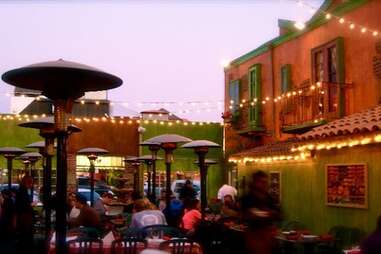 C&O Trattoria
Venice
C&O's a classic, casual Venice birthday party spot, and for good reason: the family-style pasta they serve is both good and inexpensive (is it life-changing? No. Is it wallet-emptying? Also, no!), and there're added bonuses: the Chianti on the table is on the kinda-honor system (they measure at the end of the meal to see how much you drank), the garlic bread knots are endless, and the staff sings "That's Amore" every hour for added party-heartiness.
AOC
Mid-Wilshire
When Suzanne Goin moved her award-winning restaurant down 3rd Street last year, she inherited two things that make it great for groups: an eye-bonering patio (score!) and a rentable upstairs private wine room that looks sorta like an Italian villa.
Bagatelle
West Hollywood
For a certain group of Angelenos (read: young and rich and kinda wreckless), Bagatelle's become the party spot, so if you're into DJs spinning house music while you attempt to pick up a model who's visiting from Milan and eating roast chicken at the same time, blammo, you win.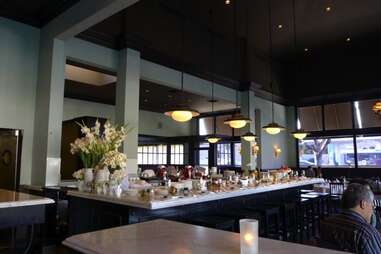 Osteria Mozza
Hollywood
Is it spendy? Sure. Is it delicious? Sure x2. Do they have great, round tables where you can have a night of wine, cheese, pasta, and conversation while you pretend you're a grownup before hitting up a Bad Decision Bar still dressed up all fancy-like? Sure x3!!
Versailles
West LA
Another casual classic. Though we've linked to the Westside location above, all of the iterations of this Cuban cafe (also in the Valley, the South Bay, and Mid-City) offer killer, inexpensive food that's ethnic enough for the guy who insists on only eating food from weird places, but approachable enough for your friend who doesn't do that. Pro-tip: get the garlic pork and/or garlic chicken. And then some gum.
Malo
Silverlake
This Eastside standby (owned by the dude behind The Echo!) is an affordable Mexican taqueria with strong-as-hell margaritas, expertly grilled carne asada, and a staff that's friendly to the point of "Hey, why don't you sit with us and drink one of these strong-as-hell-margaritas!"