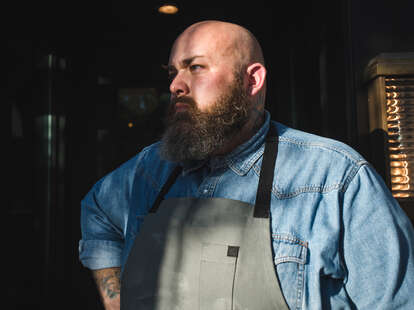 Wonho Lee/Thrillist
Wonho Lee/Thrillist
How LA's Best Chef of 2017 Is Perfecting the Art of Pasta
The last time I saw Evan Funke, it wasn't in a restaurant, or at a food festival, or even stuck in traffic. Instead, it turns out that Funke and I (both broad, bearded men) go to the same barber to take care of our errant facial hair: a no-frills, dude-focused shop staffed entirely by barbers with razor blade tattoos and punk rock tees. Despite the care that goes into the meticulously crafted, critically acclaimed pasta at his restaurant, Felix, Funke is a man of the people.
That's part of his appeal, and the reason Felix has garnered near-unanimous acclaim. (Felix is one of Thrillist's 13 best new restaurants in 2017.) Funke doesn't hide in the kitchen, nor does he occupy a traditional front-of-house position in his restaurant; instead, his pasta-making room is smack in the middle of Felix and visible from nearly any seat in the house, acting as a sort of dare to anyone who wants to question his chef bona fides.
Of course, this isn't Funke's first foray into the LA restaurant world: his last place, Bucato, was also fresh-pasta focused and roundly acclaimed, but the Culver City spot folded back in 2015 when the relationship between Funke and some of his business partners went sour. After the dissolution, Funke took a bit of time away from LA, working in other kitchens and getting his mojo back in Italy before returning to prove himself this year. "I guess the stakes were very high for me to open a comeback restaurant [after Bucato closed]," he says. "I just kind of went off the radar and did some soul-searching and some consulting... I felt like I needed to re-ground myself, because of what happened with Bucato."
"This year there was a lot of pressure, but for me that's my sweet spot. I work best when I'm under pressure," he continues. "I've just learned an incredible amount over the last five years about what kind of business I want to run, what kind of chef I want to be, and what kind of mentor I want to be. That was really the jumping off point for this. The food I was cooking at Bucato was a little bit like sophomore year -- and this is like my thesis in grad school." Diners obviously agree: the restaurant's sfincione bread (an air-filled, light, doughy miracle) is a must-order delight, and everything from delicate squash blossoms to pork meatballs are near-perfect.
The monthlong wait for a table isn't for the bread or meatballs, though -- it's for the pastas, a creamy tonnarelli cacio e pepe and a meaty Bolognese that bear the unmistakeable air of care and love (as well as plenty of olive oil and cheese). Funke knows this, and his devotion to the craft of making those noodles is unparalleled and well-documented. "Pasta is an animal," he says, waxing philosophical. "Pasta is directly affected by its immediate environment, and it's never the same. You have to allow the pasta to speak to you in order to achieve what we do every single day. You have to listen to the pasta." Metaphysical musings aside, though, Funke's mastery of the Italian noodle ultimately comes down to one thing: practice. "I've rolled over 50,000 sfoglia [sheeted pasta dough rolled with a meter-long rolling pin] in the last 10 years -- I did the math. Fifty-thousand sfoglia, and I'm still figuring it out."

When Funke wasn't making pasta himself this year, he was eating other people's take on the classic: one of his (and our) favorite new restaurants in LA is Rossoblu, where Steve Samson is busting out recipes from Bologna as well. "I think Italian food is woven into the very fabric of American life," Funke says. "I've never even talked to a family that hasn't had spaghetti and meatballs. Italian food is America's food, and it strikes a chord with people. It's instantly comforting and familiar."
Funke also believes (like many others) that LA is one of the best food cities in the country right now, and he wishes that the Michelin guide -- which has been conspicuously absent from the city for nearly a decade -- would come back to confirm what everyone else already knows. "With the overwhelming amount of excellent restaurants, they have no choice not to," he says. "Excellence does not live in a white linen box. Excellence lives on whatever table that you use. Excellence lives on earthenware plates and rustic cuisine... it's not just about fine dining. It's about service and excellence that's coming out of the kitchen. I think they need to take a different perspective of what's going on in this city."
That said, Funke's not resting on his laurels in anticipation of more accolades. Instead, he's going into 2018 doing what he does best: making pasta. "I'm really looking forward to settling in and creating a home on Abbot Kinney and building a family within this restaurant," he says. "I plan on being here for a very, very long time. There's obviously a lot of interest, and there's a lot of things that I want to do, but I think that balance is created through restraint. And, I think, unfortunately, that's the mistake of a lot of restaurant groups -- to expand far too fast.
"I really like to polish what I do and the people that I teach, I want them to be fully supported and ready for me to step away from the path to open something. For me, I think 2018 is going to be me at Felix every single night, making pasta." Except, perhaps, for the odd day when he needs a beard trim.
Sign up here for our daily LA email and be the first to get all the food/drink/fun Los Angeles has to offer.
Jeff Miller just returned from learning to make pasta in Italy, and would love to go head to head with Evan. Mostly because then he could eat Evan's pasta without making a reservation. He's on Instagram at @jeffmillerla.