Named for the Mexican surf town, Sayulita, the Mondrian's new outdoor taqueria & tequila bar, is serving up a menu with enticingly exotic-sounding tacos that are likely to turn you into Jimbo Pellegrine, the aquatic athlete responsible for such headlines as "Jimbo Pellegrine Proves That Fat Guys Can Surf".
This lawn is the setting where you'll take down Josh Goldman and Julian Cox's dueling cocktail menus, one featuring 40 tequilas plus selected mescals, the other a cold-pressed juice program they put together with nutritionist Tara Curran, who kind of looks exactly like the kind of woman you hope you'll spend more than 20 seconds talking to while day drinking outside SkyBar.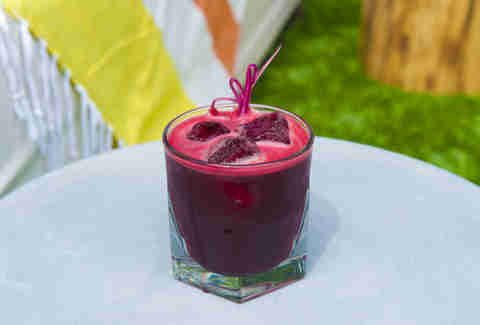 The Funky Beets contains tequila, but it also contains beets. This is almost undoubtedly the work of a nutritionist.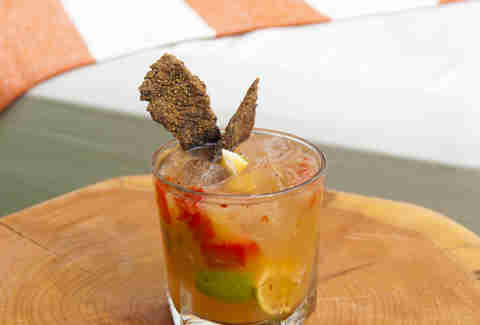 The mescal-based Barbacoa, on the other hand, is garnished with beef jerky, which does provide your body some stuff it needs, but probably not in a "created in conjunction with a nutritionist" kind of way.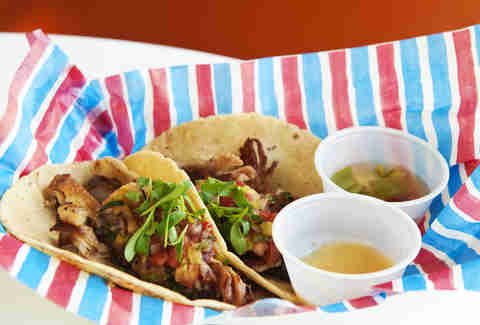 Beyond the pig ear variety, Sayulita also offers numbers like shrimp & bacon and these crispy pork belly guys, garnished with black pepper, garlic, chilies, and charred melon, which can happen when there's no rain.
Obviously you'll want to top off your wonderful afternoon in the sun with fried, delicious churros, because even though you can't be Jimbo, you can still be jumbo.