Echo Park's Bacetti Is a Love Letter to Rome
Beloved natural wine bar Tilda just got a new sibling.
Bacetti interior in Los Angeles, CA

| Dylan + Jeni
Bacetti interior in Los Angeles, CA

| Dylan + Jeni
Centuries-old Roman cuisine has enjoyed some recent popularity in America on menus in NYC and more recently, here in LA (Oste, Evan Funke's upcoming Mother Wolf, et al). Now soft-open in Echo Park, Bacetti (aka "little kisses" in Italian) is the culinary sibling to next-door Tilda natural wine bar, in collaboration with chef Joel Stovall (previously of Orsa & Winston).
The 1920s-era building has been transformed by Stayner Architects with inspiration from Rome during the same time period. Inside, you'll find exposed wooden beams, globe light fixtures, terrazzo floors, teal-colored wooden banquettes, and cozy leather booths to settle into as you peruse the menu of pizza, pasta and other carb-laden comforts.
The menu is broken down into five major sections with starters ranging from Ebraica focaccia (a reference to Rome's ancient Jewish quarter) to two types of suppli (rice fritters) as well as two varieties of bruschetta. Housemade pastas range from takes on canonical Roman dishes like all'Amatriciana (in this case made with rigatoni, guanciale, tomato and pecorino); tonarelli cacio e pepe; and bucatini carbonara; to pumpkin agnolotti dressed in brown butter and sage. There's also pizza, and mains like a breaded half-rack of lamb, and whole branzino with gremolata.
Drinkswise, the menu will of course highlight natural wines from neighboring Tilda. And on the sweets side you can expect desserts like tiramisu, bombolini and panna cotta.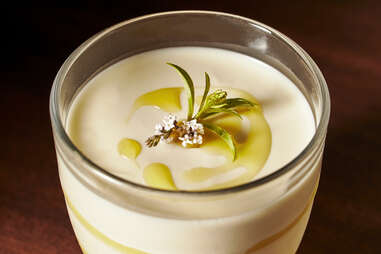 Now open for dinner six nights a week, you can book a table for smaller groups via Resy.
Kelly Dobkin is the Editorial Director of Local at Thrillist.