First Look: Bicyclette Bistro Is a Love Letter to Paris From the Chefs Behind Republique
Classic bistro fare with a twist inside a charming bi-level space.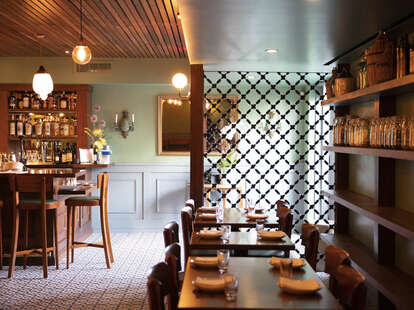 Photo by Anne Fishbein, courtesy of Bicyclette
Photo by Anne Fishbein, courtesy of Bicyclette
Chefs Walter and Margarita Manzke, the duo behind such hit restaurants as Republique and Petty Cash just debuted the newest addition to their restaurant family, Bicyclette Bistro, which opened this week in Beverly Hills.
Broken up into two distinct concepts, Bicyclette Bistro and Bicyclette Restaurant, the Bistro is open now on the ground floor of the space and the Restaurant (tasting-menu only) will be opening upstairs later this year.
At Bicyclette Bistro, the Manzkes showcase their love for the city of Paris with their locally-sourced take on bistro classics like tuna "steak" tartare, escargot en croute, duck leg confit, and beef short rib a la Bourguignonne. To start, fresh baguette is paired with toppings like Virginia ham or duck liver mousse with blackberry gelée.The entire menu will capitalize on seasonal California produce and locally sourced meat and fish.
Drinkswise, expect an all-French wine list in addition to curated cocktails, mocktails, and aperitifs from Bar Director Shawn Lickliter, such as the Le Marais with Floc de Gascogne, absinthe, almond, cucumber, lime, and celery.
The ground-floor space features dark woods, vintage church pews, and tables crafted by Walter Manzke himself (a man of many talents!). The intimate 80-seat bistro also features bar seating, brass wall sconces, oversized armoires, wood-paneled ceilings, eclectic art, and vintage-inspired light fixtures. The exterior is reminiscent of a stately European maison.
9575 W. Pico Blvd.