12 Things You Didn't Know About California Pizza Kitchen
One thing you do know about CPK? No matter what, you're definitely getting the BBQ chicken pizza. But what about less-obvious stuff? Here are 12 things you didn't know about the venerable LA-based chain:
1. CPK popularized "California-style" pies in 1985 when its first location opened in Beverly Hills
Chef Ed LaDou actually invented California-style at Wolfgang Puck's Spago. CPK's founders later hired LaDou to create the menu for their new venture, thus flooding the lineup with pies that featured the style's telltale unique and innovative flavor combinations using ingredients that aren't commonly found on pizza.
2. The chain invented two of the most nationally popular California-style pies
The BBQ chicken pizza? Of course. But CPK also claims to be the first to make Thai chicken pizza. That other people have recreated both pizzas so often that they're now common makes the whole California-style definition very confusing.

3. It serves unagi pizza in Japan
Yep, and also roasted pork belly pizza in China. So... how much is a plane ticket, again?

4. Every restaurant kitchen has 17 varieties of fresh cheese on hand
So, its philosophy is based on Barry Manilow??
5. It currently has almost 300 restaurants in 16 countries and 218 cities
It's also served over 15 million pizzas. Does that make BBQ chicken pizza America's greatest export?

6. Pizza is only one-third of its menu
It's now offering fire-grilled ribeye with house-made pinot noir sea salt, which is nothing to wine about.
7. When Viola Davis was nominated for her first Emmy award, she celebrated at CPK
The How to Get Away with Murder star ordered a strawberry basil martini, aka Wondering How to Get Away With a Crushing Sugar Headache the Next Day.

8. The Redondo Beach CPK has a secret test kitchen hidden inside
They can't disclose anything about it, though, other than they're developing recipes using seasonal ingredients for spring and summer.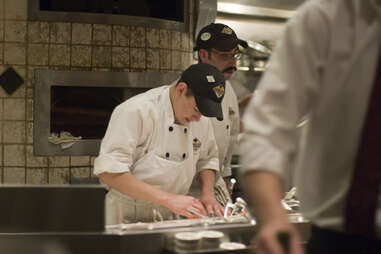 9. There's an annual employee conference with a best pizza chef competition
AKA the employee conference you most want to crash this year

10. If you order a "mup-sau," they'll know what's up
What's up? The mushroom pepperoni sausage pizza, that's what's up. And now you'll get it about six seconds faster.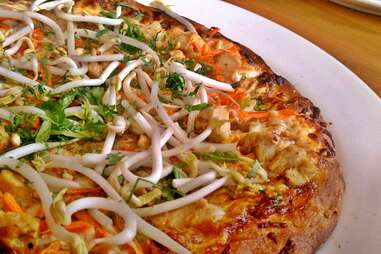 11. CPK "Oven Ready" sells about 24 million units per year
That's more than 66K pizzas per day. So one right now. And right now. And right now...

12. CPK has a brand-new official partnership with the Make-A-Wish Foundation
No joke here, that's pretty great.
Sign up here for our daily LA email and be the first to get all the food/drink/fun Los Angeles has to offer.

Jeff Miller really likes CPK's Chinese chicken salad. He'll split it with you on Instagram or Twitter.