This Rare Sichuan Jelly Dessert Is Like Eating Fairy Food
Get a taste of cool, fruity bingfen at this new specialist in San Gabriel.
Photo courtesy of Jell & Chill
Photo courtesy of Jell & Chill
A low-calorie vegan dessert that's bright, colorful, and looks great on camera sounds like a modern made-for-Los Angeles food trend, but bingfen actually originated in Sichuan as a refreshing street food dessert to cool off after spicy meals.
Making this soft and slippery crystal jelly is a labor intensive process, and Jell & Chill at Prospect Plaza in San Gabriel is one of the only places in Los Angeles you can find it.
Husband-and-wife co-founders Yu Zhang and Zixi Zhou, both 33, grew up in neighboring provinces Guizhou and Sichuan, where bingfen is popular. Both remember eating simple versions of the treat as kids with their families—fresh bingfen crystal jelly dressed simply with sugar syrup and crushed peanuts.
"My grandma used to make bingfen for me in the summer, rubbing the seeds to get the natural jelly out," Zhou recalls. "We would sit in the yard and chat and I was fascinated by the whole process. It was like magic."
At Jell & Chill, the duo have reimagined their nostalgic childhood treat as fanciful bingfen parfaits layered with seasonal ingredients. There are nearly a dozen flavors on offer at any given time, with toppings like fresh Malaysian Musang King durian, fresh mango, peach resin, honeycomb, black sticky rice, mochi, haw flakes, mung bean, and a plethora of homemade ice creams and sorbets.
They make batches of bingfen fresh throughout the day, beginning with brown sesame-sized seeds from the flowering Nicandra physalodes plant imported directly from Sichuan. To make bingfen, you wrap the seeds in cheesecloth and scrub them together in water for around 20 minutes to release the pectin. Once the water is thick and foamy, add limewater to jellify the bingfen, which is the nearly zero-calorie base for all of Jell & Chil's treats. Adding just the right amount of limewater for the ideal soft and slick consistency is an art that can only be perfected with practice, Zhang says. Every batch of seeds is a little different, so it's not as simple as strictly following a formula.
Hand-scrubbed bingfen should be visibly full of air bubbles, creating an effervescence that dances on your tongue. It's delicate and delightful, like eating fairy food. Jell & Chill's bingfen parfaits are flavorful but also not too sweet, a healthier alternative to boba or ice cream.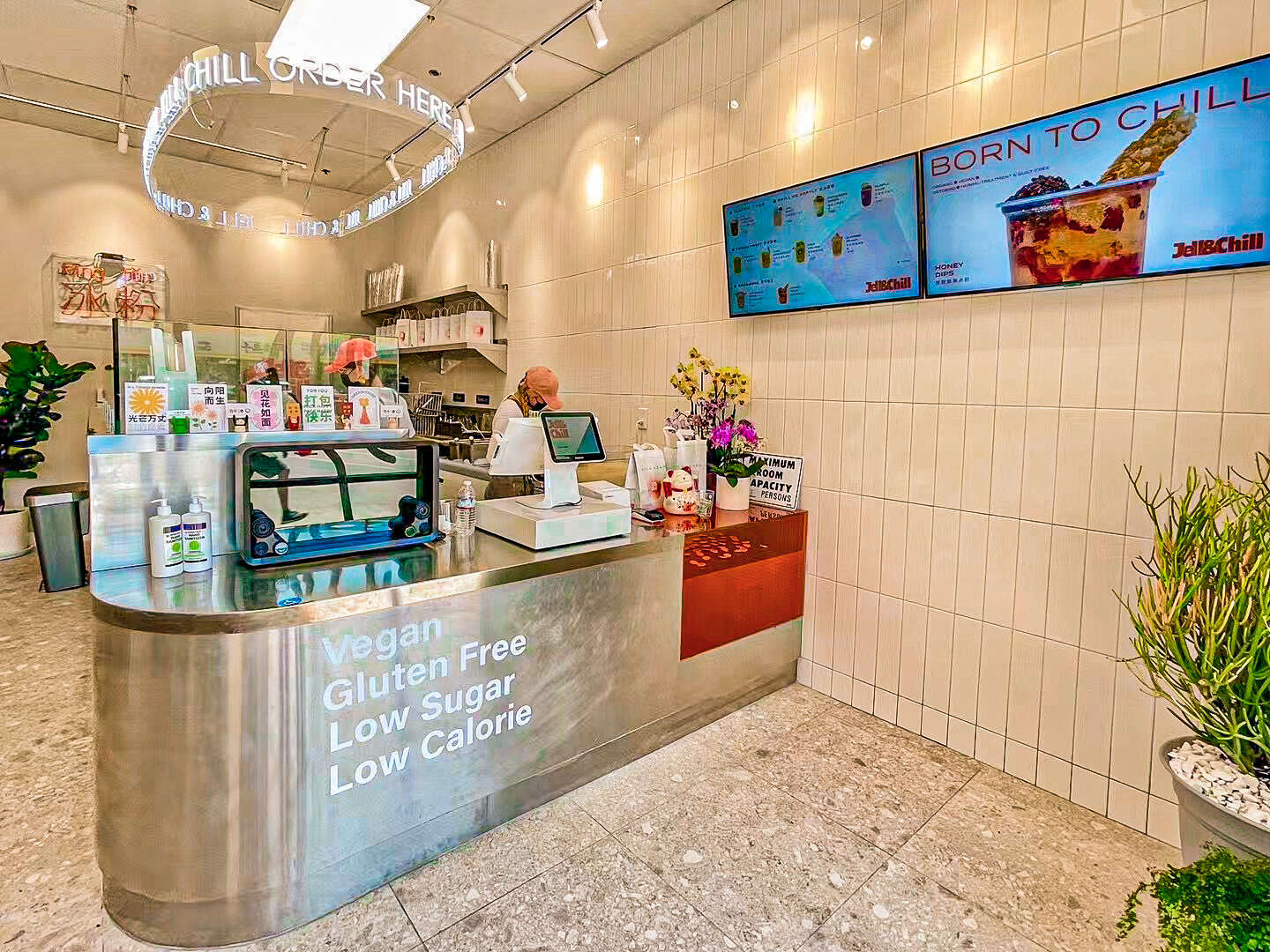 A sweet love story
Zhou and Zhang were introduced through mutual friends in China just a week before both came to the United States to pursue masters degrees in New York City. Zhang says it was practically love at first sight and the couple have been together for 12 years now and married for four.
She studied business at Adelphi University while he studied at Pratt Institute School of Design, and the duo now employ their complementary skills in their business. She oversees operations and menu development while he designs their stores and handles ingredient procurement.
The first Jell & Chill opened in New York's East Village at the end of 2019, just before the pandemic. Zhou and Zhang soon realized that few New Yorkers craved cool bingfen in winter and Los Angeles would make a friendlier location for their refreshing dessert shop. They moved to Pasadena and opened their San Gabriel store in July 2022, closing their East Village location shortly thereafter.
During the peak summer season, Jell & Chill serves 400 cups of bingfen a day, and there are always new flavors on the menu. "We've been to hundreds of dessert shops to try different flavor combinations, and we often get inspiration for new flavors from cocktails, since Yu and I love to drink," Zhou says. "Bingfen is my hometown food and I've been deeply in love with this street food since I was a child. It's my passion to share it with the world."
Amber Gibson is an LA-based journalist specializing in luxury travel, food, wine and wellness. Her work also appears in
Conde Nast Traveler
,
The Telegraph
,
Saveur
and
Fodor's
. Follow her on IG @amberyv.