As the Declaration of Independence clearly states, "We hold these truths to be self-evident, that all men are created equal, that they are endowed by their Creator with certain unalienable Rights, that among these are Life, Liberty, and the pursuit of the best donuts in Los Angeles".
Helping with that last part, here's a list of LA's nine best breakfast rings, broken down into three categories: classic donuts, new donuts, and hybrid donuts.
CLASSIC DONUTS
Apple fritter donut
Randy's Donuts (address and info)
Inglewood
In a city full of iconic donut shops, Randy's Donuts might be the most iconic, thanks to both its signature roof decoration, and what it's frying up underneath it: glazed chunks of glorious apple fritter-ness that're perfectly crunchy and sweet.
Fresh strawberry-stuffed donut
The Donut Man (address and info)
Glendora
This Glendora treasure has a line virtually 24-hours a day, and its fruit stuffers are the reason why -- they've got whatever's in season -- from strawberries to peaches -- tossed directly inside, which gives the not-so-healthy treats an actually healthy (and often refreshing) kick.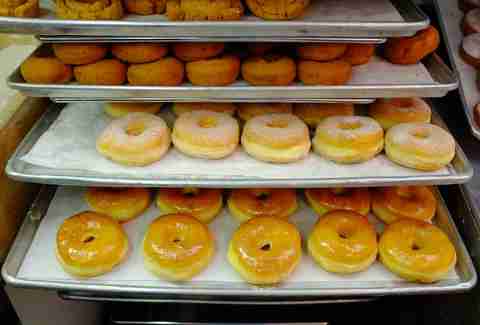 Glazed donut
Bob's Coffee and Donuts (address and info)
Fairfax
This stall in the farmer's market on Fairfax has been doing its thing since 1980, and for more than 40 years, that "thing" has been absolutely killing the classic donut game. Its cake donuts aren't too dense, its buttermilks aren't too creamy, and the glazeds are risen just perfectly before being given a not-too-thin, not-too-thick layer of clear sweetness.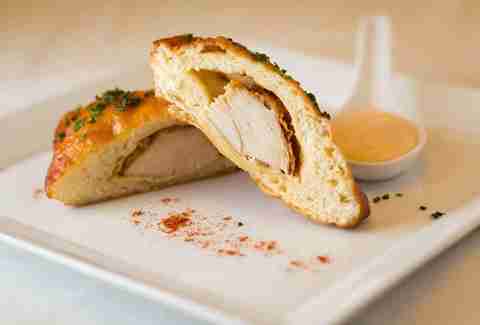 NEW DONUTS
Fried chicken donut
Glazed Donut Bistro (address and info)
West Hollywood
This new-to-the-scene WeHo shop changed the game with fried chicken donuts and shrimp beignets, then just CHANGED IT AGAIN by adding mac 'n cheese to donuts. Mac 'n cheese. To donuts.
Choose-your-own-adventure donut
Donut Friend (address and info)
Highland Park
The dude who runs this crazy donut shop in Highland Park used to produce records for Blink-182, which may explain his devotion to something so kid-like. Donut Friend is basically a donut version of Pinkberry; you choose your base, and then expand on it with everything from maple glaze to marshmallows and bacon.
The campfire donut
Donut Snob (info)
Echo Park
Originally a delivery-only operation, these upstart donuteers are now baking their 'nuts specifically for artisan breakfast shops around town (including the just-opened Cofax Coffee Shop on Fairfax). Flavors include insanity like the s'more-like Campfire and a seasonal Pistachio Orange.
HYBRID DONUTS
Wow-Nut
DK's Donuts & Bakery (address and info)
Santa Monica
This old-school Santa Monica donuteria introduced the waffle-donut hybrid to LA this year, offering up both your choice of toppings (Oreo cookie crumbles, FTW!) and a raging case of the why-didn't-I-think-of-that-first-ies.
The Cronut hole
SK's Donuts & Croissants (address and info)
Mid-Wilshire
The family-run bakery near The Grove has an ever-rotating selection of different Cronut flavors, but the real winner is the Cronut hole, which, for around a quarter a pop, will fill you with grease and pastry and yum.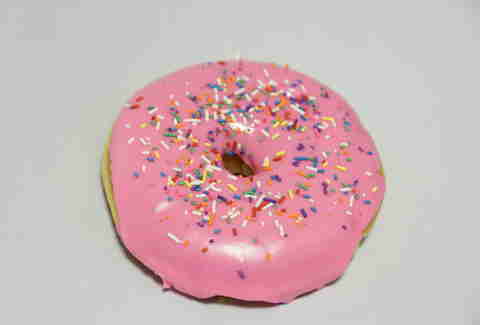 Cake-Nut
Universal Studios Hollywood (address and info)
Hollywood
You're probably looking at this thinking, "Are you serious? That head-sized, Simpsons-branded donut at Universal made the list?"... And we're thinking right back at you, "Yep, it totally did. Even though it looks like it's from a cartoon, this half-donut, half-cake monster is seriously, 100% actually good".
This list -- and all the rest -- look even sexier in our iPhone app. Get it now!
Jeff Miller is Thrillist LA's Senior City Editor and thinks all donuts should be head-sized. Follow him on Twitter and Instagram.