Taste-testing the craziest new burger in LA
Just launched at Eden Burger Bar, the Prisoner Burger's the most extraordinary meatwich Glendale has ever seen. It's made from a proprietary blend of dry-aged beef, bacon & sausage, and is packed with enough toppings to make Yogurtland envious. So naturally we decided to make like the opposite of that Megadeth song and take at least one Prisoner by taste-testing it.
As you can see when we broke it open, the main event's an 8oz patty featuring pretty much every kind of meat you'd want. Except lion meat. There's no lion meat.
Making up for the lack of lion meat: sauteed onions and peppers, melted gooey chipotle Gouda, beer-battered sauerkraut, and spicy honey mustard... which is an underrated and delicious condiment.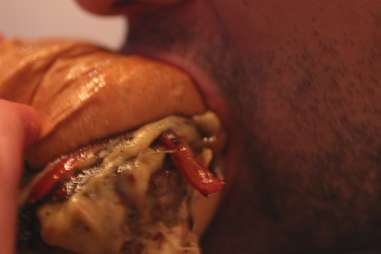 So, how's it taste? Well, the bacon fat renders throughout, giving it an unexpectedly porky crunch in each bite, while the sausage moistens-up the beef, and is complemented -- but not overpowered -- by the spicy honey mustard, and that thick slice of Gouda. In other words, expect to be handcuffed to this guy whenever you go to Glendale.