You're an adult, which means you can't sit around all day eating Ding Dongs, and corndogs, and Fruit Roll-Ups, but you CAN totally sit around eating... grown-up versions of Ding Dongs, and corndogs, and Fruit Roll-Ups! Here're 11 places that do those, plus basically every other awesome junk food you ate as a kid. Remember, just because Vince Vaughn says you're all growns up, doesn't mean you have to eat like you are.
 
Pop-Tarts
Barton G. (address and info)
West Hollywood
Having once given toasters a noble purpose and you a massive sugar high before school, the mighty Pop-Tart has received a savory, white-tablecloth reboot at Barton G.'s LA food carnival. Packed with Maine lobster (?!?), Gruyere, and Pernod Mornay sauce, these fancy phyllo pastries are served in a retro toaster with a side of Tabasco hollandaise, because yes.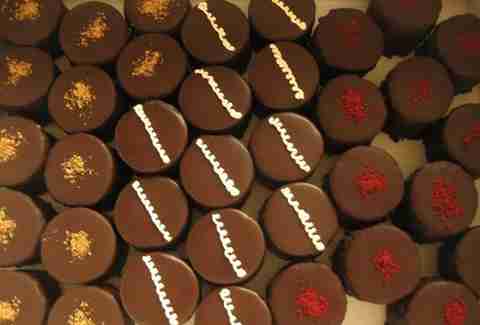 Ding Dongs
Semi Sweet Bakery (address and info)
Downtown
The red velvet Ding-a-Lings (good name) at this Downtown trove of refined classics will take you back to when you used to gleefully stuff Ding Dongs in your face with reckless abandon. Layers of fluffy red velvet cake are mortared together with cream cheese frosting, sprinkled with crunchy chocolate pearls, and sealed by an outer layer of magical Valrhona chocolate.
Fruit Roll-Ups
Plan Check Kitchen + Bar (address and info)
Fairfax
Whether you tore off pieces, wrapped them on your finger, or just rolled 'em in a ball for one bite, Fruit Roll-Ups likely held a coveted place in your lunch box. Now you can relive that stretchy goodness once again with the savory ketchup and Sriracha leathers that top the burgers at one of our favorite spots in K-town: Plan Check. Just be sure to order 'em on the side if you want to actually make your fingers sticky.
Shaved ice
Okrumong (address and info)
Koreatown
Maybe you got your summertime sugar fix from snow cones or Italian ices (both totally legit), but if you were lucky enough to grow up with a shaved ice cart nearby then you'll definitely dig this frosty/fluffy bowl of heaven. Okrumong, one of K-town's favorite new sweet spots, serves up a colorful variety of shaved ice with classy golden bowls and spoons. Pro-tip: top it with a side of sweeter-than-they-sound red beans.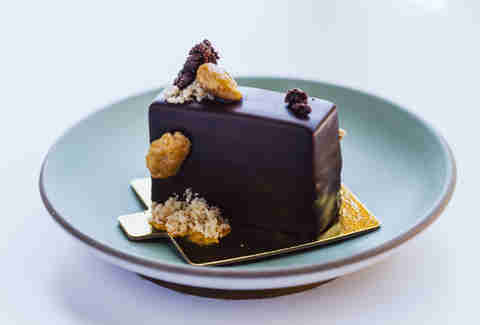 Snickers
Superba Food + Bread (address and info)
Venice
You could always count on Snickers to satisfy you during those important moments in your life: recess, Halloween, 10 minutes ago. And now, at this new-ish Venice café and bakery, you can get your nougat-y fix like an adult with the Superba Candy Bar, a fancy redux decked out in chocolate mousse, Marcona almonds, caramel, and sea salt.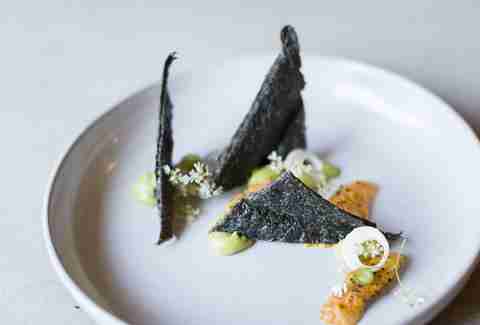 Doritos
Saint Martha (address and info)
Koreatown
Because the flavor explosion of Jacked Enchilada Supreme Doritos isn't enough for your adult palate, this newly minted K-town bistro has you covered for not-childhood. They've reinvented your favorite crunchy, orange-y snack as crisp seaweed "Doritos", which you'll use to scoop up delicious uni tataki and avocado mousse. Just like when you were five... right?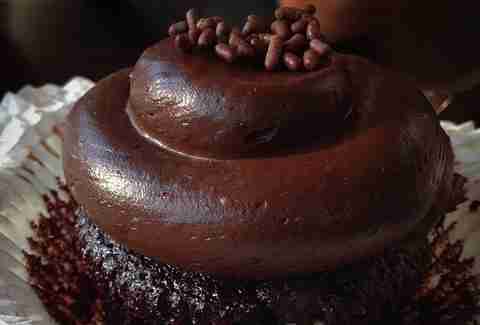 Hostess CupCakes
Lark Cake Shop (address and info)
Silverlake
If you're willing to overlook the missing squiggle of white frosting on top, the chocolate mousse cupcake at this Silverlake bakery is willing to overlook your grown-up face. Once you bite into the dense chocolate cake and discover a familiar whipped cream filling, you'll both come to an important understanding, which is that you'll definitely be ordering a dozen more.
S'mores
Acabar (address and info)
Hollywood
Brilliant was the person who first said, "yeah, I should totally bring these marshmallows, graham crackers, and chocolate bars over to that roaring bonfire". Brilliant-er is the mastermind behind the decadently re-imagined Gimme S'more, an artful sprawl of chocolate crèmeux, candied cocoa, graham cracker crumble, and marshmallow ice cream.
Fluffernutter
The Must (address and info)
Downtown
This wine-stocked Downtown eatery brings the classic after-school special to a new level with the addition of a dark chocolate ganache dip to their grilled brioche sammy of peanut butter, marshmallow fluff, and bananas. And no, we won't trade you ours for a PB&J.
Corndogs
Old School Eatery (address and info)
Pasadena
Whether you hit up Hot Dog On A Stick after school or eagerly awaited the county fair for the deep-fried pleasure of a c-dog, this new Pasadena retro spot brings you back to the good ol' days with house-made corndog "lollipops" served with quality mustard. And yes, they pair perfectly with their, uh, Bacon Cronut Burger. Yeah, that.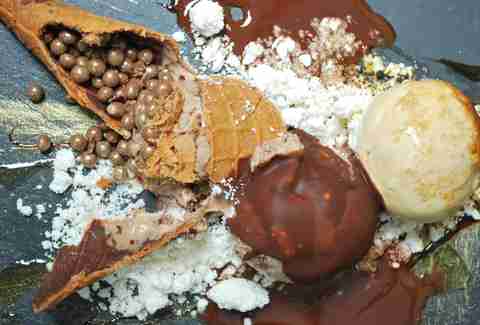 Astronaut ice cream
Firefly (address and info)
Studio City
This Studio City favorite's Beautiful Disaster dessert wouldn't stand up on the space station, but it's out of this world anyways: scoops of brûléed coffee and chocolate sherbet are splattered on a stone slab where shards of sugar cone smash open to reveal little pearls of chocolate awesomeness.
Sign up here for our daily LA email and be the first to get all the food/drink/fun Los Angeles has to offer.
Danny Jensen is currently in a sugar coma. Find him at @dannyseamus on Twitter.