By now, you're quivering (or is that quidditching?) in anticipation of the opening of The Wizarding World of Harry Potter at Universal Studios Hollywood. (They also soft-opened in what they called a "rehearsal" this past weekend, so if you're REALLY chomping at the bit, watch social media to see if they do it again.) But we got in early to hang our broomsticks up, grab a few Butterbeers, and take a sample of all the food and drink you can expect on April 7th once you finally get around that pesky Muggle-Repelling Charm that's kept you away from Hogwarts and Hog's Head all these years. We also stole some bonus shots of castles, pubs, and more. Gander below, muggle:
Recommended Video
Thrillist's Best (and the Rest): The Truth Behind the Saddest Cookbook Ever
First off -- yep, you're gonna be able to walk into Hog's Head tavern...
... and obviously the first thing you're going to order is...
... a frothy Butterbeer, which is essentially, in the real world, a cream soda with a butterscotch foam, served in a signature cup, and available either frozen or straight-up.
In any case, it'll be served to you by these house-elves, none of whom are actually named Dobby, but all of whom will no doubt be called that enough that they'll be frustrated by day five. 
If you are drinking alcohol, Hog's Head does have actual beer, too, and they're all proprietary brews: Hog's Head Brew red ale, a Dragon's Scale lager, and a Wizard's Brew porter. The menu also has signature cocktails, like this Pear Dazzle with vodka, lemonade, and pear cider.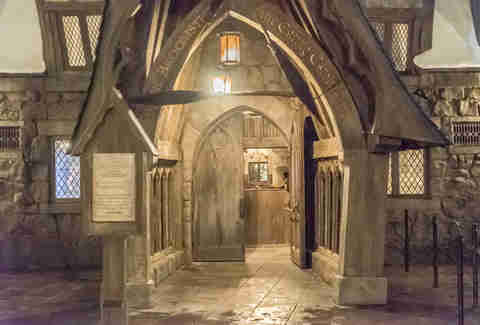 Then, you'll walk next door to Three Broomsticks (!!)...
... you'll check your own at the door... 
... and you'll get dinner. Food-wise? They've got Hagrid-sized portions of English pub fare, including The Great Feast -- which includes a salad, lemon-herb roasted chicken, spare ribs, corn, and roasted potatoes...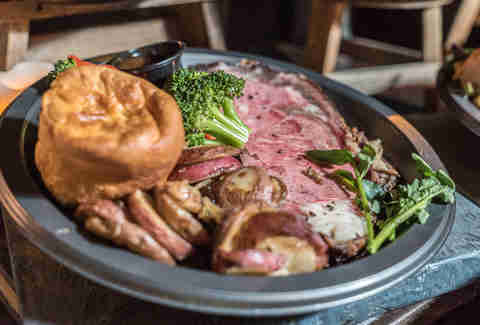 ... the beef Sunday roast, which is basically a hunk of prime rib...
... bangin' bangers & mash...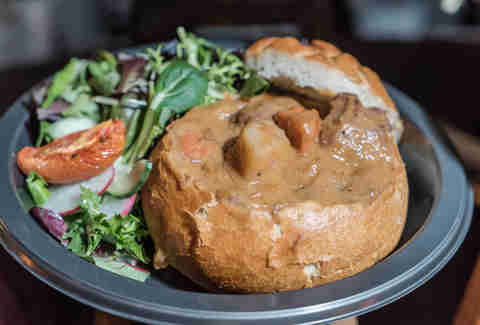 ... and beef, lamb, and Guinness stew, which will be familiar to anyone who's ever had their world record beaten.
What, you thought they forgot desert? Nope: Butterbeer potted cream, chocolate potted creme, chocolate trifle pudding, and sticky toffee pudding'll fill you up, like, totally full.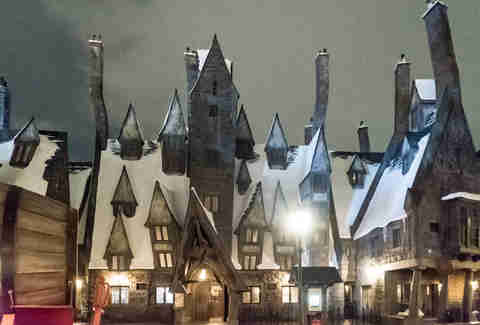 And then you'll walk outside, and the magic won't have stopped -- because you'll still be at Hogwarts...
... until that time-to-leave-that-shall-not-be-named eventually does come.
Sign up here for our daily LA email and be the first to get all the food/drink/fun Los Angeles has to offer.
Jeff Miller really, really, really hopes he got all his Potter references right, 'cause it's been a while since he read the books/saw the movies. Yell at him on Instagram at @JeffMillerLA or on Twitter at @ThrillistLA