There's a Secret Deli Hidden Inside Tinfoil Liquor & Grocery in Highland Park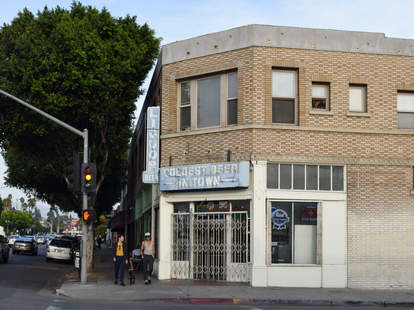 Remember all those times when you were picking up a six-pack and thought, "Man, I wish there was a full service deli hidden in this liquor store where I could grab a tasty sandwich"? Well, your wish has been granted.
Tinfoil Liquor & Grocery, which just opened on Sunday in Highland Park, now offers the neighborhood a handy place to pick up not just the usual corner liquor store offerings, but also some high-end booze along with incredible sandwiches and more from a speakeasy-style deli. The new spot comes from Jeremy Fall, the mind behind spots like Nighthawk Breakfast Bar and Genesis, and the deli menu was created by Chef Lung Li with help from Chef Alvin Cailan of Eggslut and Unit 120 (where Fall has also collaborated with Cailan to create Easy's Burgers).
You can now check out the store and deli -- that is, if you know the secret password to get into the deli (pssst, read on to find out) -- and here's a look at what you'll find.
Danny Jensen/Thrillist
If you've spent some time in Highland Park -- and these days nearly everyone has -- there's a good chance you'll recognize the "Coldest Beer In Town" hanging above the entrance to Tinfoil Liquor & Grocery. It's an iconic neon beacon of the neighborhood, and a key component of the historical components that Fall wanted to preserve while renovating the long-running liquor store.
Fall and his team spent several months painstakingly refurbishing the liquor store, including taking down walls to reveal the original brick facade, restoring the vintage cigarette display above the counter, and resurrecting some old-school neon beer signs and posters. You're also bound to hear plenty of '70s funk and hip-hop as a soundtrack while you shop.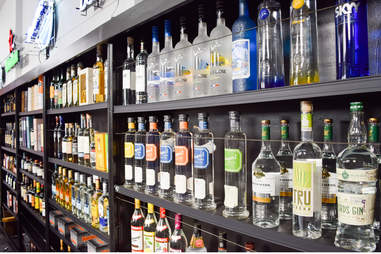 Danny Jensen/Thrillist
"You'll find everything from Popov vodka to Pappy Van Winkle," explains Fall, telling us that he wants to maintain the classic and inexpensive liquor store selections of beer and spirits that some customers have come to expect from the location, as well as some higher-end bottles for those looking to splurge. They even feature spirits and beers from local producers, including Greenbar Distillery, along with a wide range of snacks and groceries. Fall says he was inspired to create Tinfoil by the bodegas of the East Coast, but as an LA native wanted to add local twists.
"We'll offer some better options for the neighborhood and not just be another liquor store," Fall says. "We want to set our mark, but still keep with the ethos of the neighborhood and [the store's] originality."
Danny Jensen/Thrillist
After perusing the selections up front, you'll want to approach the cashier at the front counter and ask, "Do you sell birthday candles?" (FYI: They don't sell them, but you're going to want to ask anyway.) Then you'll make your way to this door in the back where you'll find a door marked "Employees Only" with a vintage 1960s Seagram's Ad Julie Newmar (aka Catwoman).
Wait for the buzzer, and then enter:
Danny Jensen/Thrillist
Behold: the secret deli you've been looking for all your life -- and definitely the only one we know about -- which used to be merely a cluttered storage room.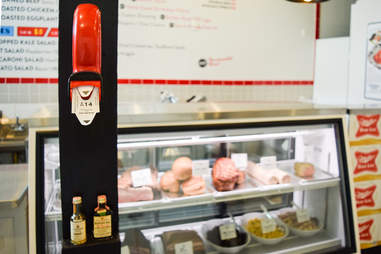 Danny Jensen/Thrillist
Grab yourself a number (and check out those super old-school mini liquor bottles on the beam)...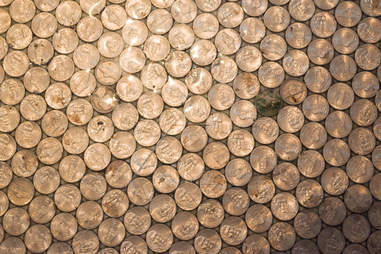 Danny Jensen/Thrillist
Maybe you can try counting those 60,000 nickles stuck to the floor while you wait. Good luck trying to pay for your sandwich with them though.
Danny Jensen/Thrillist
And then make a selection from the menu, which features classics with a slight twist like the roast beef with yuzu kosho dressing, and roasted eggplant with feta, roasted peppers, and olive tapenade for a veggie option. All of the meats have been house cured, smoked, and roasted; the bread house baked; a rotating selection of house cured pickles; and some excellent sides like a macaroni salad with ham, hard cooked eggs and chives. The menu options sound straightforward, but they pack a punch with their simplicity.
All of the sandwich options come with a helpful beer pairing suggestion like this roast beef with a refreshing Ballast Point Sculpin IPA. You can order your sandwich by the 1/4 loaf (pictured here, it's pretty hefty), 1/2 loaf, or full loaf (if you feel like sharing or you're just really hungry).
You can also order up some of those meats and salads by the pound to take home. Eventually Tinfoil will offer liquor delivery within a certain radius around the neighborhood, and you'll have the option to order up a complete party package with sandwiches, sides, booze, and more, for the next time the crew comes over to watch the game (or you're just feeling lazy). And they'll be open from 11am to 3am, so you're covered into the wee hours.
Sign up here for our daily LA email and be the first to get all the food/drink/fun Los Angeles has to offer.
Danny Jensen is Thrillist LA's Interim Editor who feels sandwiches just taste better when they're from a secret place. Ask him if he has birthday candles on Twitter and Instagram.