Where to Eat and Drink in LA's Historic Filipinotown
Good eats and close-knit community define this neighborhood.
Image by Maitane Romagosa
The small but flourishing two-mile stretch that encompasses the Historic Filipinotown neighborhood, also known as HiFi, has long served as a haven for LA's Filipino communities. Sandwiched between Echo Park on the north, Koreatown on the south, East Hollywood to the west, and Downtown LA to the east, in recent years the enclave has become home to some of the city's most exciting culinary destinations, with long-time residents stepping up alongside notable restaurateurs to give diners a glimpse into modern Filipino-American cuisine.
For chef Justin Foronda, who grew up in the neighborhood and opened his first restaurant HiFi Kitchen in 2019, it seemed obvious to highlight the influence of these surrounding neighborhoods on his uniquely Filipino Angeleno menu. "Living in such a diverse area, where different communities live so close together, it was natural for me to notice the intersection of ingredients and flavors between these cuisines," Foronda shares.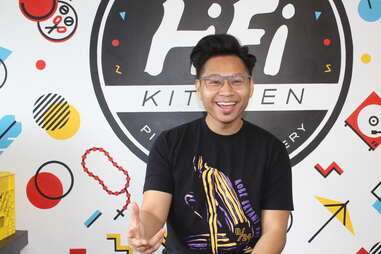 Before the neighborhood earned its official designation as Historic Filipinotown in 2002, Filipino immigrants began purchasing homes in the area in the 1940s. It was one of the few places in the city where they were able to buy homes, and being surrounded by neighbors who shared their culture and language helped shield them from racism. In 1950, the Filipino Christian Church—a major touchstone of the early Filipino American community in Los Angeles—moved into the Temple-Beverly area after acquiring the Union Avenue M.E. Church building. Other Filipino organizations followed suit, including the Search to Involve Pilipino Americans Advocacy Group (SIPA) and St. Columban Filipino Catholic Church, as well as specialty markets, restaurants, and other businesses that helped Filipino residents find familiarity in their new city.
During the '60s through the '80s, Filipinos began migrating away from the area to the suburbs, resulting in demographic changes and a lack of community and political support for the increased visibility of this epicenter of Filipino culture. This "invisibility," as compared to other enclaves like Chinatown and Little Tokyo, resulted in the neighborhood being overlooked for housing and government social services, leading to a rise in crime and poverty.
"When I was growing up, the neighborhood looked much different than it does today," Foronda explains. "It wasn't safe, so I couldn't go straight home after school. I would have to go to my parents' work because they didn't want me to be alone at the house."
The designation as Historic Filipinotown brought pride to the local Filipino community along with much-needed visibility. Subsequently, a number of Filipino Americans were delegated to city commissions, which led to the Filipinos for Garcetti campaign and several community members graduating to Garcetti's administration.
"It's safe to walk around the neighborhood now," Foronda notes. In terms of neighborhood gentrification, he says that, "We can't tell people where to live, but we can tell people about where they live. I see HiFi Kitchen as an opportunity to do that."
HiFi Kitchen serves a mash-up of traditional Filipino dishes like chicken adobo, sisig, lumpia, and la'ing alongside the melting pot flavors of Historic Filipinotown, for an expansive yet cohesive take on Foronda's Filipino American heritage. He also offers plant-based options for dishes that are not traditionally interpreted with vegan ingredients, such as his la'ing, which usually contains meat and seafood—his version features cauliflower and tofu instead.
Foronda also makes it a point to pay it forward to the community that's provided so much of his culinary inspiration. He sources his pandesal—Filipino dinner rolls—from local Filipino bakery My Mom's Bakeshop. During October for Filipino American Heritage Month, he's hosted weekly events with panel discussions, vendors, and food, dubbed "Historic Illipinos" that celebrates the impact of Filipinos on breakdancing culture. Foronda started breakdancing in elementary school, and one event screened Radiotron's Renegades vs. Style Elements—an influential HiFi breakin' battle in 1996 between two Filipino-led b-boy crews.
If you're looking to dive even deeper into Historic Filipinotown, here are just a few of Foronda's go-to spots, many of whom he calls friends.
"You can't go wrong with Park's Finest," Foronda says. "You can't get their Mama Leah's coconut beef anywhere else, and the bibingka cornbread is the best. It has rice flour and coconut milk mixed in, and it's all baked together in a banana leaf to give it more of a traditional Filipino spin. They also have this delicious horseradish crema that goes with their tri-tip. Go there on a Wednesday and get their Wednesday Worker Plate, so you can get a little bit of everything, including the cornbread." The plate is $15.
How to order: The Park's Finest is open for dine-in and takeout. Delivery is available on GrubHub.
"My go-to when I was growing up for Filipino food was Bahay Kubo. Get the fried chicken, and make sure you use banana ketchup with it. Sometimes they give out free cups of soup. Pour that in your rice or dip your rice in it; that's the move," says Foronda.
This restaurant serves traditional Filipino favorites cafeteria-style, with a rotating menu.
How to order: Bahay Kubo is open for dine-in and takeout. Delivery is available on DoorDash.
"For breakfast, I recommend Bagnet. I believe that's the term for crispy pork in a certain area of the Philippines. You always want to order what a restaurant is named after," says Foronda.
The Filipino-style breakfast is served all day, and you can also order dishes cafeteria-style.
How to order: Filipino Bagnet Restaurant & Bakery is open for dine-in and takeout. Delivery is available on Postmates.
"It's a super cool gin bar, owned by three Filipinas who were graduates from UCLA," shares Foronda. "I can walk there from my house and have stumbled to and from the bar many times."
Opened in March 2018, Genever is part of the wave of modern Filipino-owned destinations opening in HiFi. They stand out with specialty cocktails featuring traditional Filipino flavors such as panutsa, pandan, and calamansi.
How to order: Genever is open Thursday 6 pm-midnight and Friday through Saturday 6 pm–1 am.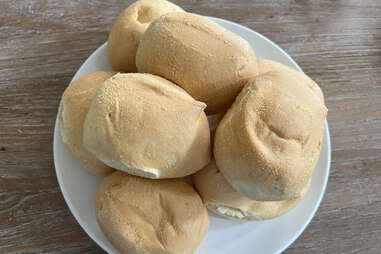 "I get my pandesal at My Mom's Bake Shop," says Foronda. "They make them fresh, and you can get them hot. The bread is super pillowy, super good. Make sure you say what's up to Sandra, she's the owner."
This Filipino bakery also serves traditional favorites like sisig, chicken adobo, and pancit, plus all of the desserts you'd expect, like leche flan and bibingka.
How to order: My Mom's Bake Shop is open for dine-in and takeout Monday through Sunday from 7 am–9 pm.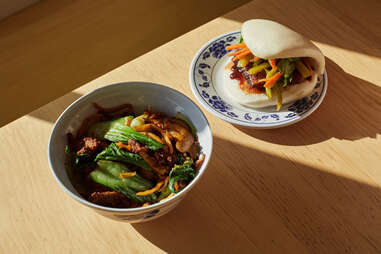 "I have to shout out Woon because the noodles are amazing. Also, Keegan, the owner, is a super hard worker." Woon is a family-run, home cooking style Chinese restaurant in HiFi. Owner and chef Keegan Fong also started bottling his mother's tasty white vinegar and chili garlic sauce for sale during the pandemic. Make sure to pick up a bottle of Woon's Mama's Way sauce along with their scallion pancakes and beef noodles.
How to order: Woon is open for dine-in and takeout Wednesday through Saturday from 5 pm–10 pm and Sunday from 4 pm–9 pm. Delivery is available online.