THE chophouse and martini bar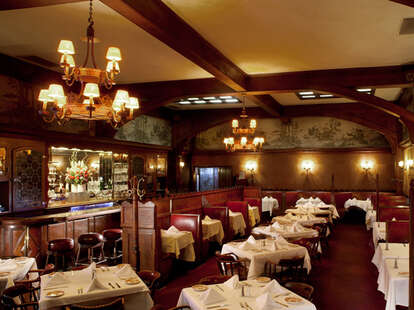 If you think Bradley Cooper's the hottest piece of meat to ever come out of Hollywood, you've clearly never a) understood the loin-rattling looks of Elliot Gould, and b) been to Musso & Frank, a Tinsel Town institution since 1919
The dining room hasn't seen many overhauls in its nearly 100 years of existence
The worn, red leather booths have hosted innumerable power lunches, with screenplays being pored over, and movies about cell phone terrorists green-lit using the pay phones outside.
Over the years this sign has lured in the likes of Hemingway, Faulkner, and F. Scott Fitzgerald
They're legendary for their martinis, which're made by a crew of waiters who've seemingly been bartending at M&F since drinking was invented. Don't even worry about ordering a steak -- grabbing a seat at the bar is reason enough to be here
If you're feeling a bit peckish, go ahead and order up a bar snack like the Roquefort & cream cheese Stuffed Celery. They probably aren't doing foams anytime soon
Steaks -- they got 'em. Plus lamb chops, liver steaks, kidneys & bacon, and much more
Here's a salmon you can order too, but not until you finish your steak.