Because you've been waiting for another excuse to take your pants to the tailor, the critically acclaimed, multi-ethnic Street's sexily expanding your waist with an all-you-can-eat (and-"optionally"-drink) weekend brunch. The around-the-world menu (from a Top Chef Masters vet) is massive, so we've taken the liberty of creating a slideshow of the best dishes on said culinary voyage... just click on that kaya toast to get started.
Recommended Video
Where to Get the Best Waffle Fries You'll Ever Eat
Like a comedian in the Catskills, you'll keep the yolks coming with these Sriracha-spiced "Angry Eggs" that're surprisingly not fun to get on your phone.
The chef's most famous dish is this creamy, sweet-and-savory "Kaya Toast": an egg-topped Singaporean snack you'll definitely want to order as many times as possible.
Look, it's a salad with chipotle-honey dressing and perfectly poached chicken.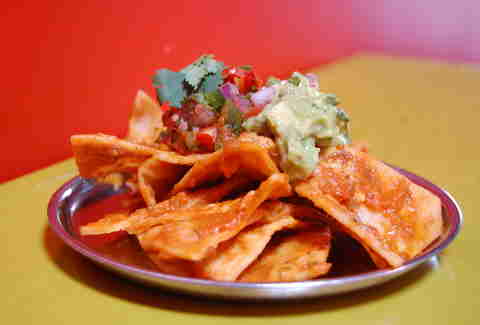 Back to the fatty: chorizo-topped chilaquiles, aka breakfast nachos, topped w/ fresh guac and sour cream.
Follow up that Mexican interlude w/ a trip to Korea: this bibimbap wrap's made with homemade kimchi.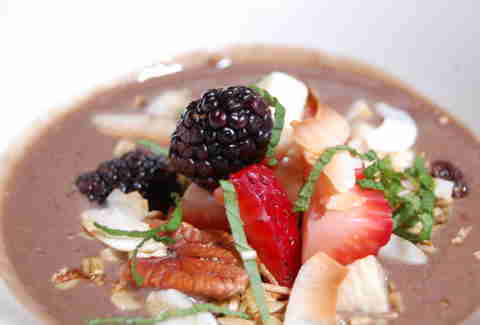 Cool your mouth with a couple bites of this fruit-topped acai bowl/palate cleanser...
... so you can properly enjoy the island-y macadamia-nut French toast with grilled pineapples, GUILT-FREE!!!
Wash down this Japanese tataki salmon over soba noodles in an orange sesame ponzu sauce with...
... boooooooze. $15 extra gets you all-you-can-down mimosas and cousins of mimosas. BUT WAIT, THERE'S MORE!
End the meal with the menu's only a la carte dish: an on-brioche burger slathered with cheddar, yuzu, and chili paste. And then get another six or seven kaya toasts.
Previous Venue
Next Venue
Venue Description
1. Susan Feniger's Street
742 N Highland, Los Angeles, CA 90038
From Ciudad's Food Network-approved chef, Street's a midsized foodery dedicated to street eats from around the world, funkily decked out with a Eurodisco neon line-drawing interior and a firepitted outdoor patio, whose mural of people-outlines evokes both.