Unlimited amounts of Susan Feniger's kaya toast and breakfast nachos
Because you've been waiting for another excuse to take your pants to the tailor, the critically acclaimed, multi-ethnic Street's sexily expanding your waist with an all-you-can-eat (and-"optionally"-drink) weekend brunch. The around-the-world menu (from a Top Chef Masters vet) is massive, so we've taken the liberty of creating a slideshow of the best dishes on said culinary voyage... just click on that kaya toast to get started.
Like a comedian in the Catskills, you'll keep the yolks coming with these Sriracha-spiced "Angry Eggs" that're surprisingly not fun to get on your phone.
The chef's most famous dish is this creamy, sweet-and-savory "Kaya Toast": an egg-topped Singaporean snack you'll definitely want to order as many times as possible.
Look, it's a salad with chipotle-honey dressing and perfectly poached chicken.
Back to the fatty: chorizo-topped chilaquiles, aka breakfast nachos, topped w/ fresh guac and sour cream.
Follow up that Mexican interlude w/ a trip to Korea: this bibimbap wrap's made with homemade kimchi.
Cool your mouth with a couple bites of this fruit-topped acai bowl/palate cleanser...
... so you can properly enjoy the island-y macadamia-nut French toast with grilled pineapples, GUILT-FREE!!!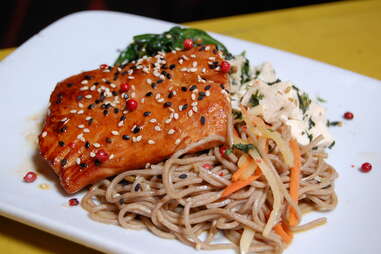 Wash down this Japanese tataki salmon over soba noodles in an orange sesame ponzu sauce with...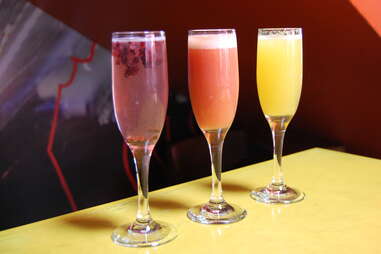 ... boooooooze. $15 extra gets you all-you-can-down mimosas and cousins of mimosas. BUT WAIT, THERE'S MORE!
End the meal with the menu's only a la carte dish: an on-brioche burger slathered with cheddar, yuzu, and chili paste. And then get another six or seven kaya toasts.