Just when you thought Prince George turning 1 was the highlight of the summer (year?), along come these 17 LA bar and restaurant openings, which you'll either remember going to and be all like, "yeah, I went there!", or will look at and be like, "please become the highlight of my fall!".
Recommended Video
Make This Apple Brandy Elderflower Sparkler for Your Next Fancy Party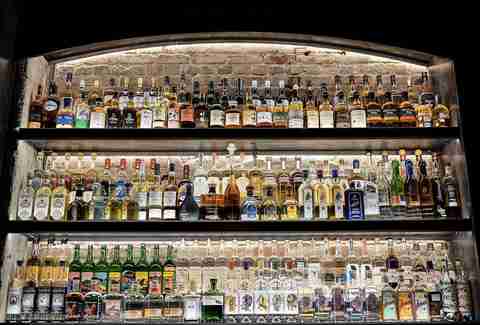 Santa Monica
Recently nominated for Best New Bar In America (!) by Food & Wine Magazine, this mixology-driven drinkery's swizagger comes from its drink architects, who did time at La Descarga and Harvard & Stone.

Sherman Oaks
The best new burgers in the Valley are here, and they're topped with amazingness like mac 'n cheese and pork belly, and served alongside a shload of craft brews.
Pasadena
This ode to animals and their delicious muscles is blasting out baby backs and beef ribs, four steak options, and a crap-load of insane burgers, including one topped with crab & shrimp.

Venice
This comfortable, cozy Main St newcomer is dishing out incredible versions of East Coast-style seafood favorites (their lobster roll, with barely-there mayo on toasted King's Hawaiian rolls, may be the best in the city), with an intensely curated beer list (Peanut Butter Stout!) and a motorcycle-driving chef who's also doing chicken and waffles and specials like mackerel crudo.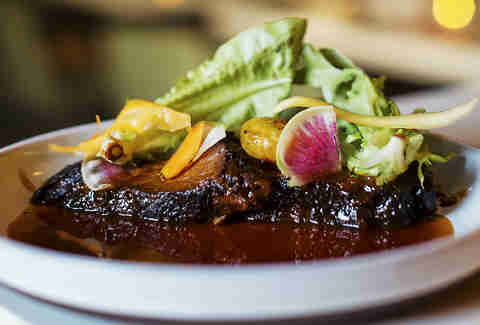 Koreatown
Yes, it was definitely a saint who dropped this unlikely New American bistro behind a red door in the middle of a K-town strip mall; you gotta order their pecan wood-smoked brisket, which is exactly as delicious as it sounds.

Brentwood
More meat? Uh huh, this time in the form of BBQ in one of the unlikeliest neighborhoods for that type of cuisine -- which, of course, has only meant lines and a long wait for rubbed-and-smoked pulled pork, baby backs, and house brisket w/ Texas toast.
Silverlake
Continuing the kind-of trend of SUPER GOOD Italian pasta spots (see: Bestia, Bucato, etc.), Alimento's blasting out uniqueness like squid ink radiatore and rye tagliatelle.

Mid-Wilshire
The guy from the tiny Italian trattoria Gusto is going venti, with an XL ristorante in the old AOC space that's doing dry-aged tomahawks, lobster al forno, and (of course) squid ink agnolotti.
Hollywood
Not just what ruined your childhood when your parents got it for you instead of a SNES, Genesis is also the name of the above-Sassafras dance club/bar with a no-frills menu and music that veers from '90s hip-hop to current pop.

Santa Monica
The cocktail dude from Picca is next-leveling drinks at this Westside spot, which's also got killer bar food like Korean chicken wings and Peruvian-spiced duck legs.
Koreatown
Roy Choi's non-Korean foodery in The Line hotel has a choose-your-own-adventure-style menu with basic options like "fish" and "asparagus" prepared next-level-style, all in a Greenhouse-y setting that seems sorta like something out of Bio-Dome.

Downtown
You can get in and out of this all-rolls, bar-seated-only lunch spot from Sugarfish in about 20 minutes and for less than a 20-spot, making it perhaps the best sushi deal in the entire city.

Mid-Wilshire
This teeny-tiny strip mall bistro's still marked with the sign from its previous tenant, a forgettable Thai restaurant, but inside is one of LA's best new dining experiences, with Ludo LeFebvre behind the stoves serving up amazing fried chicken and ridiculous... omelettes? Yes. Get the omelette and thank us later.
Hancock Park
Portland's most hyped ice creamery finally makes its way to Los Angeles (you may have tried it at Coachella), with their opening salvo of 'creams including Cali peaches w/ lemon crumble and chocolate almond and caramel cheesecake.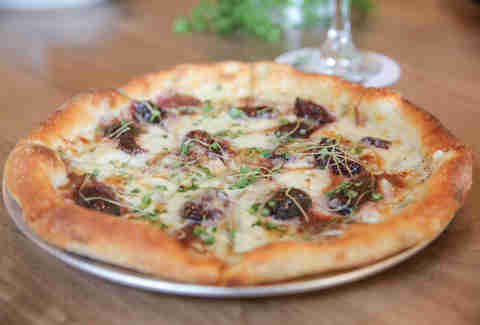 Mid-Wilshire
This La Cienega corridor bootery is from the dudes behind Bootsy Bellows and is crushing it with homemade pizzas and pastas. Oh, and the deserts? Fughetaboutit.
Sherman Oaks
The Valley's gastro bistro game's been re-upped with this burgers-and-beers-and-drinks-and-pretty-waitresses spot, with uniqueness like pig ear fries sharing menu space with approachable awesomeness like fried chicken & biscuits.

Studio City
Don't let the fact that it's mostly vegan stop you from coming into this unpronounceable restaurant: the chef just won a spot in Zagat's exclusive 30 under 30, and their tasting menu (yes, all veggie, with just a bit of honey) has gotten raves from even the most meat-eating eaters.
Sign up here for our daily LA email and be the first to get all the food/drink/fun Los Angeles has to offer.
Jeff Miller is the editor of Thrillist LA and could totally go for a burger from Tipsy Cow or, um, some cauliflower from Gadarene Swine right now. Don't judge. He's @jeffmillerla on Instagram and @ThrillistLa on Twitter.