Like Obama, we're gonna use OUR executive authority and say you're required to hit at least one of the 12 best new LA bar and restaurant openings from November this weekend, or we're gonna deport you... to a different, less new, less best restaurant.
Hollywood
This stunning new bistro -- the first restaurant from the superstar Houston Brothers, who own, like, every single bar you love in LA (Davey Wayne's, Harvard & Stone, Pour Vous, etc.) -- is totally firing on all cylinders, with insanely great drinks and killer food, including a damn-near-perfect Gruyere-topped burger, a roasted sunchoke-and-mint-and-goat-cheese dish that'll make you consider going veggie, and popcorn (yep! Popcorn!) that's laden with rosemary and sea salt.
Downtown
You know the first time you went to Perch and were all like, "wow, this is the best rooftop bar in LA, I wonder what would happen if it also had an underground lair..."? Well, now it does -- and the answer is that there would be a massive, 5,000-gallon fish tank running through the ceiling, bar food like Wagyu beef hot dogs, live music, and tequila-drink fishbowls. Yep, pretty much that.
Downtown
This beloved Venice/Culver City gastropub found its way East for a third location, with the menu expanded from Mexican fare to include spicy baby back ribs, steamed mussels, and a chorizo burger, as well as (duh) a killer beer selection (and a $1 oyster happy hour from 3-7pm weekdays!).
 
West Hollywood
Exposed brick and comfy banquettes line the interior of this new-school steakhouse, which is focused on not just cow, but tons of other "footed animals", including dishes like a mushroom-stuffed boar chop and pork belly chili, as well as "swimmers" like wood-grilled whole fish and charred octopus.
Torrance
This new neighborhoody South Bay barstaurant is dedicated to "the nostalgia of when today's adults were 19" -- so it's got kitsch from the '90s and before, including Star Wars memorabilia and probably a hot-lady poster or two that once hung in your (or your older brother's) dorm room. Oh, and the food is delicious-sounding too: maple-brined Cajun chicken and waffles, a pork chop with Maker's Mark peach chutney, and the Big Ben: a mac & cheese croquette with a burger patty, bacon, gravy, and an egg.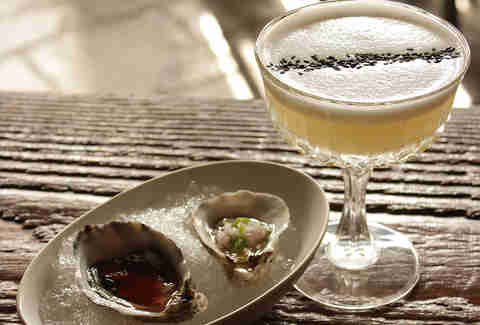 Downtown
The old Mountain Bar space in Chinatown has been taken completely over by this two-story "modern Tiki" concept after opening last year with a "just another bar" concept; now it's serving up interesting drinks like the peach-and-honey-shrub-and-lots-of-rum Kahn Punch.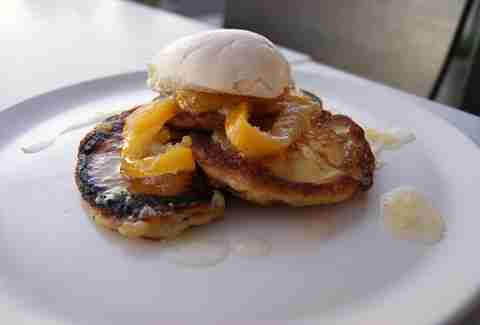 Mid-Wilshire
Oh wow! A new market-slash-restaurant-slash-great-to-go-spot! Stir Market's kitchen is run by our homeboy/that guy on Cutthroat Kitchen Jet Tila, who's overseeing a killer rotisserie and brunchy goodness like Moroccan baked eggs w/ merguez sausage, as well as gift-y artisanal of marinades, salts, and jellies.
 
Mid-Valley
Oh WOW! A different market-slash-restaurant-slash-great-to-go-spot! GC Marketplace's kitchen is run by the dude who invented "body sushi" (!). He's doing everything from killer pork belly banh mi to challah French toast, plus there are also gift-y artisanal wines and cheeses.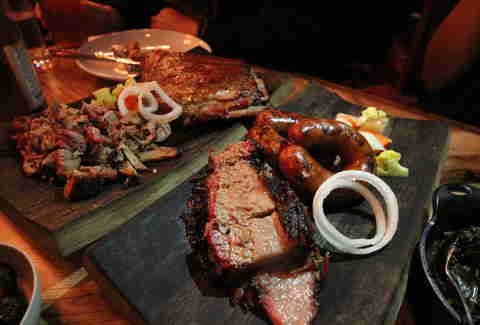 Studio City
Remember last week when we told you about the best new BBQ in LA? Yeah, this was on that list. And if you want to know why, just check out the above photo.
 
West Hollywood
The staff is making their, uh, links in-house at this new sausage shop, and they're doing it right: the chicken link is topped with applewood-smoked bacon, their turkey's got ginger and sesame, and the pork link is blown over with homemade relish.
Downtown
The dudes and 'dettes behind Spaceland Presents were like: "Let's open a mid-size venue! Let's open a new pizza shop!! Let's open a FRIKKING COCKTAIL BAR!!!!", and then they were like, "let's open all three attached in the same location so no one needs to drive anywhere else ever again!!!!!!!". Then they booked Cold War Kids and everyone was happy, except the guy who wrote this, because he had to miss the show, and that was a bummer.
Hollywood
This new '80s-themed dance club in the former Writer's Room space behind Musso & Frank is decked with Interview Magazines, disco balls, and glazed looks in people's eyes as they dance to "Borderline".
Sign up here for our daily LA email and be the first to get all the food/drink/fun Los Angeles has to offer.
Jeff Miller is the Senior City Editor of Thrillist Los Angeles, and is probably on a golf course in Palm Springs as you're reading this. Sorry. Yell at him at @jeffmillerla on Instagram and @ThrillistLA on Twitter.