These are LA's 10 best new steaks
Because you woke up this morning and were like, "I'm hungry. For steak. But I've been to every single one of Thrillist's Best Steakhouses in LA, and I want something new. A new steak." Well, here are 10.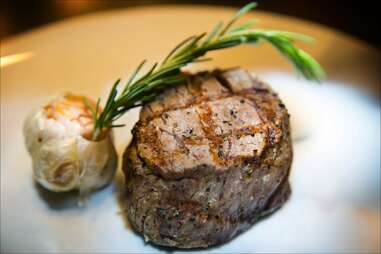 The Restaurant:Oliver's Prime (click here for address and info)
West Hollywood
The Steak: 34oz prime porterhouse steak for two
The Grafton's new steak shop is setting you up with enough meat for two, with a massive beast that puts this picture of their filet TO SHAME, partly because it used to be a cow that was raised on an all-vegetarian diet, unlike... you.
The Restaurant: Bourbon Steak (click here for address and info)
Glendale
The Steak: American Wagyu prime rib eye
Just opened in LA after crushing Washington DC and a couple of other cities, this Michael Mina-helmed steakhouse has nine ultra-legit cuts, but the legit-est is this American Wagyu rib eye, perfectly crusted and somewhat Asian-tasting.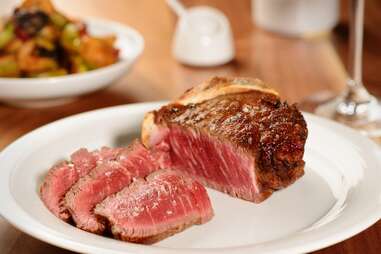 The Restaurant:Chianina (click here for address and info)
Long Beach
The Steak: 13oz bone-in filet
This new Long Beach steakhouse (we waited to tell you about it until it got its booze license, which it totally just did!) takes on the big guys with, well, everything on the menu. Their veggie-fed beef comes in a ton of cuts, including a monstrous 42oz bistecca alla Fiorentina, and this crazy-marbled, bone-in filet.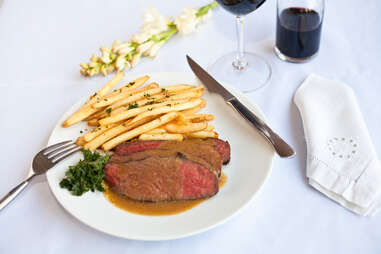 The Restaurant: L'Assiette (click here for address and info)
Mid-Wilshire
The Steak: Steak frites
You'd better like steak frites if you're going to this small Melrose brassiere, 'cause it's LITERALLY THE ONLY ENTREE THEY SERVE. It also comes with soup or salad, and comes in TWO SERVINGS, so the other one doesn't get cold. Yes, this place is real.
The Restaurant:Katana (click here for address and info)
West Hollywood
The Steak: Wagyu nigiri
The dark, classic, classy Sunset Strip Japanese spot recently did an all-Wagyu special menu, and decided to make this guy part of the regular menu. And while it may not be a classic steak, it is sushi with melt-in-your-mouth seared beef on top. So there's that.
The Restaurant:Cafe Del Rey (click here for address and info)
Marina Del Rey
The Steak: Chateau filet
This seaside restaurant has an incredible view, and an equally incredible new steak. The former sous chef at Providence prepares this filet with a medley of tomato, eggplant, garlic, bell pepper, and onion, tops it with a red wine jus, and top tops it with bone marrow butter.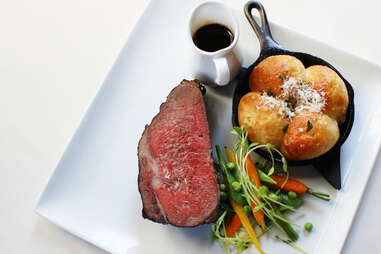 The Restaurant: The Whisper Restaurant and Lounge (click here for address and info)
Mid-Wilshire
The Steak: Espresso-rubbed prime rib
This sorta-hidden away wine bar totally re-jiggered its entire menu, which thankfully means the addition of this beauty, which includes a cast iron skillet of fresh baked rolls.
The Restaurant: Willie Jane (click here for address and info)
Venice
The Steak: Hanger steak
Celeb Chef Govind Armstrong ups the ante again with this red meatstrosity served with herb-roasted fingerling potatoes, caramelized parsnips, and a romesco sauce prepped with blueberries -- yeah, steak in blackberry sauce.
The Restaurant: Faith and Flower (click here for address and info)
Downtown
The Steak: Rib eye
This just-opened restaurant's among the most anticipated of the year, thanks to backing from the guys who run the Pebble Beach Food and Wine Festival, and the dude who helped launch Mo-Chica, plus a kitchen run by a Michelin-starred chef doing dishes like this mesquite-grilled rib eye topped with an oyster jus.
The Restaurant: Fickle (click here for address and info)
Downtown
The Steak: Ginger-marinated flat iron steak
Sandwich-shop-by-day, sit-down-restaurant-by-night, Fickle just finished a meaty menu re-jigger, which means this flat iron with gochujang orzo, roasted shimeji mushrooms, and spinach is now totally a thing.
Jeff Miller is the Editor of Thrillist LA and will take his steak however the chef recommends. He can be found @thrillistla on Twitter and @jeffmillerla on Instagram.