All the new games at the new Big Wangs, ranked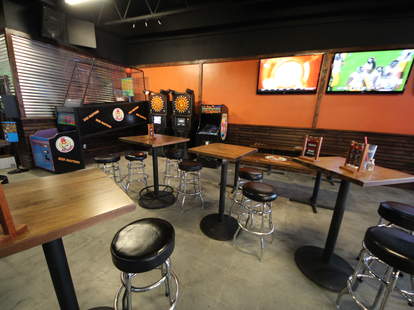 Longtime Hollywood sports bar Big Wangs has recently gotten a much-needed overhaul, which includes more taps, a mid-venue circle bar, bigger TVs, and, perhaps most importantly: a completely revitalized back room that's been transformed into a gaming area, which is the perfect place to hide after you fail to pick up any girls at that circle bar. And to honor said area, we checked out and ranked all the new games.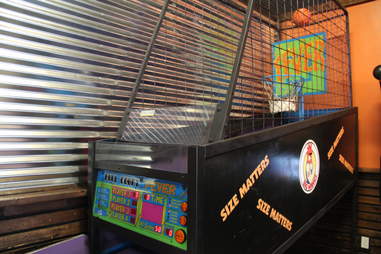 6. This one's demoted to the bottom slot strictly because of the short length-of-play... though you automatically get bonus points if you proclaim yourself the "Nick Van Exel of Pop-A-Shot".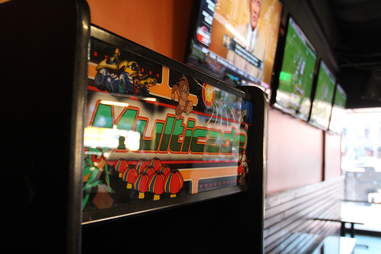 5. Yes, having a retro '80s multicade that includes Centipede, Donkey Kong, etc. is a strong move. However, the fact that there is not also a Teenage Mutant Ninja Turtles four-player machine next to it means you could still get bored relatively quickly.
4. Ready for play on September 1st, the classic bar game shuffleboard'll be played at Wangs on a custom table that's a little longer than standard, making it slightly more challenging -- and far more frustrating.
3.Darts always rank high in our rankings because a) professionals in this sport are almost exclusively fat dudes, and b) you get to throw sharp things.
2. Their tournament-ready Golden Tee machine's set up on a monster 60in TV, meaning if you can somehow ignore the scent of Axe and stale beer, you'll think you're actually at Pebble Beach. Bonus: Setup is right next to the ladies room, so that girl you've been checking out will see that you're playing as Craig Stadler and respect your flop shot on 16, and definitely French you (... you can play as Craig Stadler, right?).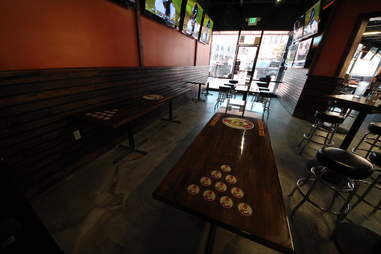 1. Five custom beer pong tables? Duh. There's not another place in Hollywood that has even ONE custom beer pong table!
Special Bonus Pic: This is what the main bar looks like now, so don't get confused and think you're in the wrong place when you no longer see tables stuffed up to the door, a weird karaoke setup, and ancient TVs.