The Official Los Angeles Dollar Menu
It's Tax Day, which means one of two things: 1) you got a $113 refund and are SO RICH RIGHT NOW, or 2) you definitely did not get a $113 refund and are definitely not SO RICH RIGHT NOW. If you're experiencing the latter, this is for you: our first-ever LA Dollar Menu, which rounds up 22 food and drink stuffs you can get in LA for just a buck.
Pizza
Pizzanista! (address and info)
Arts District
The Deal: This Downtown pizzeria will hook you up with day-old slices straight from the fridge for only a single greenback. Get 'em while they're, uh, cold, and bring them home to heat up.

Burgers
Open Air Kitchen + Bar (address and info)
West Hollywood
The Deal: Stop by this spruced-up gastropub on Wednesdays for burgers that cost 100 pennies when you buy a drink.
Tamales
Short Stop (address and info)
Echo Park
The Deal: "Tamales, tamales, tamales!" If you don't know the dude that frequently hangs out inside this pre-Dodger Game watering hole, get to know him and his delicious $1 tamales.

French fries and tater tots
Cole's (address and info)
Downtown
The Deal: This historic institution of French dips has some pretty sweet late-night happy hour deals (Sun-Wed, 11pm-2am), but $1 fries and tots are the sweetest.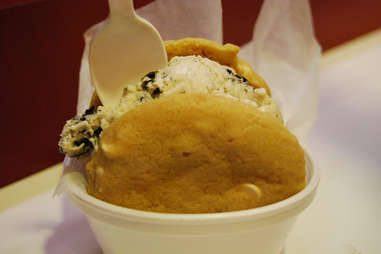 Cookies
Diddy Riese (address and info)
Westwood
The Deal: Diddy Riese has been doling out made-to-order ice cream sandwiches on freshly baked cookies on the cheap for over four decades with minimal price increases. While you'll likely have to wait in line with many budget-conscious Bruins, you can still get three cookies for a dollar. If you want the sandwich as seen above, you'll have to scrounge up... wait for it... 75¢ more.

Meat skewers
Dollar Hits (address and info)
Filipinotown
The Deal: More food circus than truck, this favorite spot for Filipino street food offers up a wide selection of skewered meat, including BBQ pork and chicken, as well as plenty of offal, chicken feet, pork blood, and more -- all for a single Washington per skewer. Oh, and the coolest part: you grill it yourself. They set up shop in front of the Temple Mart on Thursdays through Sundays, 6:30pm-11pm, but heads up: the line starts early.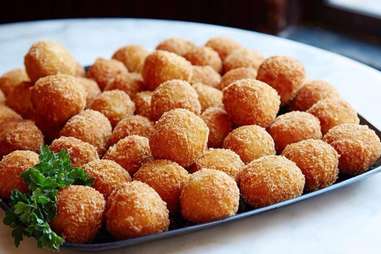 Cuban potato balls
Porto's (address and info)
Glendale and Burbank
The Deal: For a measly 98¢ you can score a beautiful golden orb of fried potato stuffed with ground beef. And then you'll want to score another. And then another. (And then another.)

Beer
Rusty Mullet (address and info)
Hollywood
The Deal: Buy one regular priced beer, get another for $1 from 4pm-8pm, Mon-Fri and 10:30pm-12:30am, Sun-Thur at this rock-themed Hollywood dive.
Spring rolls
Mao's Kitchen (address and info)
Venice and Hollywood
The Deal: For all of your hard work serving the People's Republic of, er, California, you deserve a meal fit for the proletariat. Hit up either of Mao's locations for a veggie spring roll or a simple salad for only $1 each.
Hot dogs
Valley Plaza 6 (address and info)
North Hollywood
The Deal: This second-run theater has $1 all-beef franks and $1.50 movies on Tuesdays and Sundays. Seriously. $1.50 movies. $1 hot dogs. Cheap date night!

Even more hot dogs
The Stand (address and info)
Encino
The Deal: On Monday nights from 5-9pm, head to the Encino location of this purveyor of quality wieners for $1 dogs, which is both a better deal and far less risky than those danger dogs you've been scarfing. Choose from the beef or turkey versions of the classic Stand dog with an array of free condiments (go wild with the mustard!), and complement your dog with a small side of the mac & cheese or chimichurri slaw -- both also just a buck.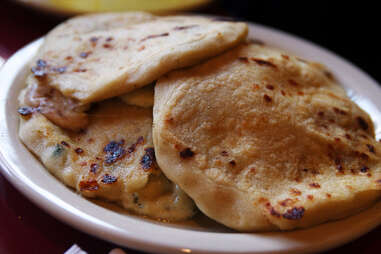 Pupusas
Golfo de Fonseca Restaurant (address and info)
East Hollywood
The Deal: A staple of Salvadoran cuisine, these magical, pillow-y circles of corn masa can be stuffed with meats, cheeses, and veggies and topped with pickled cabbage and hot sauce. And while they often come cheap, only on Wednesdays at this hole-in-the-wall on Vermont can you get them for just one smacker.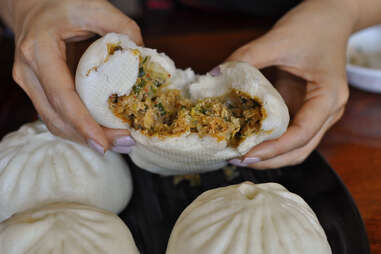 Dumplings
Peking Dumplings (address and info)
Koreatown
The Deal: Head inside of the Hannam supermarket for this tiny gem of a dumpling stand that dishes up six massive beef or veggie King Dumplings (aka wang mandu, a larger version of the ones from the original Oldboy movie) for only a buck each.
Oysters
The Churchill (address and info)
Beverly Grove
The Deal: Belly up to the bar (or a table) and choose from four varieties of $1 oysters with unlimited orders on Wednesdays from 4pm until they run out.

More oysters
Tipple & Brine (address and info)
Sherman Oaks
The Deal: While you'll have to shell out more for the famous oyster shooters, on Mondays from 4-11pm this SFV seafood and cocktail spot hits you with bivalves for a buck at the bar, patio, or lounge.

Even more oysters
Blue Plate Oysterette (address and info)
Beverly Grove
The Deal: Head to the newish location of BPO for oyster hour happening Mon-Fri, 4-6pm when oysters only cost one clam.
Tacos
Leo's Tacos (address and info)
Multiple locations
The Deal: Get ready to wait in line for some seriously delicious $1 al pastor tacos, sliced directly from the rotating spit at this always-busy truck.

Even more tacos
El Agave Oaxacana (address and info)
Mar Vista
The Deal: You may have had your fill of $1 tacos on Tuesdays elsewhere, but when Wednesday rolls around head to this neighborhood favorite from 6pm-9pm for chicken and al pastor handhelds for a single greenback.

I mean, EVEN MORE tacos
El Chato Taco Truck (address and info)
Mid-Wilshire/Miracle Mile
The Deal: One dollar for all the tacos. Now you understand the long lines.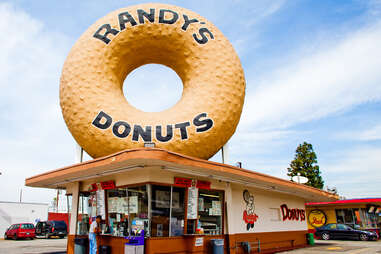 Donuts
Randy's Donuts (address and info)
Inglewood
The Deal: $1 (or less!) for all of the classic donuts at this towering LA icon. If you want the "fancies," you're going to have to shell out another 20 cents.

Donut Holes
Café Dulce (address and info)
Little Tokyo
The Deal: Bacon. Donut. Hole. One. Dollar. (And occasionally Fruity and Cocoa Pebbles ones, too!)

Wings
The Glendon Bar & Kitchen (address and info)
Westwood
The Deal: This Westwood fave keeps it simple: $1 wings from 10pm-12am nightly.
Sign up here for our daily LA email and be the first to get all the food/drink/fun Los Angeles has to offer.
Danny Jensen is a regular Thrillist contributor who hopes that his next studio album, Dollar Hits, goes platinum. He'll buy that for a dollar on Twitter and Instagram.