Essentially, the Chipotle of Thai food
Located right across the street from the ArcLight, the first LA location of the DC-based chain ShopHouse is a modern, wood-paneled, fast-casual Thaistaurant with totally legit Eastern flavors, thanks to imported non-Stephen-based curries and a chef who studied the food of the far East, which apparently does extend past where the freeways converge Downtown.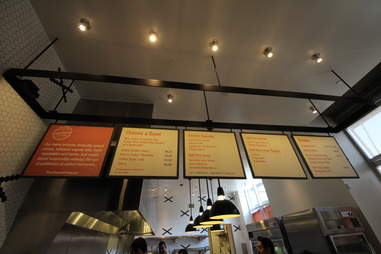 If this looks like a Chipotle line... well, it's because the spot's founded by the Chipotle guy (shhhhh!!!!), and it works the same way. Pick a base of brown or white rice, cold noodles, or salad...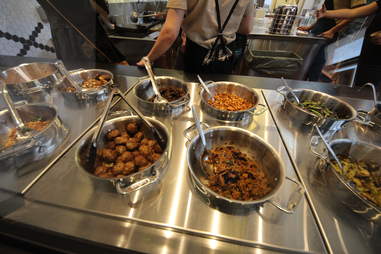 ... add your choice of actually-spicy, not-dumbed-down proteins like ginger-spiced beef and chicken/pork meatballs...
... and then top that bad boy with veggies, like charred string beans, saucy eggplant, or pickled daikon, and the aforementioned curries, all cooked in an open kitchen.
And voila! Your masterpiece is ready in minutes, giving you ample time to get to the theater before Grown Ups 2 gets packed.