14 things you need to eat in LA this fall
Little Jewel of New Orleans
Little Jewel of New Orleans
Theoretically, it's fall, which in LA you're aware of because, um, there's some wind? And everyone keeps saying it's fall? Actually feel like the seasons are changing this fall by getting in on our "Fall Eating Challenge", wherein we give you one LA must-eat for the next 14 weekends, and you eat all of them. Probably outside, 'cause you can.
September 12-14: Brats
Clearly, the best part of fall is Oktoberfest, and the best part of Oktoberfest is the food (just go with it), and the best place in SoCal to enjoy brats, girls in lederhosen, oompah bands, and people making towers of styrofoam cups is at Alpine Village in Torrance. Also important when it comes to the timing on this one: the real, German Oktoberfest actually starts in September, not October. #TheMoreYouKnow
September 19-22: Seafood
What if you could go fishing with the best seafood chefs in all of LA, and then they'd tell you how to cook up what you caught, and, OH YEAH, they'd be cooking for you at the same time? That would be amazing, right? Well, that's going down at an event called Go Fish LA! on Sept 22nd (yeah, it's not a weekend -- play hooky, dude), on a boat leaving from San Pedro with Providence honcho Michael Cimarusti and a bunch of his chef-y friends, including Fig's Ray Garcia.
September 26-28: Sandwiches
It's the final weekend of official shows-you-actually-want-to-go-to at the Hollywood Bowl, which means if you're not gonna just hit Patina there that it's time to stock up on sandwiches to bring up with you to either Trey Anastasio (on Friday) or The Pixies (on Sunday), which means you'll likely end up at Mendocino Farms, or All About the Bread, or the just-opened Downtown spot The Little Jewel Of New Orleans, which's busting out ultra-legit amazingness like Crescent City fried shrimp po' boys.
October 3-5: Dodger Dogs
Are we betting that the Dodgers are going to make the playoffs? Damn right we are. And are we also betting you can get last-minute tickets online for a reasonable price? Damn right we kinda are.
October 10-12: Meat pies
Downtown's hilariously named Pie Hole has been serving savory pies forever (or at least a couple years), and the just-opened Garlo's is also doing Australian-style beef, chicken, and vegetable, plus breakfast pies in Westwood. You should get all of these.

October 17-19: Charcuterie
Did you know that, physiologically, your body wants to fatten up in the fall so that it has extra blubber for the harsh winter? According to some article we read somewhere on the Internet, that's totally the case, which's why we're recommending making sure you get extra doses of fat via cured meats -- notably, those from Bestia and Chi Spacca -- where they're made in house, extra deliciously.
October 24-26: Pumpkin pancakes
Yes, these are a thing, and this is when you're going to get them: the Saturday after a bleary-eyed Halloween party, at The Griddle Cafe. Waiting in line for an hour has never been so worth it.
October 31-November 2: Candy
It's Halloween, which means there is going to be a ton of fun-size Snickers, Reese's Peanut Butter Cups, and candy corn. Don't you dare eat any of those -- instead opt for literally anything from Sugarfina, but even MORE literally the Holland-imported Gummy Pigs.

November 7-9: Something Asian from Silverlake
The first-ever IHeartSilverlake Eastside Food Festival is being held at Mack Sennett Studios on Nov 9th, and -- though they haven't released the list of restaurants participating -- we're hoping for Night & Market Song's super-spicy Thai food or Pine & Crane's Taiwanese deliciousness. Here's a secret: if they're not there, you should just go into the restaurants anyway.
November 14-16: Lobster rolls
If you're from the East Coast, now's about the time you're missing cold, crisp air nipping at the windows; if you're not from the East Coast, now's about the time you're gloating that there's no cold, crisp air nipping at your window. In either case, now's definitely the time when you're all like "I could go for a lobster roll", which's great because you can hit any of these spots for your crustacean fix, or try a new one at Venice's just-opened small seafoodery The Anchor.
November 21-23: Tacos
It's clear that Thanksgiving is coming at this point -- and what do we have to be more thankful for in LA than tacos? Nothing. That's why, on Saturday, you should hit at least a few of our picks for best food truck tacos in LA, or go on an Eastside taco crawl, and then feel very thankful that you don't have work on Sunday.
November 28-30: Turkey
Let's be honest: it's probably gonna come in the form of leftovers. But if for some reason your brother got to take all that bird home with him, you can still get a straight-up turkey dinner at Joan's On Third, which always does Thanksgiving-style take out for the holidays.
December 5-7: French dip
It's a quintessential LA food, and it's perfect when it's slightly nippy out, and you're gonna want to get it from a classic spot. That means it's time to visit either Cole's or Philipe -- or, if you feel like getting a little more new school, you can head to K-town's Commissary, where Roy Choi's doing the French thing in a greenhouse-style courtyard.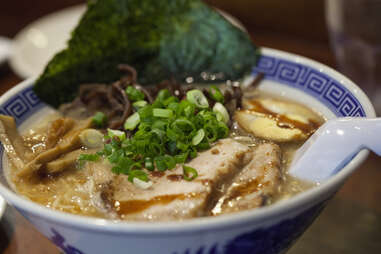 December 12-14: Ramen
By now, it will be actually cold out -- like, totally in the 60s or (ahhhhh!) the 50s. You'll need a sweatshirt and also some soupy noodles. Thankfully, no matter where you are, LA can provide: the new Tatsu on Melrose (and its sister location on Sawtelle) does a broth-less, warm noodle that's magical, or you can hit up Tsujita Annex for extra thickness -- sure to keep you warm through winter. Or at least tomorrow.
Sign up here for our daily LA email and be the first to get all the food/drink/fun Los Angeles has to offer.
Jeff Miller totally had ramen for lunch yesterday. He's on Instagram and Twitter.