A step-by-step guide to the largest, craziest sandwich that's ever existed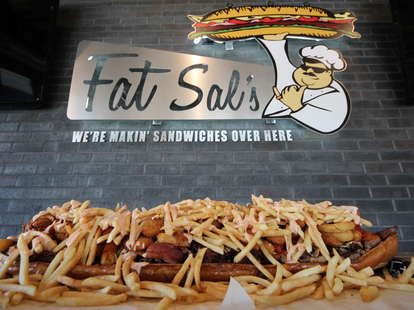 Yes. Your eyes are not deceiving you. This is indeed Fat Sal's Big Fat Fatty: the most majestic sandwich ever, loaded up with an entire appetizer menu's roster of ingredients and weighing in at just about 9 POUNDS. And it could be yours for $50 -- or for free if you finish it, in which case you'll also get a sandwich named after you, though whether anyone will order the Dude Who Rolled Out Of Here On A Stretcher is yet to be determined. What's in it, you ask? Well, come see...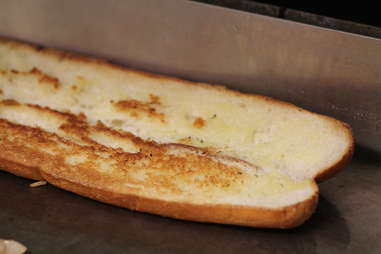 Start with this bread... 27in of it, slathered with garlic butter...
... and topped with 5 cheeseburgers. We're just getting started.
It's then topped with, like, an entire package of bacon. Eat your heart out, Kyra Sedgwick!
Meanwhile, these five eggs are being fried...
... and this pound-and-a-half of cheesesteak is being cooked... and 6oz of cheddar melted...
... so they can all be added to the bread, along with another pound-and-a-half of pastrami and another 6oz of mozzarella. Naturally. Or, kinda super-unnaturally.
That would've made a pretty crazy sandwich, if it had just ended there, right? We know. Which is why they then top it with 10 chicken fingers...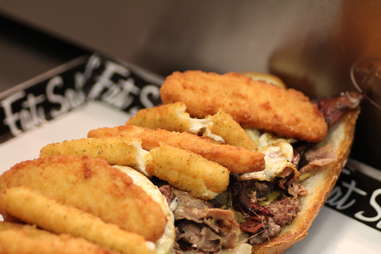 ... and an entire order of mozzarella sticks.
And these? Yep. Onion rings.
They're also gonna smack it with a bowl's worth of homemade chili...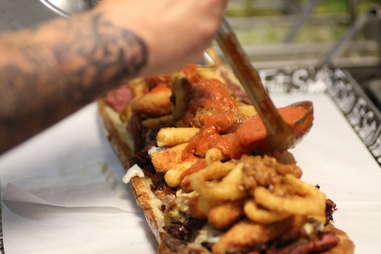 ... and several ladles of marinara, because it has tomatoes in it, and you're on a diet.
On top? A slew of jalapeno poppers. Deep-fried. Look, you've already come this far.
And for all those Pittsburgh-loving Primanti fants, they dump a basket-full of French fries on top of the burgers, and the cheesesteak, and the pastrami, and the eggs, and the chicken fingers, and the mozzie sticks, and the poppers...
And, some garlic aioli. For extra flavor. Because that's what you need right now.
Here it is. It. Is. Glorious. And utterly terrifying.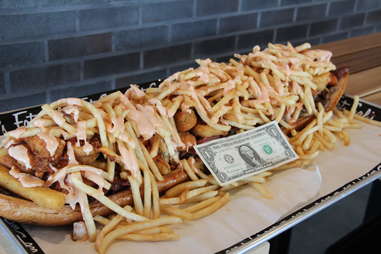 So, how big is it? It's, like, the size, of, say, $43. Yo. It's HUGE.
And this? This is to show the cardiologist when he asks which fantastic gentleman caused your coronary. You're welcome, America.