The Ultimate Food Guide to the Hollywood Bowl
Courtesy of The Hollywood Bowl
OK, you're not going to the Hollywood Bowl just for the food -- but you're going to eat when you're there. And even though you can bring your own picnic, this year, you're going to want to buy at least a little something, since James Beard award winner Suzanne Goin and her business partner, Caroline Styne (from A.O.C. and the Larder), have taken over the Bowl's catering. The official 2016 Hollywood Bowl season kicks off this weekend -- and here's everything you need to know about the overhauled menu.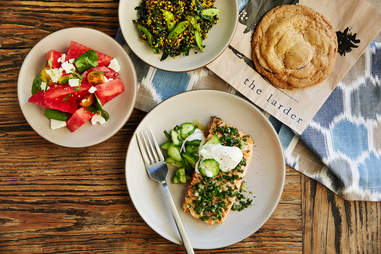 Courtesy of Hollywood Bowl Food + Wine
Marketplace
Location in the Bowl: Main entrance
All your favorites from the Larder -- Goin and Styne's casual mini-chain -- can be found here. Pick up grab-and-go salads, hot entrees like barbecued beef brisket and mac & cheese, slow-roasted salmon with cucumber yogurt, and locally sourced snacks.
The Wine Bar by A.O.C.
Location in the Bowl: Main entrance
One of LA's best wine bars has found its way to the Bowl -- which means you'll find small-production, artisanal wines and a selection of craft brew and cocktails made with soju and other wine-based liquors. Basically, this is where you'll find yourself in between acts. You can also order cheese and charcuterie plates, market-fresh salads, grilled fish & meat, and dishes like soft polenta with wild mushrooms, mascarpone, and gremolata.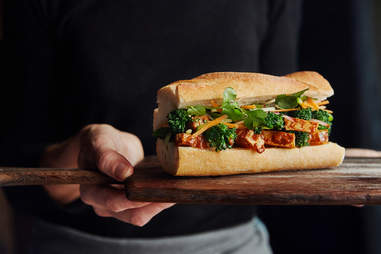 Courtesy of The Hollywood Bowl Food + Wine
Street Food & Snacks
Location in the Bowl: Throughout the grounds
If you're the type to chow down on a greasy hot dog at 2am after a night in Hollywood, then you're in luck. There's not one, but four vendors sprinkled throughout the Bowl where you can get your fix of some of LA's most popular street food, including banh mi, specialty hot dogs & sausages, street tacos (all located between picnic areas five and six), and BBQ (right before the escalators). Oh, and there's a sweet shop that's whipping up s'mores and other signature desserts from Larder Baking Company.
Buzz McCoy's Marketplace
Location in the Bowl: West side
Nothing fancy here. If you're looking for quick picnic-friendly food, you can grab things like a chopped chicken salad, a Mediterranean sandwich, or freshly made sushi to go.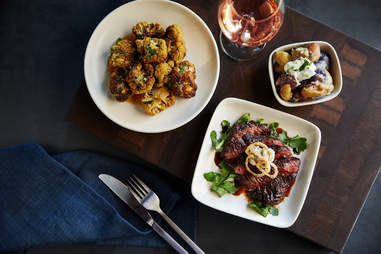 Courtesy of The Hollywood Bowl Food + Wine
The Backyard
Location in the Bowl: Main entrance
The alfresco, sit-down dining spot feels just like your cool friend's chic backyard. Two large wood-burning grills are serving up farm-to-table, family-style dishes. You can order just about anything grilled, like Alaskan halibut with succotash salsa, veal chops with roasted grapes and saba, or, if you're really hungry, an 18oz bone-in rib-eye steak with marrow toast. Walk-in seating is limited, so make a reservation pre-show and plan ahead.
Lucques at the Circle
Location in the Bowl: Pool Circle
If your seats are in the very-front-of-the-Bowl's Pool Circle, a) we're totally jealous, and b) you can order your dinner to-go or dine at the Pool-Circle-only version of Goin's most high-end restaurant. Choose from the seasonal made-to-order menu, with dishes like grilled pork chop with cornbread-chorizo stuffing and glazed bing cherries, or ricotta gnocchi with sweet corn, wild mushrooms, swiss chard, and sage brown butter. They've also got a full wine list to wash it all down with.
Courtesy of The Hollywood Bowl Food + Wine
Supper in your seats
Location in the Bowl: Reserved box seats
Where else can you order braised beef short rib with smashed fingerlings during a concert? Choose from a curated three-course dinner or an a la carte menu and get it delivered right to your box, if you pre-order up until 4pm the day before a show.
Kitchen 22
Location in the Bowl: Main entrance
Kitchen 22 is a takeout stand that pays homage to SoCal roadside burger joints with made-to-order beef & turkey burgers, and Spanish fried chicken. There's tons of options for vegetarians, too, like the grilled cheese sandwich on Larder's signature sourdough bread.
Courtesy of The Hollywood Bowl Food + Wine
Food trucks
Location in the Bowl: Main plaza and walkways
Look for the bright-colored, retro-styled trucks on the main walkway, where you can order some of Suzanne Goin's more casual creations like rotisserie chicken, wood-fired pizzas, and fish tacos. The taco truck is nearest the main gate entrance, and you can find the other two trucks closest to the shuttle/Park & Ride drop-off.
Sign up here for our daily LA email and be the first to get all the food/drink/fun Los Angeles has to offer.
There is no concert Leila will turn down at the Hollywood Bowl. You can find her at The Wine Bar on Reggae Night XV, Rodrigo y Gabriela, and Ben Harper & The Innocent Criminals. Follow her on Snapchat, Instagram and Twitter @LeilaNajafi to see how else she's filling up her summer calendar in LA.