RIP: 11 LA spots that shuttered their doors this year
Sometimes you get so caught up in all of the bars and restaurants opening in LA that you totally miss the fact that a bunch of other ones -- ones you've known and loved for way, way, way longer -- are closing. Today, we pour one out for the best of those we lost in 2014; grab a pint of ice cream, blast some of Jeff Buckley's "Hallelujah", and join us as we lament 11 LA bars and restaurants that are no longer with us.
Comme Ca
West Hollywood
"Under renovation", they say. "But we want your burger NOW and you have been closed FOREVER", we say.
 
St. Nick's
Mid-Wilshire
Oh, St. Nick's, we knew you and your perpetual-frat-bro, what-the-hell-is-happening-in-the-back-corner, this-drink-is-not-cold-but-so-what vibe well. Probably too well. But now, not enough well.
 
Allumette
Echo Park
You know that insanely hot girl you made out with once and thought you were going to have a relationship with and then she moved to Europe forever? That's kind of similar to what happened with us and Allumette.
Red Medicine
Mid-Wilshire
When you get national attention right after opening your upscale Vietnamese fusion restaurant by outing the LA Times' critic, you know you've got to deliver as well -- and Red Med did, for five years. Good run. Good run.
 
Zam Zam Market
Culver City
We'll miss this absolutely under-the-radar Pakistani restaurant's $5 lunch special. So much.
 
Cosmo
Downtown
Now where will we go for dive-y drinks and karaoke after eating bowls of ramen in Little Tokyo? WHERE??
Fifty Seven
Fifty Seven
Downtown
It seemed so promising: a big name chef, rotating out monthly, preparing a prix fixe menu, in an emerging section of Downtown. And it lasted, what, six months? We'll miss you, but kinda like that dude you hung out with for one semester in college and then never saw again after that. Where's Todd these days, anyways?
 
Waterloo & City
Culver City
Remember when that long stretch of Washington was a restaurant no-man's land, and a brave pilgrim took up shop and made it safe for A-Frame, and Corner Door, and Sunny Spot? RIP, pilgrim. RIP.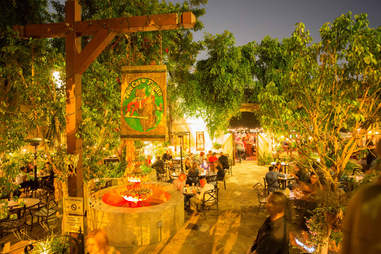 Cat & Fiddle
Cat & Fiddle
Hollywood
We'll miss, well, just about everything about this classic patio bar (okay, not the Scotch eggs. Everything else, though.), which was essentially the go-to spot for new transplants to get their feet wet in Hollywood.
Kate Mantilini
Beverly Hills
We'll miss tableside guacamole carts, seeing celebrities eating gigantic steaks, and... tableside guacamole carts. Also: tableside guacamole carts.
 
Chi Dynasty
Studio City
Sorry, Valley kids -- if you want crispy honey walnut shrimp, you're gonna have to go to the other location in Los Feliz. Like five miles away. THE HORROR!
Sign up here for our daily LA email and be the first to get all the food/drink/fun Los Angeles has to offer.
Jeff Miller is most sad about Cat & Fiddle, where he once saw The Henry Clay People play an all-covers set on Halloween. Grieve with him at @jeffmillerla on Instagram and @ThrillistLA on Twitter.