Did you know some states are moving to make roadkill legal to eat? Thankfully, that has nothing whatsoever to do with Roadside Eats, a standout sandwich shop in the ArcLight center that's got a deep lineup of BBQ and Southern-style 'wiches, y'all. Wanna see 'em in all their glory? Good. Here you go:
Recommended Video
Send Foodz: New York City Wine & Food Festival
This guy's a Cajun-Glazed Shrimp Po' Boy, which's rich (get it? DO YOU?!) with a sweet & tangy sauce.
Also fried and sweet and heart-healthy -- this Pecan-Crusted Fried Chicken creation that's topped off with maple mustard.
This Patty Melt's loaded with pimento cheese, grilled onion, and sliced tomato...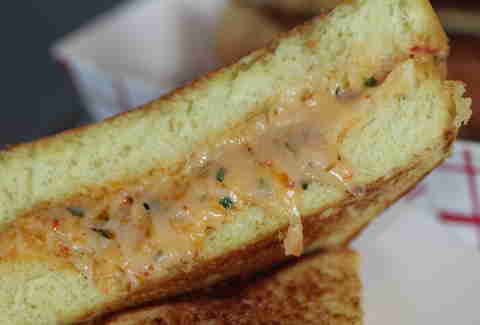 ... or, if you're one of those weird vegetarians who doesn't like vegetables, you can just order a Grilled Pimento Cheese. Well, technically the pimentos would count as a vegetable, but there's too much cheese and Texas Toast for you to notice.
Ready to turn your attention to some BBQ? Trick question -- you already did, specifically this Carolina Pulled Pork, which gets a lengthy stay in their smoker before being topped w/ vinegar slaw and pickle chips.
This? This is a Texas Cheesesteak, loaded up with melted white cheddar, roasted peppers, smoked onions, and "spicy chow chow", which's either a hot pepper slaw thing or a really delicious Chinese dog. (Hint: it's the former.)
Of course, they've got a BBQ beef sandwich, too -- the Low and Slow Brisket, which hopefully won't give you a License to Ill.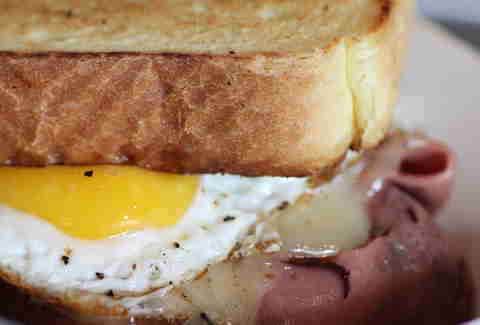 We're far from done. You're gonna definitely want this Fried Bologna, Egg, & Cheese...
... or this Fried Green Tomato BLT, which's got an extra kick thanks to the tomato itself being pickled, and a fiery performance from Mary Stuart Masterson.
This meat-monster is the Hickory-Smoked Tri Tip, accompanied by onions and spicy aioli.
Rounding out the menu: Chopped BBQ Chicken. No description necessary. You probably stopped watching Chopped reruns to make your way there, anyways.