Located in literally the least-likely place ever -- no, not San Diego, but in a mini-mall behind an old Raffallo's pizza sign in a nondescript, super-intimate room with opaque windows -- Trois Mec's a nutso restaurant with an always-changing menu from a crazy-lauded team that includes the award-winning chefs behind LudoBites and Animal. This time, they're doing a unique ticketing/reservation system wherein you purchase your five-course dinner in advance for about $100 (including tax & tip), with reservations dropping once every two weeks or so

Once inside, you're essentially in the chef's kitchen, with eight bar seats and about 20 at tables, all in decent proximity to the stovetops. First, they'll hit you with "snacks" (buckwheat popcorn, tandoori chicken wings, etc.), before dropping creative veggie courses like this white-and-green asparagus w/ egg yolk & yuzu...

... and barbecue carrots with avocado and watercress

And, like the title of Daniel Day-Lewis's new project about the guy behind Outback Steakhouse, there will be meat, and it will range from sesame/mustard-glazed grilled chicken to this extra-moist rib cap in shallot broth served with a black walnut clover spelt.

To top it all off, they've also got an ultra-curated French wine list, nightly specials, and a $45 optional pairing with dinner, so you can create your own film, tentatively titled There Will Be Several Late Night Calls To My Ex.


Recommended Video
This Rooftop Bar Makes the Biggest Ice Cream Sandwiches & Cocktails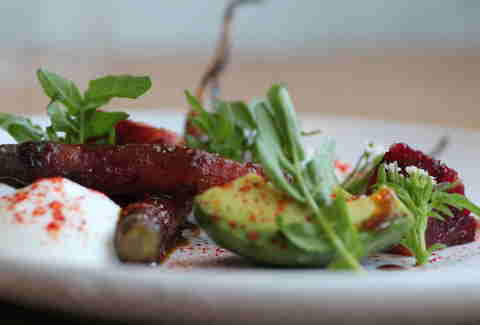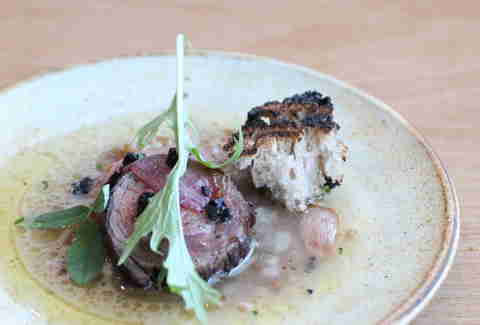 Previous Venue
Next Venue
Venue Description
1. Trois Mec
716 N Highland Ave, Los Angeles, CA 90038
A unique Hollywood restaurant with a constantly changing menu from the guys behind Animal and LudoBites, Trois Mec does not accept reservations. Instead, you purchase tickets (just like you were going to the theatre or a sporting event), thereby ensuring that Chef Ludo Lefebvre's tasting menu is only enjoyed by those truly there for the total foodie experience.