This is the most insane milkshake in Los Angeles
Behold "The Big One", Twins Sliders' crazy-insane dessert/drink/meal-for-three, which is as absurdly excessive as it sounds -- but probably even more so, because it has, like, eleventy bazillion toppings blended right in (and yes, that is a Twinkie topper). So what's in it, and how's it done? Here's the step-by-step:
Start by lining up all the ingredients to make sure you don't forget anything. Instantly start thinking about anyone you know who may have access to insulin.
Then start with the base -- eight big 'ol scoops of vanilla...
... and a "healthy" pour of whole milk to smooth it out.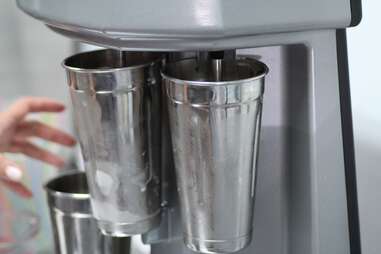 This guy's two big for one canister, so you gotta double it up...
... and then start topping, with two heaping spoonfuls each of brownie bites and Oreo crumbs...
... crushed graham crackers...
... and mini marshmallows.
Why did you think we were done? DO NOT WALK AWAY! Because you gotta add some Cinnamon Toast Crunch...
... peanut butter cups...
... and chocolate chip cookie dough. Phew. NOW we're done!
OK, not quite yet: smooth it out again in the blender...
... and then top it with a whole gat-dang Twinkie.
As you can see here, the finished product clearly does not suck (so maybe use a spoon).