How Scoops Set the Stage for Artisanal Ice Cream in LA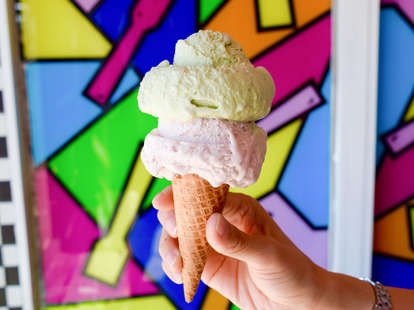 Scoops

| Danny Jensen/Thrillist
Scoops

| Danny Jensen/Thrillist
These days you can throw a waffle cone in nearly every direction around LA and hit a newly opened artisanal ice cream shop dishing out wacky flavors. We shudder to remember, but there was a time not long ago when creative flavors beyond the typical classics were hard to come by. It was a dark time. Sure, there were a few old-school spots like Mashti Malone's with its rosewater and saffron, or Helados Pops with its sapote and horchata. But otherwise, you were mostly stuck deciding between mint chocolate chip or rocky road.
But then on April 9th, 2005, owner Tai Kim opened up Scoops on a quiet strip of Heliotrope just off Melrose, and in a short time began blowing minds with creative and unusual flavors like cheesecake with dill, chocolate wasabi, and the now-famous brown bread (actually made with Grape Nuts and caramel). Kim didn't start off in kitchens, though: as a CalArts grad in studio art, Kim had found himself drawn to food as a new artistic medium. While attending Western Culinary Institute (now Cordon Bleu) in Portland, he zeroed in on his calling while taking an ice cream and cheese making class.
After graduating, Kim taught at the culinary school, but was surprised to discover that many of his aspiring chef-students weren't particularly interested in trying new things or expanding their palate with international cuisines. And that's when Kim realized that an ice cream shop would be the perfect vehicle for introducing people to new and unfamiliar flavors.
Before opening a shop, Kim dedicated himself to serious ice cream research, sampling scoops all over LA and beyond to try different flavors. "But you know," Kim says, "pretty much everybody had the same flavors -- vanilla, chocolate, etc. -- nothing really new. So, that's when I felt like, 'OK, that's going to be my niche market.'"
Kim searched across LA for a good location for his new endeavor, finally settling on Heliotrope, just off the 101 and near LA Community College. "Since it was my first business and I didn't have a lot of money, I was looking for the cheapest place all over the place. I found the place in East Hollywood that was the cheapest place I could afford."
Kim soon befriended his neighbors, including the volunteers at Bicycle Kitchen, a nonprofit educational bike shop originally located in the pocket-sized neighborhood, who quickly became regulars. "There was suddenly a bit of a block boom based on bike culture," Kim explains. "And at the time it seemed like a good fit."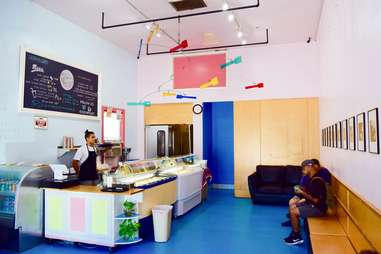 Initially a one-man operation, Kim hand-made and scooped all of the ice cream, gelato, and sorbet himself, experimenting with new flavor combinations like a mad scientist. In the spirit of discovery and education, Kim was always happy to let guests try out flavors before committing to a scoop. He quickly amassed a roster of hundreds of unique flavors which quickly rotated through the 18 bins of his display case. The buzz quickly spread, and Kim soon found himself flooded with new customers in search of his clever combinations like Jim Beam with mint, lavender coconut, and avocado with banana.
For much of his inspiration, Kim looked to the eclectic offerings of LA's food scene. "The great thing about LA is that there are so many different ethnic restaurants and markets, and people from all over the place."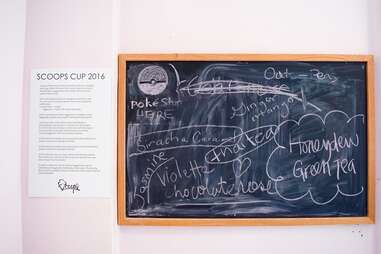 Kim kept the design of the shop relatively simple, and adorned the walls with works from local artists for sale, occasionally including his own. One key early fixture to the shop was the "Flavor To Suggest" dry-erase board, where customers write their own ideas for Kim to create, many of which still make their way to the freezer case. Not surprisingly, there's quite a bit of trial & error involved as Kim methodically tests the suggested flavors and ones he devises himself. Often he's pleasantly surprised by unexpected results, like a mint and cilantro mashup. "It sounds kind of weird because they're both very strong and pungent, but it kind of worked out." (He didn't always nail it, though: some tested combos, like cilantro and lime, turned out "a little too weird.")
"It was a tipping point in the movement for food in the city." -- Nastassia Johnson
"Scoops had a strong neighborhood presence. I feel like they were embraced by the neighborhood off the bat," explains Nastassia Johnson, culinary consultant and certified dessert expert at Let Me Eat Cake. "I also think their opening coincided with a time in food when people were really questioning the integrity and quality of what they were eating. It was a tipping point in the movement for food in the city on the heels of ideas brought about from things like the movie Super Size Me, where new people like Tai Kim were moving into the space and presenting alternate options to what we were familiar with. It has been a slow build since then, but they definitely went from neighborhood gem to city-wide notoriety."
One of the dedicated customers from those early years was Matt Kang, currently the editor at Eater LA and a longtime LA food blogger. After frequent visits to the shop, Kang and Kim struck up a friendship, and Kim became a culinary mentor to Kang, introducing him to new dishes around LA and discussing how they could be translated into ice cream. After a few years, Kang ultimately decided to leave his gig as a commercial bank analyst to dedicate himself more fully to exploring food. Then in December of 2010, after working closely with Kim to learn about running an ice cream shop, Kang opened Scoops' second outpost on Overland Ave in Palms. For the new location, Kang utilized ice cream made by Kim and added a coffee program, but otherwise kept to the no-frills spirit of the original Scoops.
"Scoops is all about thinking outside the box. We try to think of at least a few flavors we've never done before every single day," Kang explains. "The rest of the flavors generally come from a combination that we've done before, but want to make again because it was popular. Scoops makes about 50 flavors a week, which I'm pretty sure no other shop in the country does. In terms of our entire arsenal of flavors, it numbers in the hundreds, maybe thousands."
It's more culinary-minded than just throwing flavor combos into a vat, though. "When you're trying to showcase all the flavors, it really helps to have a lighter, less fatty base so that you can taste the nuances better," Kang explains. "Some people don't understand that and want this really heavy, intense base that will mask the subtler flavors you're trying to bring out in ice cream. I like to think of Scoops like a delicate Old World wine, like Burgundy, versus the more American, robust Napa cabernets that a lot of more modern or even old-school shops tend to be like."
Scoops continued to pick up momentum, gathering more fans, experimenting with more flavors, and expanding to more locations, including a flavor lab in Highland Park, a spot in the ultra-hot Far East Plaza in Chinatown, and its first shop in Orange County. As the Scoops footprint has continued to spread over the years, so has the shop's impact on artisanal ice cream in LA.
As Scoops has grown to be a popular mainstay, delighting and challenging the palates of ice cream fans, it's helped to create a welcome environment and adventurous customer base for newcomer shops, many of whom, like Scoops, focus on fresh ingredients and creative flavor combos. "I'm sure when I started there was probably some other places doing new things, but for some reason we were the one that stood out," Kim says, humbly.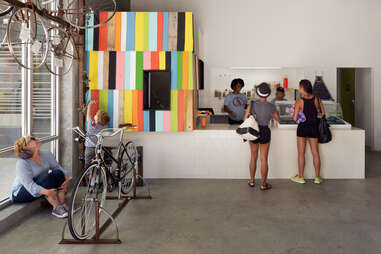 One of the shops that felt the influence of Scoops was Peddler's Creamery, the ice cream shop in Downtown LA that opened in 2013 and uses bicycle power to churn its batches of creative, organic, and non-dairy artisanal flavors. "A lot of my friends in the bicycle community were really excited about Scoops opening up near the Bicycle Kitchen," explains Edward Belden, owner and founder of Peddler's Creamery. "When I started to think about opening my own shop, I visited Scoops a few times to check it out and there was always something to be inspired by. I think that they really did help spark the artisan movement here in LA."
What struck Belden most about the offerings at Scoops -- apart from the quality -- was the sheer number of creative flavors offered. "The number of combinations was something that always impressed me," he explains. "Ice cream is a really challenging medium to create something original. Many times you'll think of something and go to search for it on Google and somebody already has a recipe for it. So it can be really hard to think of something brand-new and out-of-the-box, and I think Scoops has always done a really great job at that. We also try to focus on coming up with our own flavors, but they really set the bar high."
"Ten years ago, I don't think there was really a heavy emphasis on this idea of artisanal," Johnson goes on to explain. "Especially in the ice cream world, you had your old-school scoop shops or your big box chain scoop shops. I feel like artisanal ice cream started with the idea to really put thought behind flavors and ingredients. The quality of the ingredient in the ice cream really started to become the star of the show, and this is something that Scoops did and does really well. Artisanal ice cream, especially in LA, has really continued to grow within this coveted, intentional, and thoughtful ice cream process to what is essentially a 'farm-to-cone' concept paralleling what is happening in the wider world of food."
With the recent dramatic rise in the number of artisanal ice cream shops in LA -- both homegrown and imports from other cities -- it also seems that long-established national brands are feeling the pressure to stay relevant. A quick perusal of Yelp reveals that over the past six years, at least six Häagen-Dazs have closed locally, along with 10 Baskin-Robbins, and several Ben & Jerry's locations. But that doesn't mean they're throwing in the towel. Baskin-Robbins, which started over 70 years ago in Glendale with the hook of offering 31 flavors -- one for every day of the month -- and has recently ventured into more creative flavors, like Ancho Mango Sunrise and Oreo Milk & Cereal -- both similar to flavors you'd find at artisanal slingers. They're also revamping many of their 230 locations across the county, and just launched their own app. "We're really focused on continuing to push the envelope with new ice cream flavors and frozen desserts," explains Weldon Spangler, senior vice president of Baskin-Robbins US and Canada.
Kang also points to some of Scoops' more groundbreaking flavors that seem to have had a noticeable impact on the offerings found at other artisanal ice cream purveyors. "I think a lot of our fruit combinations and floral flavors stand out because of how pure the flavors are. Other than that, our shocking flavors, like Cuban cigar, nicotine mint, and cumin chocolate, paved the way for some of the more 'out-there' flavors that other scoop shops around town have been creating."
Kim, for his part, is happy to see more artisanal ice cream shops around LA lately offering creative and unusual flavors. "It's great, the more places that do this, the more customers get educated and can be exposed to new flavors and compare different ones," he says. "And hopefully because of that, they'll no longer hesitate to try new and different things."
Never one to remain stagnant, Kang explains that Scoops has continued to evolve, always refining and improving its offerings. "Scoops is better, and richer than it was seven or eight years ago. Our base, which we make from scratch in-house, is richer and denser than it was when Scoops was first founded. We also stopped using eggs in our base, which makes the flavor cleaner."
As for the accolades and attention over the years, Kim remains unfazed, "I'm not too crazy about media attention. To me, this is what I really want to do and it's my destiny/destination. The rest doesn't really matter, but it can help. Some people come in to try the wacky flavors, but that's not really what it's about. Our motto is 'expanding your tasting palate.' It doesn't have to be about wacky flavors, just thinking about how one flavor might work with another."
And though some artisanal ice cream shops have started to package their flavors to be sold on the shelf, Kim insists you won't see pints of Scoops at your local grocery store. Instead, he prefers to offer customers the opportunity to interact and explore in-person at the shops. "So many people have approached me about [going in-store], but that's not my kind of thing. When you go to the store, people just pick out whatever they get used to, so they're not going to be exposed to new things and they're not going to be educated."
Kang echoes Kim's enthusiasm for the continually expanding field, "There's so much artisanal ice cream! I'm glad that it's here and really increasing the awareness of quality ice cream. I'm also glad because Scoops is still really competitive despite a ton of new entrants. Overall though, I think it's a great time to be an ice cream lover in LA."
Indeed, thanks in huge part to Kim, it is.
Sign up here for our daily LA email and be the first to get all the food/drink/fun Los Angeles has to offer.
Danny Jensen is a regular Thrillist contributor who will gladly eat a cone of Scoops' Brown Butter any day. Follow his ice cream dreams on Twitter and Instagram.