How to get into LA's 9 secretest supper clubs
They happen on clandestine boat docks. In candle-covered abandoned churches. Atop strand-lit loft rooftops. Secret supper clubs hosted in secret locations that... wait, we've said too much. Just keep reading.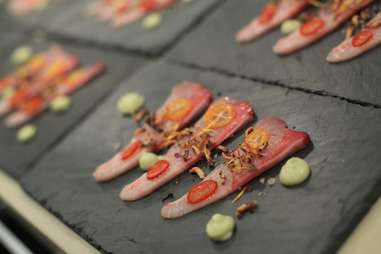 BRK
When: Mostly monthly
Where: A West Hollywood apartment
Why you should join: Max and Max -- the Chef and Sommelier, respectively -- serve a TEN-TO-TWELVE-COURSE, fine dining-experience-style dinner with "food and service that are Michelin star-serious", with "substitutions impolitely declined". In other words: this is serious food.
How to join:Give them your contact information here, and prepare to get Googled; they vet each member seriously before they extend an official invite.
Chicks With Knives
When: Every five weeks
Where: Yeah, sure, like they're gonna tell you that upfront
Why you should join: Because they were one of the first to commit to the secret supper club concept, and have been doing it for years. Their food is deliciously simple, their menus approachable, and you get to tell people you're essentially going to something named after a Tarantino movie.
How to join: Practice your secret-handshaking, like, A LOT, then click here.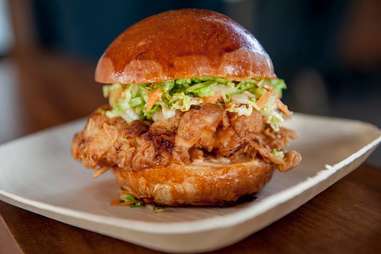 Taste of Pace
When: Monthly
Where: We can't tell you that, sorry
Why you should join: This monthly meetup's a chance for a super-experienced catering chef to try out new dishes on suspecting guests, with a three-course menu showcasing farm-fresh, seasonal ingredients (and a complimentary cocktail, as well).
How to join: Dry clean your initiation robe, and then click this.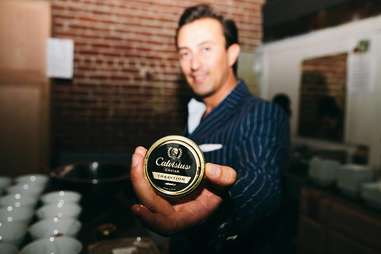 Truffl
When: Once a month
Where: Crazy venues all over the city
Why you should join: For the last year-plus, Truffl -- which bills itself as an exclusive social club without a clubhouse -- has been hosting enviable food-forward events, like an omakase ceviche dinner with music from an El Rey-headlining band, in a architecture studio Downtown, and a how-to-make-a-perfect-burger party with the founder of Umami.
How to join: You have to apply (which involves creating a bunch of passwords), and then MAYBE they'll let you in.
Kali Dining
When: About every month, usually with a series lasting a few nights
Where: Ssshhhhhhhh
Why you should join: Every dish that Chef Kevin Meehan sends out at these intimate dinners looks straight out of an episode of Top Chef, and you never know what you're going to get.
How to join: First, you've gotta find out when the next one's happening...
Gastronauts
When: Occasionally
Where: A different legit-ethnic restaurant each time
Why you should join: Co-founded by former Thrillist employee Helen Springut (respec'), this is a club for people who are adventurous and not picky -- in other words, you're going to be eating insects, offal, and other foods that'll probably gross out your girlfriend (unless she's totally awesome, in which case, invite her!)
How to join:Follow along on their Facebook... if you have a strong stomach
The Whaling Club
When: Monthly (including... tomorrow)
Where: If only we knew...
Why you should join: Super-top-notch barmen make drinks each time, with often-impossible-to-get-in-the-US ingredients, which're then paired with bites from chefs who've worked at some of LA's most excellent restaurants (like Son of a Gun).
How to join:Cloak? Check. Dagger? Check. Clicked this link? ...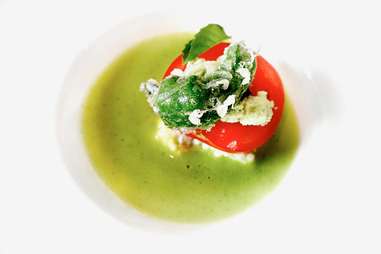 Wolvesmouth
When: When it happens, man
Where: Where it happens, man
Why you should join: More like a maybe-not-licensed-restaurant-in-an-apartment than a true "club", Wolvesmouth has become a bragging-rights dinner, thanks to a chef who's been profiled in The New Yorker, and a reservation wait that sometimes can take a full year.
How to join: Fill this out and cross your fingers that they'll send you the date for the next event, then cross your other fingers that they also like your "Why I should get to come" note (that everyone has to write), then cross your other other fingers that they actually pick you for the dinner.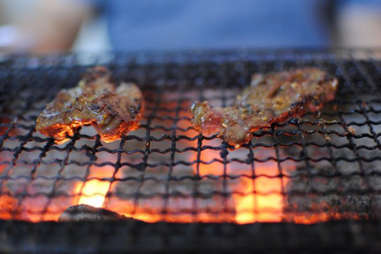 Totoraku
When: When the chef feels like opening
Where: 10610 W Pico
Why you should join: Not really a "club"-club, this is actually an entire secret restaurant. It's known to many just as "the secret meat restaurant" behind an unassuming facade, serving up some of the best meat you can find... anywhere. To get in, you have to be invited by the chef or someone who's been before; once inside, expect a wallet-emptying, belly-filling meal with nine courses of melt-in-your-mouth beef.
How to join: You gotta get an invite from someone who's been -- or the chef. So maybe stand outside and hope?
Jeff Miller is Thrillist LA's Senior City Editor, and would love it if you invited him to Torotaku, thank you very much. You can follow him on Twitter at @thrillistla and @jeffmillerla, and on Instagram at @jeffmillerla.