LA's 10 most iconic restaurants, ranked by my 86-year-old Grandma
Though LA may not be known for the same long, rich restaurant history enjoyed by our East Coast brethren, we've still got plenty of iconic restaurants, some of which are old enough that it probably wouldn't be fair to have some 30-something dude rank them. And that's exactly why I decided to ask my 86-year-old Grandma Connie -- the awesomest octogenarian ever (seriously, that's her in the dune buggy) -- to do the honors.
So here it is, a power-ranking of LA's 10 most iconic restaurants, transcribed from my Grandma's notes -- which were written in cursive. Remember cursive?
West LA
The lowdown: You're intimate with their steakburger and hickory burger. So's my Grandma.
Grandma Connie says: "Everybody went to to the Apple Pan at one time or another in their life -- if you never went to the Apple Pan, I feel bad for you. There's also another place nearby called Marty's, next to the fire station on Pico. When your Grandfather and I didn't have any money or time we'd stop at Marty's for dinner. I can't tell you how many times I had a hamburger there -- in the old days it was really good."
West LA
The lowdown: You've probably driven by this under-the-radar, old-school steakhouse on Pico hundreds of times without even glancing twice, but someone's definitely going there: it's been open since 1946.
Grandma Connie says: "It's the opposite of some of the other places on this list: if you DON'T want to be seen, you go there. It's like an old shoe, or an old pair of jeans you won't give up -- the food's pretty good, though!"
Beverly Hills
The lowdown: As classy as it gets -- the gold standard, for decades.
Grandma Connie says: "I used to go there to see famous people, but I was never good at recognizing them. I would sit at a table with your Grandfather and say: 'who's that?', 'who's that?', 'who's that?' He didn't know either. I never had your Aunt with me to tell me who it actually was."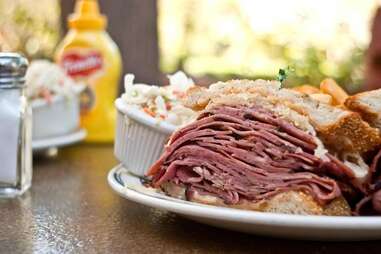 Northridge
The lowdown: The Valley deli standby fits the Jewish food stereotype so well, it may as well wear a yarmulke.
Grandma Connie says: "Get corned beef in an omelette... mmm. Lots of my friends prefer Nate 'n Al or Canters, but honestly, I think that those places are pretty crummy."
Beverly Hills
The lowdown: The 30+ year-old Wolfgang Puck flagship is the youngest restaurant on this list, though it may be the most famous.
Grandma Connie says: "My friend Patty used to drink at the Sunset Strip location, but before it was Spago, when it was called Johnny Walsh's Cafe Gala. Back then, there was lots of drinking there. Lots."
West Hollywood
The lowdown: There may be no more iconic destination restaurant than Santa Monica Blvd's Dan Tana's: it screams Rat Pack and martinis and mystery.
Grandma Connie says: "When I was a little girl, I'd ride the street car down Santa Monica Blvd, right by there. My friends all love Dan Tana's. When I was there recently, I saw Hugh Hefner with a bevy of girls, and was thinking 'They all look good... except for Hugh.' "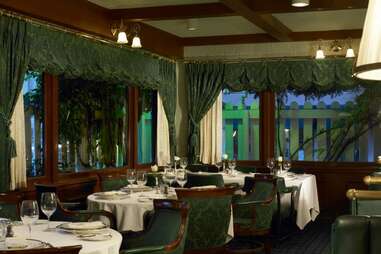 Downtown
The lowdown: This 24-hour steakhouse near Downtown used to also have a hopping bar scene, although it has kind of died down these days.
Grandma Connie says: "My father was an architect, and he had meetings with city officials at Pacific Dining Car, which is where he proposed putting a parking garage underneath Pershing Square. The city officials thought it was a horrible idea and poo-pooed him out of the building. Seems like he won that battle, eventually!"
Los Feliz
The lowdown: This Lawry's-owned barstaurant has been a Los Feliz staple since before Grandma was born. Seriously!
Grandma Connie says: "When your Grandpa and I were first married, there was a two-story building that we were the supers of in Los Feliz, with a driveway through the middle. It was an awful place, but there were washing machines in the back: when there were enough quarters in them, we'd go to dinner at Tam O'Shanter's as a treat."
Mid-Wilshire
The lowdown: The original Farmer's Market-adjacent outlet's famous pancakes have allowed 'em to expand to Studio City, Pasadena, and, uh, Vegas.
Grandma Connie says: "When I lived on 6th St with my parents, they used to shop at the Farmer's Market -- this was the '40s, when it was actually a 'farmers market' -- and we'd eat at Du-par's. The food's still the same!"
Hollywood
The lowdown: Hollywood's kind-of-greatest spot for martinis and prime rib since 1919.
Grandma Connie says: "I went there recently and I think I had the same server I had when I was a little girl. Everyone there didn't die. They just reinvented themselves."
Sign up here for our daily LA email and be the first to get all the food/drink/fun Los Angeles has to offer.
Jeff Miller is Thrillist LA's Senior City Editor and his Grandma Connie is Thrillist LA's awesomest freelancer ever. Follow him on Twitter at @ThrillistLA or Instagram at @jeffmillerla.