What It's Like to Open a Restaurant in the Middle of a Pandemic
Delayed openings aren't uncommon, but this is beyond unusual.
Daniel and Angie Kim

| Courtesy of Interstellar
Daniel and Angie Kim

| Courtesy of Interstellar
When first-time restaurateurs Angie and Daniel Kim signed a lease for commercial space just off Santa Monica's waterfront Ocean Avenue in late 2018, they hoped they'd have their new restaurant – a full-service cafe focused on specialty coffee and globally inspired fare – up and running by mid-2019. But they were, after all, attempting to open in Los Angeles, and, more specifically, Santa Monica, a land of red tape and frustratingly slow-goings when it comes to permits, inspections, and sign-offs. Throw construction delays into the mix, and their grand opening got pushed out multiple times, eventually landing on March 21, 2020. Delayed openings are far from unusual in the restaurant world. But what happened next would be beyond unusual.
Just days before Interstellar's opening date, with its staff assembled, an early service for friends and family complete, and a stocked kitchen, LA Mayor Eric Garcetti would call for bars, nightclubs, and restaurants to stop service outside of takeout and delivery to help to stop the spread of the uber-contagious and increasingly fatal COVID-19 virus that had become a global pandemic. In other words, it was the beginning of what felt like the end of the world for many restaurant owners. But for the small percentage of those counting down the hours to launching a business they'd been working on for years, it was an extra painful sting.
"Everyone, our employees, all of us, were so excited to get things open, and then all of a sudden we felt really hopeless and defeated," says co-owner Angie Kim, a former sous chef who runs Interstellar's kitchen. "It took much longer than we thought and then to close just a couple days before our grand opening, it was very stressful and, of course, we were very nervous about what we were going to do financially."
And then there was the heartbreaking task of telling their 10-plus staffers that their new jobs had disappeared practically before they'd begun, at least temporarily. "That just raised a lot of stress and concern," says Kim, who adds that many of the employees had the double whammy of getting cut from other restaurant jobs they worked at the same time. "Because we're such a small restaurant we try to look out for employees. It's always in the back of my mind."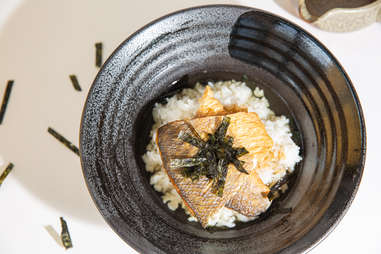 Her husband Daniel Kim, who runs front of the house, spent years working in the coffee industry and the two had always planned to put an emphasis on its espresso bar and coffee program along with grab-and-go items targeted at area workers and beach picnickers. But Angie says Interstellar was, first and foremost, created as a dine-in restaurant touting a beer, wine, and soju cocktail list and a food menu (focused on breakfast, brunch, and lunch, initially) that they spent months perfecting, one with delicate dishes including a seared Branzino in dashi, soy-braised short ribs, and French-style soft scrambled eggs laced with black truffles and arugula along with comfort fare like a panko-breaded fried chicken-and-waffles plate and a melty breakfast sandwich layered with mortadella, fontina, and bacon-maple jam. "We take simple dishes and add global ingredients to each dish to elevate them," Kim explains.
Delivery was something that the couple planned to consider down the road, but what they had thought of as a potential future amenity would become an absolute necessity if they made the decision to open. "We were really contemplating it and deciding if we should even open or not. Our concerns were about the safety of our employees and also the customers," according to Kim. Ultimately, they chose to go for it, putting strict sanitization procedures in place, bringing back two kitchen workers and pivoting to become an entirely to-go business offering curbside pickup and delivery, while tweaking the menu to focus on items that would travel well.
"A lot of dishes we've had to readjust so that they do well for delivery and then some of them we've decided to take off completely because we wouldn't want a customer to pay for that dish if it was served 20 to 30 minutes later," she says.
Those French scrambles and short ribs, for example, are nixed for the time being, but many of their other offerings – including breakfast sandwiches and specialties like Katsu curry – remain. They've also added some basics including French toast and a cheeseburger and – like so many other existing restaurants around the city – Interstellar is getting creative, now offering a DIY tangerine Mimosa box and an Affogato kit equipped with a bag of coffee, a pint of housemade custard gelato, and branded mug.
On April 6th, Interstellar finally did open its doors to the public. Of course, nothing resembles what its owners had imagined even a month ago. Never having had the chance to acquire a regular customer base, trying to capture the takeout crowd out of the gate has been an uphill battle with crowded delivery apps and empty sidewalks. "It's been pretty slow and we did expect that," Kim reported a few days in. "We chose this space because it had really great foot traffic -- a lot of tourists, a lot of locals and a lot of nearby businesses. But with what's been happening, we've lost that."
Still, she says, they're ramping up social media efforts, talking to nearby hotels and apartment buildings to promote the business, delivering via Caviar, and are offering various initial discounts, including 20 percent off to healthcare workers, free coffee with orders, and weekly specials. And once again, the Kims are fully prepared to pivot. "Luckily, we still have our original grand opening plan in our back pocket and when the time does come, we'll be prepared."
Sign up here for our daily LA email and be the first to get all the food/drink/fun Los Angeles has to offer.