Is Roy Choi's LocoL a Game-Changer?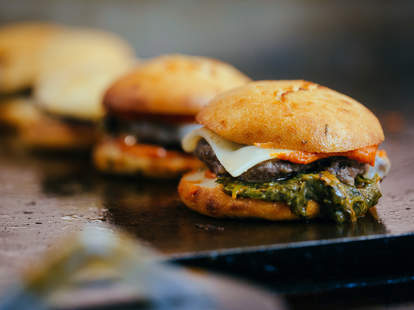 Last week, Chego/Kogi/Pot chef Roy Choi opened up possibly the most progressive new restaurant in the country: a fast-food spot in Watts called LocoL. The concept's as radical as punk gourmand Choi himself: to serve from-scratch, foodie-worthy fare at McDonald's prices in the inner city. Reports are that he wants to open hundreds over the course of the next few years -- which is why we went out there on opening day, to see if Choi can turn his dream of making inner-city food more healthy and just as reasonably priced a reality.
 
The idea behind LocoL
He's not a Johnny-come-lately -- in fact, Roy Choi has always been vocal about making good food accessible (i.e., not just for Instagramming yuppies who can drop $26 for braised short rib). When not playing big boss to his food truck fleet or four LA restaurants, he's been volunteering in South Central LA, teaching at-risk youth to cook at A Place Called Home.
The self-described "man from the 'hood" and native Angeleno talks a lot about the poverty that's endemic to his home turf. And, at the 2014 international MAD food symposium, he announced that he was actually going to do something about it.
Choi teamed up with Daniel Patterson, super-fancy two-Michelin-star chef (of Coi, San Francisco), and, together, they announced they'd be opening a fast-food franchise. First stop: Watts.
And that made the Internet do a double take.
Audrey Ma
"We're going to build a concept that has the heart... of a chef, but it'll have the relevance of McDonald's or Burger King," Choi explained at the time. "We're going to go toe-to-toe to see how we can challenge the status quo of fast food."
It's a bold statement, but LocoL's got bold talent backing it. The advisory board includes René Redzepi, ultra-modernist chef of Copenhagen's Noma and hyped subject of Netflix documentary Chef's Table. Chad Robertson, James Beard Award-winning pastry chef of San Francisco's Tartine Bakery, is also on the team.
In Choi's trademark renegade style, LocoL's bucking fast-food industry norms. For starters, the restaurant thumbs its nose to the frozen, chemically engineered products that McDonald's and Burger King have relied on in their quest for world domination. Choi and Patterson insist on cooking everything from scratch, without preservatives. And, instead of bulk-buying discounted ingredients, LocoL sources its meat and veggies identically to Choi's other upscale eateries. "[The] supply chain will be something we have to deal with later as we grow," he told us on opening day. But for right now, it's working.
To keep costs down, the restaurant's burgers and chicken nuggets are mixed with grains like fermented bulgur wheat -- they're about 70% and 50% meat, respectively. Larger fast-food chains have been doing this for decades, but usually using highly processed fillers. Grain- and vegetable-heavy options include red miso tofu stew and a veggie burger, which was surprisingly popular on opening day.
Can these moves yield sustainable profit margins? Hopefully. Choi and Patterson know that just supply-chain engineering and flavor development can't guarantee success, though. They both recognize community support as key.
Choi and Patterson were careful when approaching Watts residents with their new idea. "There's a big difference between you [imposing] yourself upon someone, and then asking permission," Choi said. He connected with Aqeela Sherrills, community leader and anti-gang-violence campaigner who's best known for brokering a peace deal between the Bloods and the Crips in 1992. Together, they started going to meetings and knocking on doors. "It was like I was running for office," Choi joked. "But it wasn't political, it was completely soulful."
After construction started, Choi hired local street teams to publicize the upcoming launch. Apparently, it worked. "Two days ago, they served 600 people. The day before that, 500," a team member estimated, talking about the soft openings.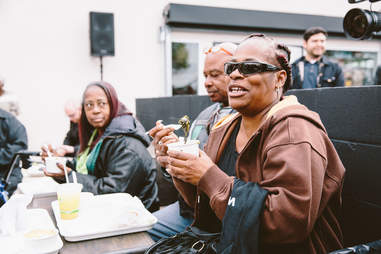 Audrey Ma
Can healthy fast food actually be good?
Judging by customer numbers, the food has been a hit so far. The schtick is similar to Choi's other buzzy spots, and combines Korean, Mexican, and Southern flavors into umami-laden, bite-size, to-go comfort food.
The menu does a new take on fast-food standards like chicken nuggets and burgers, while offering more Asian-inspired comfort foods like tofu and vegetable stew and lime-spritzed rice noodle bowls.
The most popular items include $2 chicken nuggets with creamy lime dipping sauce, $4 cheeseburgers ("cheeseburgs") with gochujang scallion relish, and $6 chili beef bowls with crushed crackers on top.
Audrey Ma
LocoL's been open a week. What is the initial response?
For the 11am Martin Luther King, Jr. Day launch, people started queuing up as early as 7 in the morning. By the time LocoL opened its doors to the sound of Dr. King's "I Have a Dream" speech over loudspeakers, the line ran down the block. Yvonne Miller, a 48-year-old Watts resident, had been waiting for three hours. She had recognized Choi from a TV appearance and couldn't believe he was opening up a restaurant in South Central LA. "This is such a blessing to the community," she said.
Adrian Carrasco, a 50-year-old from nearby South Gate, agreed. "This is something good around this neighborhood. I'm tired of all these fast-food places. I want to try something different." He had seen the opening on that morning's Channel 5 news and decided to come down.
David Joh, a 31-year-old from LA's Westside, was a Roy Choi fan who had eaten at Chego. He acknowledged that LocoL's main attraction for him was the social venture aspect. "The idea and the notion of helping out a community and giving affordable, healthy meals to people, that's the draw. It's just really good food, for good people."
I ran into Yvonne on her way out after getting her $3 veggie burger and chili bowl, which she reported were worth the three-hour wait. "Do you see yourself coming back here?" I asked.
"Definitely."
 
Who's actually going to LocoL?
From the random sampling of people I interviewed, the opening-day customer demographic was about a 70/30 split of South Central locals/Roy Choi groupies from around LA. Admittedly, it was a mash-up of groups that don't mix that much.
And that's just what Choi had in mind. "I knew they would love Watts and I knew Watts would love them," he said, referring to his steadfast fanbase. "So this is LA, let's get past the racial barriers, let's get past all the separation and start coming together."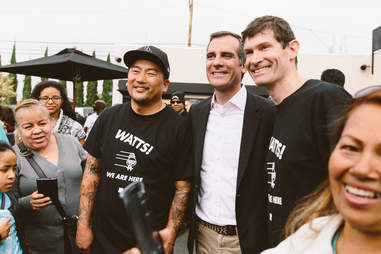 <strong>From left to right: Roy, Mayor Eric Garcetti and Daniel |&nbsp;</strong>Audrey Ma
So, is LocoL actually going to make a difference?
Given the initial turnout, it's hard not to be optimistic. The restaurant and its investors have already signed a 10-year lease in San Francisco's Tenderloin neighborhood and are planning to expand to Oakland next, as well as a second location in Watts, if all goes well.
Roy Choi feels that LocoL is the start of something big. "This is a beautiful thing, this is history in the making," he said.
"But," he admits, "we got to get through Watts first."
Sign up here for our daily LA email and be the first to get all the food/drink/fun Los Angeles has to offer.
Gowri Chandra takes her burgers gluten-free, vegan, and with extra gochujang. Follow her on Twitter and Instagram.