Remember that one moment this month where you thought "El Nino's here, time to stop going out for a while," and then the rain actually stopped and you were more like, "Oh, I actually should try to remember where all those new restaurants I was trying to hit were because I can actually leave the house"? Well, here they are: the best new openings of January, including an ultra-lauded chef's new pasta stall, burgers from Roy Choi, and omakase... tempura?? Get to these spots now, before El Nino rain makes you a hermit again.
Recommended Video
Winter Starbucks Beverages Around The World
Downtown
Bruce Kalman and Marie Petulla -- aka the ultra-lauded chef from Union in Pasadena and his partner -- have opened up this new stall at Grand Central Market, with a "pasta lab" churning out fresh noodle dishes (the simple Sunday spaghetti is fantastic), as well as made-to-order panini and Italian omelettes.
Silverlake
Rejoice! Your favorite kitschy Eastside Mexican spot didn't go away for good; it was simply bought and spruced up, with the Ceviche Project guys taking over the menu for an undisclosed amount of time, serving up food like yellowtail in young coconut and octopus tostadas.
Beverly Hills
Like most of Beverly Hills, this is another old-fave-with-a-facelift: Belvedere's brightened up with a new multi-million-dollar art collection and new food items, like salt cod croquettes with roasted piquillos and grass-fed lamb tagine, as well as a mixology-based cocktail program using aromatics grown on site.
San Gabriel Valley
Super-serious food fans have been glowing about Chengdu Taste, the mini-empire of SGV Schezwan restaurants, for years; now, the owners have expanded with this new noodle-centric concept, with hot & sour noodles and pork dumplings among the menu standouts.
Beverly Hills
Perhaps one of the most decadent restaurants in LA, this Japanese export serves omakase tempura (yes, you read that right) made of ingredients you'd normally not want to get deep fried: Wagyu beef, scallops stuffed with truffle, and more. It's not cheap -- the least-expensive option will set you back almost two Bens -- but it's certainly among the most unique restaurants you'll ever eat at.
Highland Park
The dudes behind lauded wine haunt Bar Covell and oyster bar L&E sort of don't half-ass anything, which is why their new music bar in Highland Park is so exciting -- not to mention that the 'hood has been in desperate need of a venue since its gentrifying began, if only so the whole population doesn't need to migrate to Echo Park nightly. Of course, they've got a curated beer list, as well as bar bites from the L&E guy; bands announced so far have included local indie rock faves like LA Font and the Soft White Sixties.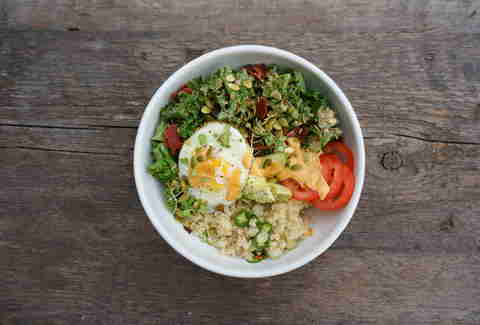 Venice
This NY import's all-veggie, but don't let that turn you off: they're serving up filling wholesome meals like woodfire-burned vegan pizza and homemade pastas, as well as pastries from a chef who's done time at Bottega Louie.
Atwater Village
This big-deal new ramen-and-more player is backed by serious kitchen talent: the chef did time at Saint Martha and Trois Mec. It's no surprise, then, that his bowls are carefully prepared, like a kimchi udon shrimp number with spam and watercress and a chicken ramen flavored with black garlic oil.
Hollywood
The craziest secret-entrance-to-a-bar in LA may now belong to this Hollywood spot, which is hidden in the back of a strip mall, in what looks like a porn store. Go through the curtain, and you'll find a huge cocktail bar, with drinks prepared by guys from Melrose Umbrella Co.
Watts
Probably the most important new opening in Los Angeles this year, Roy Choi's experimental smart-fast-food spot aims to bring healthier options to underserved neighborhoods, and is looking to expand -- fast. The chicken sandwich is $4 and is as moist as the one at Son of A Gun, the cheeseburger's bursting with umami flavors, and the $1 iced coffee's nearly worth the drive itself if you're not local. Er... locol.
Larchmont Village
This long-awaited collab from a Patina chef and the former wine director at Providence is finally open and -- no surprise -- is getting raves for carefully composed dishes like this squab with carrots, honey, and lavender and dishes that play with local flavors like cavatelli with local peppercorns.
Downtown
This casual spot from Top Chef Master Neal Fraser delivers the ultimate "why didn't I think of that" dish: waffle fries that are actually waffles made of potatoes. Those fries are almost as fantastic as the burger they accompany, a 4oz patty that's sort of in between a big burger and a slider. Also, don't miss the roasted chicken.
Long Beach
The beloved chef behind Ortega 120 and Amor Y Tacos gets a bit fancier than the latter spots Doritos Chilaquiles (!) at his new modern spot. The star dish here is Pescado Zarandeado, a butterflied, whole striped bass served with clarified butter, rice, beans, and fresh flour tortillas.
Sign up here for our daily LA email and be the first to get all the food/drink/fun Los Angeles has to offer.
Jeff Miller wants sushi, stat. Find out if he got it on his Instagram or Twitter.