Jing Gao's Day Off Is a Culinary Tour of LA's Asian Food Mecca
From San Gabriel Valley to Chinatown to Koreatown, the founder and CEO of Fly By Jing loves exploring LA's expansive Asian food scene during her off-time.
Published on 7/8/2022 at 10:00 AM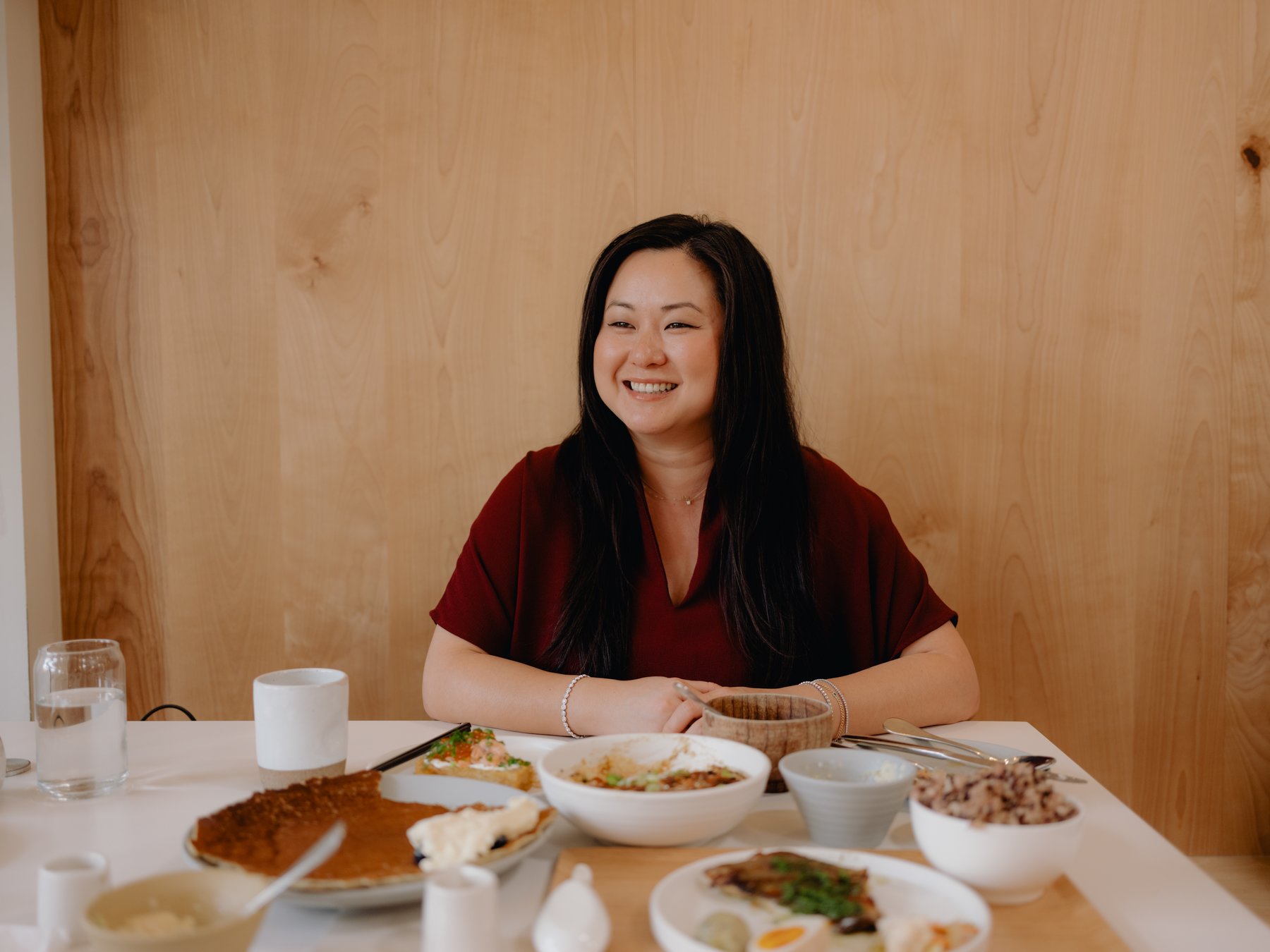 Jing Gao at Yang's Kitchen | Photo by Rozette Rago for Thrillist
As the founder and CEO of Fly By Jing, a premium Chinese food company that's redefining the narrative around Chinese cuisine and taking over your grocery aisles, Jing Gao rarely gets a day off. While the chef-turned-entrepreneur has lived all around the world—including China, Canada, Germany, and Singapore—she now calls Los Angeles home and, when she's not building her brand and amassing a cult following for its Sichuan Chili Crisp, loves exploring the San Gabriel Valley and all of the city's distinct neighborhoods.
I moved to Los Angeles three and a half years ago to launch my company, Fly By Jing. I was previously living in Shanghai, where I had a modern-Chinese, fast-casual restaurant called Baoism. When I visited the US in 2018, I saw no high-quality, all-natural Chinese condiments in stores. So I launched a Kickstarter for what eventually became our line of sauces and condiments, and by the end of that year, had moved to the US. I chose to set up the business in LA because I thought I'd be traveling back and forth to Chengdu, where our production is, but the pandemic had other plans. Also, I'm from Toronto, so I wanted something new and different. I couldn't do East Coast winters anymore!
Fly By Jing started as a DTC business online, but now we're sold in thousands of grocery stores—from Sprouts to Whole Foods, Costco, and Target. We've also expanded beyond condiments into more food categories, like frozen dumplings and hot-pot bases. The business is in a critical growth period, so I don't get many days off.
Yang's Kitchen | Photo by Rozette Rago for Thrillist
"Their food is amazing. I don't have a big sweet tooth, but I make an exception for Yang's pancakes served with whipped cream and blueberries—so good!"
When I do have free time, San Gabriel Valley is one of the neighborhoods I love to visit. It's an Asian food mecca with a huge Chinese community. All the signs are in Chinese and you don't even need to speak English to get by here. In Alhambra, there's no better place for breakfast than Yang's Kitchen. I've gotten to know the owner, Christian Yang, just from going to the restaurant and meeting him and his wife, Maggie. They try to source local, sustainable, organic ingredients whenever possible and strive to pay their employees living wages, so I love supporting them.
Their food is amazing. I don't have a big sweet tooth, but I make an exception for Yang's pancakes served with whipped cream and blueberries—so good! They're made with cornmeal and mochi, so they're fluffy, but with crisp edges. Not your typical pancakes! Yang's also has a really nice soft tofu dish made with Meiji-brand tofu. The texture is almost like a douhua, which is silken Chinese tofu pudding usually served as dessert, but theirs is savory and covered in ponzu, avocado, and trout roe.
After breakfast, I'll walk across the street and stock up on Asian produce at the Alhambra Farmers Market. It's one of my favorites—and that's saying something since LA has an abundance of excellent farmers markets. I always go for the celtuce, a cross between celery and lettuce that's super healthy and delicious. It's really versatile. You can lightly pickle it for a crunchy salad, stir-fry it, or even add it to a stew. I love getting other kinds of leafy Asian greens from the market, like chrysanthemum greens for hot pot. You dip it in the bubbling broth for just a couple seconds and it's ready.
For lunch, Xiang La Hui is one of my go-to spots for contemporary Sichuan cuisine. Eating here reminds me of the flavors and street food in Chengdu, where I was born. They have a great Mala Xiang Guo here—it's like a hot pot without the soup, but with all the flavor. Everything is coated with spices and you choose the ingredients just like you would for hot pot. Sichuan cuisine is known for more than 23 complex flavor profiles. But most people know the main one, mala, which translates to "numbing and spicy." It's a combination of chilies, which gives you the heat, and Sichuan pepper, which gives you that numbing sensation in your mouth. Together, it becomes the mala flavor profile, which is super addictive because it gives you that serotonin hit. It's believed that the more Sichuan pepper you eat, the more numb your tongue gets and the more chilis you can in turn eat. In Sichuan, eating hot and spicy food is like a competitive sport.
Whatever I can't get at the farmers market, I'll buy from the 99 Ranch Market in Alhambra—a one-stop shop for all your Asian goods. I'm excited that Fly By Jing is now available at select locations. I just found out that the new place in Sherman Oaks that I'm moving to is only 10 minutes from a 99 Ranch. In a traffic-heavy city like LA, living near your favorite grocery stores is absolutely essential.
Now Serving | Photo by Rozette Rago for Thrillist
"Brandon Jew had to carve out his own path as a Chinese-American chef, and that search for identity is something I can relate to."
When I'm grocery shopping, I have a list, but I also like to peruse. At 99 Ranch, I go up and down every aisle. I'll get boba popsicles from Black Tiger brand because their milk is premium—thicker and more creamy. I'll also get Eagle Coin's dace fish in a yellow can with preserved black beans. I love to eat it as a topping for congee or make fried rice with it. I love to entertain and have people over for hot pot. When I'm shopping for hot pot, there's so much to get—starting with all kinds and textures of tofu, from regular to dried tofu, puff balls, and skin. I'm into sweet-potato noodles and fern-root noodles, which is a fun, chewy noodle that's gluten-free and healthy. I'll hit the shaved meat section and get thinly sliced cuts of pork, beef, and lamb. I'll get shrimp, Spam, quail eggs, fish balls with cheese inside, tons of scallions and cilantro, pre-peeled garlic because no one's got time to peel garlic, and dipping sauces. Fly By Jing has a 10 Year Aged Black Vinegar that I use as a dipping sauce, but I also love fermented tofu, sesame oil, and obviously our Sichuan Chili Crisp.
Next, I'll pick up some frozen dumplings from Hui Tou Xiang. During the pandemic, they started selling them frozen at $25 for 50 pieces, which is a great deal. It's funny because in Mandarin, "hui tou" literally translates to "to return"—and I've gone back over and over again! First of all, their potstickers are huge and fun to eat. They're juicy. The dough is nice and chewy, and the meat is really well-seasoned. The rectangular shape means it has a flat bottom, which gives it a nice texture when fried.
On my way home, I'll stop by a couple places in Chinatown. Now Serving is an amazing family-run bookshop that sells cookbooks, pantry items, and homeware by a lot of founders of color. They pack so much stuff in that tiny shop—including Fly By Jing's Sichuan Chili Crisp! I bought Brandon Jew's cookbook, Mister Jiu's in Chinatown, from here. It's one of my favorite Asian cookbooks. Brandon was born and raised in San Francisco's Chinatown to a family of restaurateurs, but he's had to carve out his own path as a Chinese-American chef, and that search for identity is something I can relate to.
Jing Gao | Photo by Rozette Rago for Thrillist
"I enjoy exploring all of the different little neighborhoods that string together to make the city."
Not far from Now Serving is a superette called Sesame LA. It's owned by Linda Sivrican, and what I love about them is they support a lot of local women-, Asian- and POC-founded brands whose founders happen to be friends of mine. They carry pantry essentials, like Yishi's Asian-inspired oatmeal in flavors like taro bubble tea or sweet osmanthus, and AWAN's vegan ice cream made from Indonesian coconut cream. Sesame's a really nice community business that supports fellow community businesses. I think it's important for founders, especially women-of-color founders, to support each other because the entrepreneurship journey is tough and even tougher for us. Most of the problems we encounter in our businesses have been encountered before by others, so when we share resources and information, it makes the journey that much easier. I like that Sesame is the physical embodiment of that.
Finally, I'll end the day with a stop at Open Market to pick up a Normandie sandwich with brisket, provolone, and au jus. All of their sandwiches are named after streets in LA. They often do collabs with different chefs, which is how I discovered them in the first place. My friend Tuệ Nguyen did a pop-up with them in March on a special lunch box. It had nem nướng, a Vietnamese sweet-and-savory BBQ pork sausage that she grew up eating, with lemongrass chili aioli on a Clark Street baguette.
Of course, going to Open Market means driving out to Koreatown, but that's what I like about LA. I enjoy exploring all of the different little neighborhoods that string together to make the city. At first, I felt I couldn't get a handle on LA because it was so spread out, but after being here for a while, I grew to like that aspect of exploration. It means I'm always discovering new corners of this city, and I can't wait to see what other surprises it has in store for me.
Places to Eat & Drink
112 W Main St, Alhambra
621 W Main St, Alhambra
704 W Las Tunas Dr, San Gabriel
3339 Wilshire Blvd, Los Angeles
Things to See & Do