Bulgogi-topped burgers at Korea's version of In-N-Out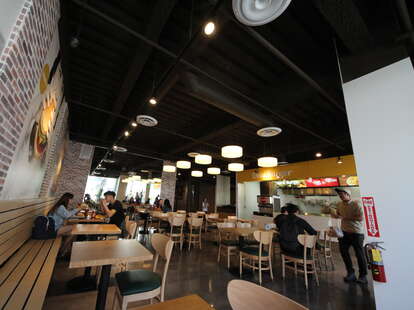 If you're heading to The Wiltern and you want to be cool and respected and popular, hit up Doni Burger, a Korean fast-food chain that's finally made its way to LA, and is known for hand-pressed patties and ingredients so ultra-fresh, they should be hanging out in one of those skate stores on Fairfax.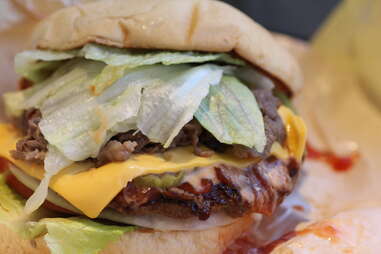 This beautiful monster's their trademark, the Doni Burger, which's got got both beef and bulgogi piled up on the fresh-baked potato bun.
Coming in second: this deep-fried pork tonkotsu burger, gloriously breaded.
The bulgogi burger takes away that pesky patty and goes straight to the shredded beef...
... while the straightforward cheeseburger is... well... a straightforward cheeseburger.
But this Doni Jr... it's got all the veggies, kickin' pickles, and a Korean-style steak sauce to make it messy, juicy, and extra-delicious.
Extra credit: fries topped with nacho cheese. Oh yeah.