The World's First Korean Pizza Waffles Are in Los Angeles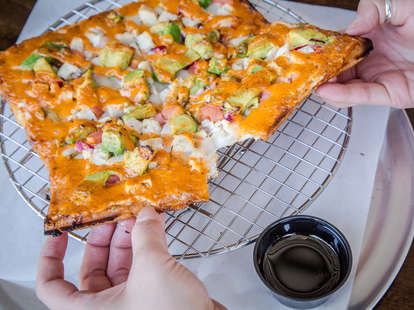 Dustin Downing/Thrillist
Dustin Downing/Thrillist
Certain culinary mash-up ideas are no-brainers: the Cronut, for instance, always made sense on a meta-level. But waffle pizza? That's, like, sort of a stretch -- which is why we went to the first waffle-pizza restaurant in LA (yes, this is an actual real thing), Seoul Waffle Pizza, to get the low-down on what's up there:
The inventor of waffle pizza is an unsurprisingly young guy -- James "Konfidential" Kim (the nickname is from his days beatboxing -- seriously), who's obsessed with eating breakfast for dinner, and is hoping you are too.
Oddly, his idea came from eating normal pizza on the streets of NY -- and a stint waiting tables at Genwa, the sorta-schmancy KBBQ spot in Beverly Hills. He was living at home with his mother when she dropped what would become a business truth-bomb on him: "You love waffles and pizza," she said, in a kind of thrown-off-idea that makes you wonder WHY THE HELL NO ONE HAD THOUGHT OF IT BEFORE.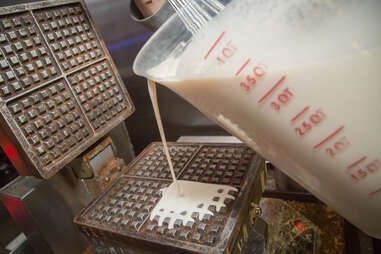 Kim worked hard on his dough recipe, which is based in wheat flour but cut with rice flour to give it a less-doughy finish; the result is flaky and crispy, like a waffle minus the sweetness -- imagine a thin-crust pizza made of waffle dough and you've got a bit more of an idea of what's up.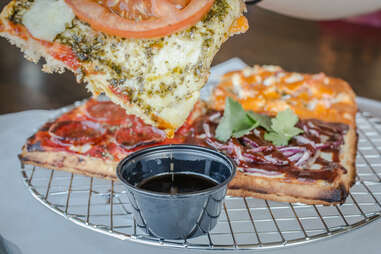 So yeah, what you'll eat: these monsters, cut in four pieces, each come with pure maple syrup and are topped with both traditional pizza ingredients (there's a pepperoni option with... you can guess) and more strange-arrangement gems (a shrimp and garlic option; a Korean pizza-waffle with bulgogi, corn, and grilled kimchi). You can also get combos with different options on each of the four slices if you just can't decide on one.
Is this the beginning of a true food trend, or just a flash-in-the-pan for Instagram likes? Our take is that they're, yep, actually delicious -- but they probably won't hurt your follower count, either.
Sign up here for our daily LA email and be the first to get all the food/drink/fun Los Angeles has to offer.
Dustin Downing is an LA writer and photographer who can be found online at DustinDowning.com.