12 reasons you should get some of the Kogi guy's POT right now
A new Koreatown restaurant from the super-famous Kogi guy, POT is... uh... a new Koreatown restaurant from the super-famous Kogi guy. Assuming that's not reason enough for you to be there right now, we've got 12 more.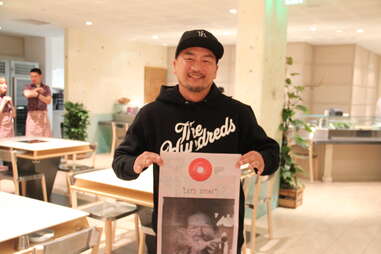 1. It's a new Koreatown restaurant from the super-famous Kogi guy
AKA this dude, Roy Choi, who -- up until now -- has been making some of LA's best Asian-fusion food, but is now dipping his hands in a more traditional Korean pot (!).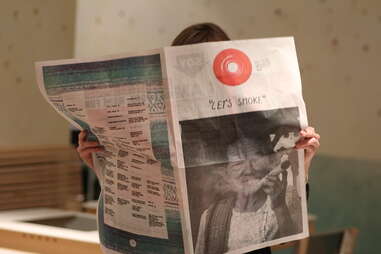 2. The menus are printed on newspapers with an old Burmese lady smoking a bit of something-something on the cover
Yes, they're in on the joke.
3. The menu is largely made up of extraordinarily huge cauldrons of deliciousness
Like this spicy tomato-based broth with mussels and pork belly. It's called the Jamaal Wilkes (named after the old-school Lakers player). It's incredible. And this is the small size.
4. They give you ultra-colorful floral bibs if you want 'em
Not included: incredulous looks and charming smiles.
5. Their massive helping of kimchi fried rice includes a soft-cooked egg, is enormous, and costs just $8
Eight. Bucks.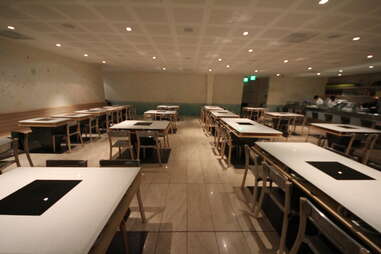 6. All the tables have a built-in heater to make sure your pot stays warm
How is this not a thing everywhere?
7. They have this one pot that's stuffed with ramen noodles and hot dogs
AKA proof that you did college all wrong.
8. Their staff is both super-cute and wears crazy-colorful clothes
Also: the beach is that way.
9. They have maybe the greatest bar snack in LA. It's called "The Stash".
Potato chips. Beef jerky. Dried pineapple. Nuts. Furikake flakes. How awesome would this be with beer?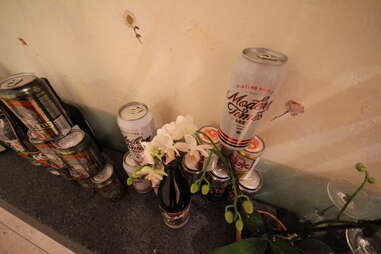 10. They have beer!
And not just beer, but a surprisingly great list of it (Swan Lake Samurai Barley Wine, Ommegang Witte, St Bernardus ABT12...), as well as drinks from their bar (which we've already told you about, but we're totally cool telling you about again). Two tipples you definitely have to take down are their mezcal and tonic, and their Long Island iced tea with aloe beads.
11. This dish is one of the best bites we've had in a very long time
So why'd we bury it at #11? Because this place is just that good. It's called the "Beep Beep", an uni dynamite rice bowl topped with fresh sea urchin roe.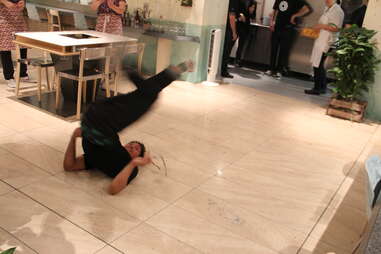 12. Their service dude Tim is a freakishly good breakdancer
Seriously, they play '90s slow-jams all day (Jodeci FTW!), and this dude does a killer head-spin, if you can convince him to get down.
Thrillist LA's Senior City Editor Jeff Miller couldn't eat another bite, really. Ok, not really. Follow him at @thrillistla on Twitter and @jeffmillerla on Instagram.