17 Essential Korean BBQ Spots to Try in LA
From all-you-can-eat to a la carte, we've got you covered.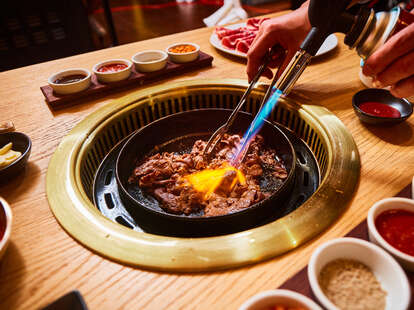 Eating out at a Korean BBQ restaurant—ordering refills on banchan, flipping marbled meats on a shared grill, tossing back rounds of soju shots, and discovering the thrills of corn cheese—is a gastronomic rite of passage in LA. Boasting one of the largest Korean populations in the US, our city is stacked with hundreds of mouthwatering Korean meat meccas, each with its own distinct style and flair. It's an experience we've missed dearly during the pandemic, as KBBQ is best enjoyed in a lively restaurant atmosphere with a group of your best pals. It's worth noting that most of the restaurants on this list only accept walk-ins, so head there early and expect to wait for the most popular spots—we promise it's worth it.
Whether you're feeling à la carte or all-you-can-eat, traditional or trend-driven, swanky or simple, we've got all the bases covered with our roundup of 17 spots that make your smoke-scented laundry totally worthwhile.
Koreatown
Founded in 1964, Daedo boasts five South Korea locations that serve over 650,000 servings of ribeye a year. The sophisticated Seoul import recently opened its first US outpost in LA—a tastefully appointed space with a bar serving soju- and rice-wine-based cocktails (pro-tip: you'll need one while waiting for a coveted table.) Superior ingredients—from CAB Prime beef that passes nine more quality standards than USDA Prime to radish kimchi and soybean paste flown in from South Korea—make the elevated price points worthwhile. Thoughtful preparation is also key: All four dipping sauces are made in house, including one that involves fermenting nine veggies over a week-long period, while every sliver of unnecessary fat is trimmed off Daedo's grade-A meat before it's cooked on cast-iron grills coated in fat from the cow's kidney.
How to book: Walk-ins only.
East Hollywood
Named after a South Korean island renowned for its seafood, this KBBQ restaurant specializes in creatures of the sea. Instead of the standard cuts of meat, you'll find an array of shellfish, crustaceans, and fish sizzling on the smoky charcoal grill, which helps offset the brininess of the clams, prawns, scallops, and other marine critters. The best course of action is to order one of the combos—which come with a variety of seafood and other delicious bites, like foil-wrapped sweet potatoes that cook to unbelievable tenderness on the edge of the grill—and toss in a few special à la carte orders, such as the chewy, tangy hagfish and umami-rich sea eel.
How to book: Walk-ins only.
Koreatown
Magal is a booming international chain with a robust presence in Asia, including Korea, Indonesia, China, and Malaysia. But in the US, the only two outposts are located in Las Vegas and Los Angeles (lucky us)! Thanks to a reputation for consistently flawless food and service, Magal attracts decent crowds on any given night, many of whom appreciate its unique menu twists—like serving black sesame dressing with its salads and offering marinated pork skin, which isn't readily available at other KBBQ spots.
How to book: Walk-ins only.
Koreatown
Situated in the MaDang mall, swanky Jeong Yuk Jeom earns brownie points for offering validated parking. But what really sets this high-ceilinged, elegantly outfitted restaurant apart is its 45-day dry-aging process, which lends a distinctive beefy flavor and buttery texture to sumptuous cuts like ribeye and tomahawk steak. While you're there, don't sleep on some of the restaurant's non-BBQ dishes—including spicy, stir-fried octopus and a spectacular beef tartare sushi that's prepared with roasted chestnuts.
How to book: Walk-ins only.
Multiple Locations
Baekjeong, the Korean word for "butcher," is a fitting name for this wildly successful chain, which opened its first outpost in LA in 2012 and has since expanded to multiple locations in California. As one of the city's most hyped KBBQ spots, this place can command one- or two-hour wait times, but it lives up to the hype with top-notch meat and highly efficient servers who waste no time swapping out your grills and cooking your proteins. Each grill comes with a specially sectioned area where eggs and corn cheese cook at the same time—if you have any room left over after putting away marbled short ribs and paper-thin slices of brisket.
How to book: Walk-ins only.
Koreatown
It's no surprise that Kang Ho Dong's sister restaurant, Ahgassi, wins big at Korean BBQ, too. This restaurant, however, specializes in high-quality offal, like tripe and abomasum (which, FYI, is the name of a cow's fourth stomach compartment and tastes much more delicious than it sounds). To maximize your dining experience, order the large intestines—soft, chewy, gnocchi-esque globs that are marinated and grilled to absolute perfection.
How to book: Walk-ins only.
Arlington Heights & Koreatown
Ham Ji Park is a pork lover's paradise. Their signature pork neck stew called gamjatang features slow-cooked, fall-off-the-bone meat and fork-tender potatoes, while their famous ribs are smothered in gochujang—the Korean fermented chili paste that adds kick to the meat's smoky-sweet caramelization. Balance out the fatty flavors with their fresh salad, which has an acidity that helps cut through the delicious grease, and palate-cleansing barley tea.
How to book: Walk-ins only.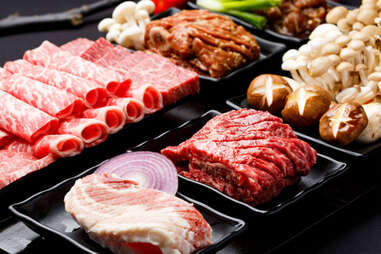 Koreatown
Though this no-frills spot is on the pricier end of KBBQ, the extra bucks translate to premium cuts of meat, including melt-in-your-mouth Kobe beef and American Wagyu. Their Taste of Parks set combos make ordering easy, but be sure to leave room for the excellent short rib soup—brimming with green onions and glass noodles in a clear, hangover-healing broth—and stone pot rice. Feel like BBQing at home? The restaurant operates a butcher shop in the same plaza.
How to book: Walk-ins welcome or make a reservation via Yelp.
Koreatown
This casual, lively eatery's namesake galbi—USDA Premium Black Angus bone-in short ribs marinated in their signature sweet and savory sauce for 48 hours—is a no-brainer. But you should also branch out with Soowon's pork neck, an exquisite cut of meat that manages to be soft, juicy, and crunchy all at once, and try their substantial array of non-BBQ dishes, like the tofu stew, scallion pancakes, cold noodle soup, or grilled mackerel.
How to book: Walk-ins welcome or call 213-365-9292 for reservations.
Multiple Locations
If you go to KBBQ for the banchan as much as the grilled meats, Genwa's your jam. All three locations—Beverly Hills, Downtown, and Mid-Wilshire—serve a parade of no less than 15 scrumptious side dishes (fish cakes! Fried chicken! Konjac jelly!) along with your short ribs and bibimbap. Even better, this ultra-sleek, stylish space utilizes smokeless grills, so you don't go home smelling like barbecued meat (although we're not sure that's a bad thing).
How to book: Select your location and make a reservation via Resy.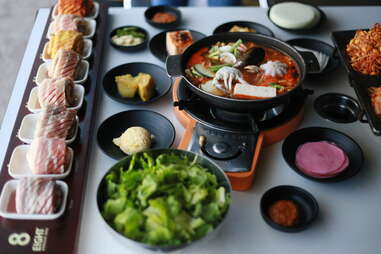 Koreatown
Get ready to pig out—literally. Eight is renowned for its premium pork portfolio, particularly its "8 Flavors of Pork Belly" combo. Featuring eight succulent strips soaked in different flavor-enhancing marinades—original, wine, ginseng, garlic, herb, curry, miso paste, and gochujang—the meat's presented on a long tray like a belly flight, before an attentive server grills and scissor-snips the pieces into easily chewable morsels. While juicy pork belly is their forte, the restaurant offers several other impressive cuts, ranging from pork cheek to beef tongue, prime brisket, and boneless rib. The accoutrements are generous too: banchan for days, piles of crunchy kimchi and bean sprouts, bowls of leafy greens, spicy seafood soup, and sizzling, mozzarella-smothered kimchi rice to punctuate the meal. As if the food isn't enough of a draw, Eight is located in a plaza where there are usually (gasp!) available parking spaces.
How to book: Walk-ins only.
Koreatown
There's one thing this hole-in-the-wall does insanely well and it's worth going for, especially if you're in the mood for non-traditional KBBQ. Mapo is the master of dak galbi—spicy BBQ chicken fried with rice cakes, cabbage, gochujang sauce, sesame leaves, and melty cheese in a large cast-iron tray right before your eyes. Once you've finished scooping off this piping-hot hodgepodge, servers will use its greasy drippings to prepare kimchi fried rice, which you'll somehow find room for in your stomach, even scraping down the last crispy rice chunks stuck to the pan. Serving portions are outlandishly generous, so arrive hungry with friends.
How to book: Walk-ins only.
Rowland Heights & Koreatown
After finding success at its original Rowland Heights restaurant, Ong Ga Nae started shilling its crowd-pleasing seng bulgogi in Koreatown. While they've got all the usual suspects on deck, their house specialty is a welcome departure from typical KBBQ fare. Two or three people can easily fill up on this hearty, hard-to-find-elsewhere dish of thin-sliced beef, mushrooms, spinach, and green onions that's cooked in a semi-sweet broth, complemented by solid banchan and served with glass noodles toward the end.
How to book: Walk-ins only.
Koreatown
You'll sometimes hear KBBQ aficionados talk about how all-you-can-eat spots don't serve good-quality meat, but Hae Jang Chon is a notable exception. Their diverse menu boasts around 30 dishes, including top-shelf USDA Choice and Prime beef, like belly, tongue, and brisket; an assortment of seafood, chicken, and thin-sliced Canadian pork that's seared on two-inch-thick Korean stone grills; and solid sides like salad and kimchi pancakes. If you haven't OD'd on meat by then, they'll top you off with tableside-cooked kimchi fried rice (pro-tip: ask for mozzarella). AYCE lunch will set you back $36.99, while dinner clocks in at $39.99.
How to book: Walk-ins only.
Koreatown
Quarters sits in the same plaza as Kang Ho Dong, but the restaurant's fusion approach distinguishes it from its legendary neighbor. After all, what other KBBQ spot serves kimchi-smothered nachos, galbi tacos, and melted cheese fondue with its grilled meat? Big groups will enjoy the fun party vibes at Quarters, where every other table is downing beer-ritas to a fist-pumping EDM playlist and set combos with all the go-tos—bulgogi, pork jowl, and rib eye—make it easy to share.
How to book: Walk-ins only.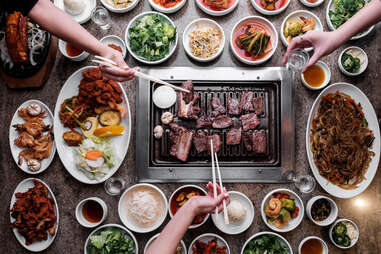 Koreatown
Chosun Galbee sits on the higher-end scale of KBBQ with polished appeal and punctual service, courtesy of its many employees who have been with the restaurant since it opened. Its serene atmosphere and cool, spacious dining area (including a lush garden patio) lend themselves well to easy dinner conversation—a departure from many KBBQ spots where you have to yell over the din to be heard. But don't get us wrong: Chosun is still action-packed with meat aficionados, who make a beeline for its namesake dish (short rib steeped in a specially formulated soy sauce) and kot sal (or "flower meat," in reference to the intricate, flower-like marbling). The menu features recipes originally created by the owner when the restaurant first opened 25 years ago—and it's versatile enough to accommodate even non-carnivores, with plenty of cold noodles, rice cake stews, and a strong seafood offering that includes Chilean sea bass and spicy raw crab. An extra perk? Chosun has a full bar, somewhat of a rarity among KBBQ restaurants that tend to only serve beer and soju.
How to book: Walk-ins only. Call 323-734-3330 for takeout orders.
Koreatown
This long-standing spot still does things the OG way, serving thick slabs of meat (versus machine-sliced thin) on smoky charcoal grills (no gas-powered flames here!) for a nice char. Pro-tip: The marinade-massaged meats tend to cook quickly, so keep an eye on the temperature. When your protein's ready, wrap it in lettuce leaves—along with a bit of rice, garlic, and chili paste—for a two-bite-sized package called ssambap.
How to book: Walk-ins only.
Tiffany Tse is a Thrillist contributor who thinks KBBQ should be a perfume scent. Follow her on Instagram at @twinsky.